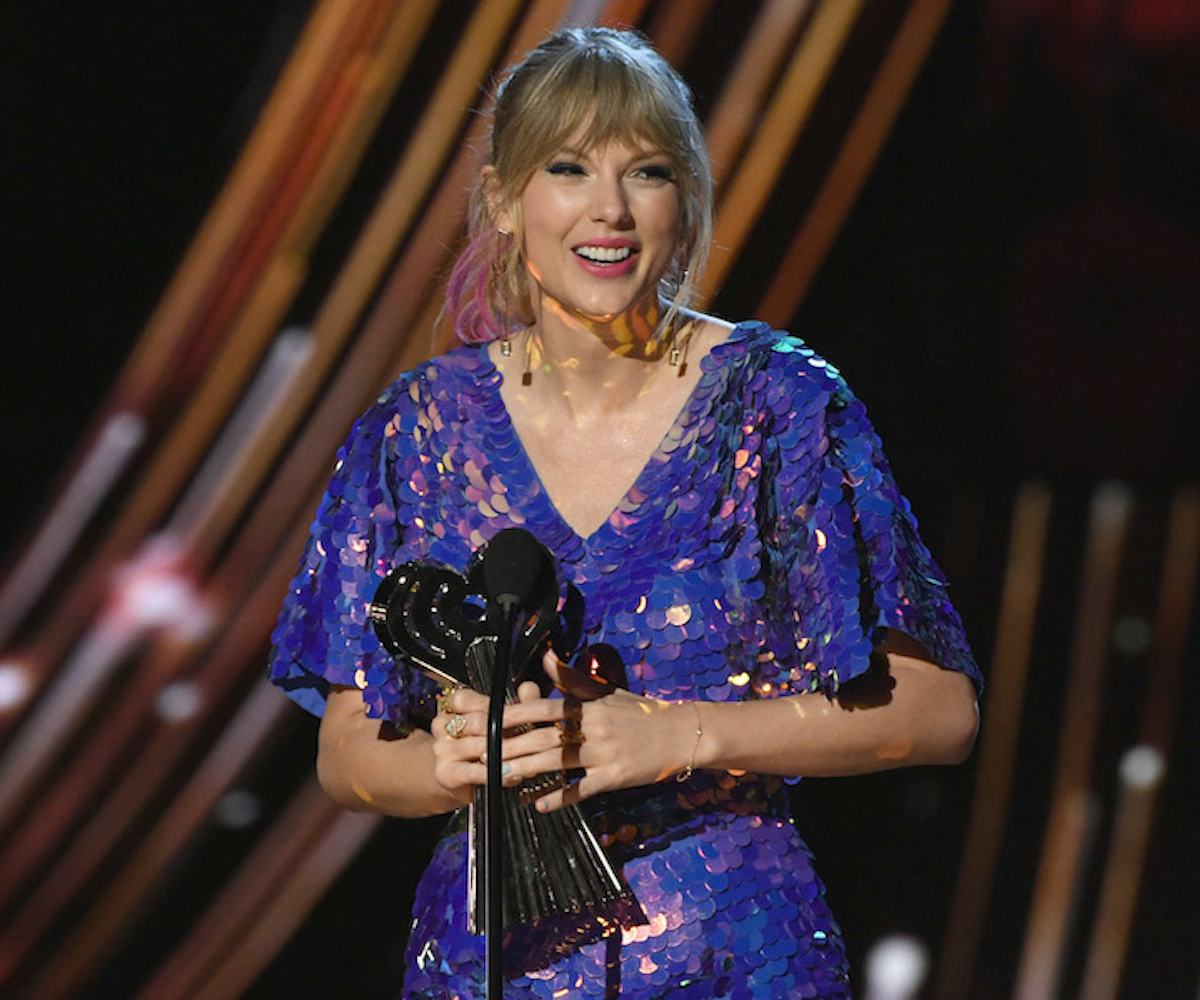 Photo by Kevin Winter/Getty Images
Did Taylor Swift Toy With Her Stans During This Acceptance Speech?
Was it a hint about her new album or not?!
Taylor Swift has read all your theories about new music, and she's not done letting you obsess over every detail just yet. While accepting her award for Tour of the Year at the iHeartRadio Music Awards, Swift talked at length about her dedicated fan base and concluded with a single line about new music.
"I just wanted to let you know that when there is new music, you will be the first to know," Swift said, which to casual listeners might seem like she's saying, For now, there's nothing going on. But to some super-sleuthing fans, this was a clue.
Let me back up. Fans had been noticing a theme across Swift's Instagram for the past few weeks, with stylized pastel-hued photos featuring rainbows and stars dominating—all in stark contrast to Reputation's goth, snake-filled motifs that previously appeared on her feed. The last two posts caused the most buzz last night, featuring the purple sequin jumpsuit, against a background of hearts, and a close-up of the butterfly-adorned shoes, both of which Swift wore to the awards show. Similar to how she finished her acceptance speech, Swift captioned the outfit pic, that she posted prior to walking the red carpet, "thought I'd show you first," which had some fans convinced that this was leading up to an album announcement.
When Swift said "you will be the first to know" while receiving the award, to some, it felt like a shutdown of the rumor, but, for many others, it felt like a wink and a nudge towards all their wildest theories being true.
Swifties are already declaring this the start of the TS7 era and theorizing about the "softness" of the upcoming album and, in particular, what the butterflies could mean. A "complete metamorphosis" from Reputation and all the drama? Maybe. Or, maybe it just had to do with the butterfly migration going on in Southern California. Who's to say?
By not clarifying whether or not there is an album in the works (or completed), Swift could be toying with stans in the best way and allowing them to believe that a new album could be here soon. It should though be known that Swift has been pretty consistent with her album releases, dropping them in October or November in the past. It's not clear why she'd decide to change it up now (she probably won't) and surprise-release TS7, but there's no harm in letting the stans do their thing. I am here for keeping the positive hype going until the album drops, whenever that will be.