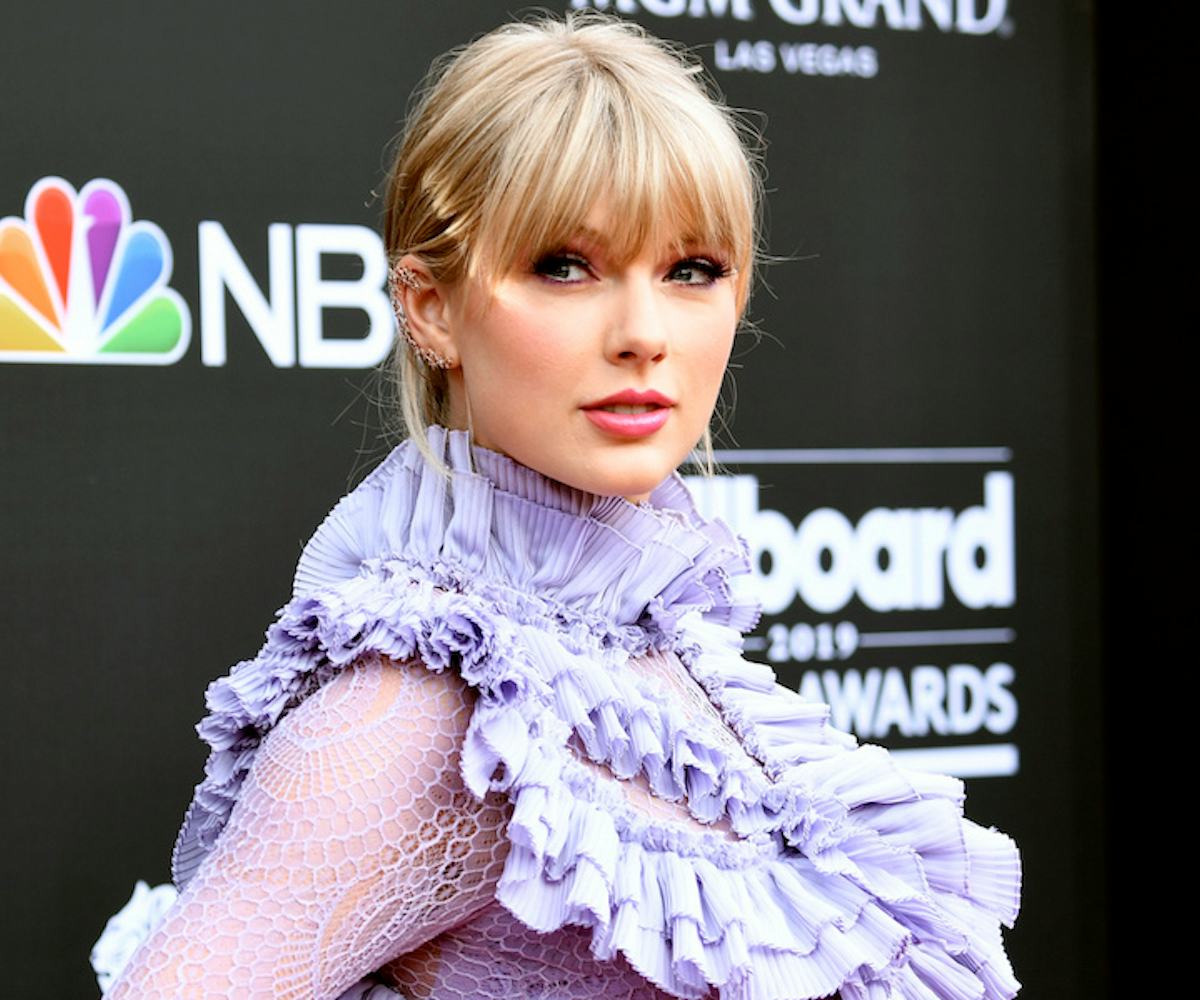 Photo by Frazer Harrison/Getty Images
Halsey, Sky Ferreira, And More Are Supporting Taylor Swift—But Many Other Stars Aren't
In Swift's war with Scooter Braun, celebs are taking sides
News broke last night that entertainment executive Scooter Braun purchased independent record label Big Machine Records—and with it, the masters of every single record Taylor Swift released through Reputation.
Swift has been pushing for years to buy back her rights from Big Machine Records, but to no avail; this sale was made without Swift being offered the the ability to bid for her music. Since the news broke, Swift has spoken out in a Tumblr post about Braun, Big Machine, and the way the music industry takes advantage of young women time and time again.
Swift started off her Tumblr post with a screenshot of Justin Bieber, a longtime friend of Braun, who had once posted a petty screengrab to Instagram of himself video-chatting with Braun and Kanye West with the caption "Taylor swift what up" back in 2016, during the feud between Swift and West (Bieber has since removed the caption). Swift utilized the image, though, and wrote over it: "This is Scooter Braun, bullying me on social media when I was at my lowest point. He's about to own all the music I've ever made."
Swift's entire post is heartbreaking: In it, she outlines her struggle to take ownership of what rightfully should be hers. She shares that she only learned about Braun's purchase in real time as it was announced publicly, and goes on to note his involvement in her feud with West.
Like when Kim Kardashian orchestrated an illegally recorded snippet of a phone call to be leaked and then Scooter got his two clients together to bully me online about it. (See photo) Or when his client, Kanye West, organized a revenge porn music video which strips my body naked. Now Scooter has stripped me of my life's work, that I wasn't given an opportunity to buy. Essentially, my musical legacy is about to lie in the hands of someone who tried to dismantle it.
Swift goes on to describe this sale as her "worst case scenario." She shares that she knew Borchetta would sell her masters, but never predicted that it would be to Braun. "Any time Scott Borchetta has heard the words 'Scooter Braun' escape my lips, it was when I was either crying or trying not to," she continues. "He knew what he was doing; they both did. Controlling a woman who didn't want to be associated with them. In perpetuity. That means forever."
Bieber responded quickly on Instagram, and began by apologizing for his long ago Instagram post, but then excoriated Swift for bringing it all up again; Bieber's wife, Hailey, commented "gentleman."
But, model Cara Delevingne, was having none of this, and wrote to them: "I wish you spent less time sticking up for men and more time trying to understand women and respecting their valid reactions. As a married man, you should be lifting women up instead of tearing them down because you are threatened. I am not sure you actually understand what an apology is. This issue that @taylorswift is talking [about] is about far more than a picture and you know that."
Plenty of other celebrities have offered their support of Swift in response to her statement. Halsey shared a note, captioned with a butterfly (a symbol associated with Swift's current album cycle), writing, "She deserves to own the painstaking labor of her heart." Halsey added, "And it turns my guts that no matter how much power or success a woman has in this life, you are still susceptible to someone coming along and making you feel powerless out of spite."
Sky Ferreira shared a lengthy note via Instagram stories, not mentioning Swift by name, but giving her own experience with signing contracts at such a young age and suffering at the hands of an industry that will take advantage of you.
A petition has been created in an effort to have Swift re-release her first six records—something women artists have done before, such as JoJo, to take ownership of their voice—and Katy Perry has signed it, commenting, "I stand with Taylor. Stay strong my friend."
Swifties have, of course, poured out plenty of adoration for their queen, and also have uncovered instances of Braun's manipulative behavior in the past, like when Ariana Grande shared how badly she wanted to keep "ghostin" off of her album, thank u, next, due to its ultra-personal subject matter, but Braun forced her to keep it on.
Similarly, Madison Beer had much of her initial success ripped away from her after working with Braun.
Todrick Hall, Swift's friend and formerly Braun's client, shared on Twitter and Instagram his feelings on the entire situation. "For those asking, I left Scooter Braun a long time ago," he wrote. "I am saddened by this news, but not shocked. He is an evil person who's only concern is his wealth and feeding his disgusting ego. I believe he is homophobic & I know from his own mouth that he is not a Swift fan."
Demi Lovato felt the need to fire back in the comments on Todrick's Instagram post, denying his experience entirely. Lovato—who just recently signed with Braun back in May—began with a condescending "Hey boo," and then claimed there's no way Braun is homophobic because "he wouldn't have signed me if he was." She also posted to her Instagram story, defending Braun once more.
Hall fired back on Twitter, where he'd posted his original chain of tweets, reiterating the fact that a single experience (Lovato's) does not deny what Hall believes to be true.
"Also, stop using your one client who identifies as queer to stand up for you," Hall continued. "There's no way Demi saw my tweet, that means someone from your team is reaching out to them, using them to defend you. Fight your own battles."
Twitter user Oscar Gracey pointed out a similar sentiment to Hall, that there is a chance some rebuttals are not written or initiated by those sending them out: "Justin Bieber spelled almost every word wrong in his long ass posts about his wife, and suddenly he's spelling words like 'rebuttal' and 'communicate' correctly? These men think we're that stupid huh smh Scoot it and boot it," he wrote.
Artists of all levels have continued sharing messages of support for Swift in her battle to own her music.
Many celebrities who have supported Braun's side of things have done so quietly, by liking a post made by his wife on Instagram. So far, stans have noted this list includes Kacey Musgraves, Tori Kelly, and Demi Lovato. Kendall Jenner has liked a comment on the post, which reads, "We stan a defensive wife."