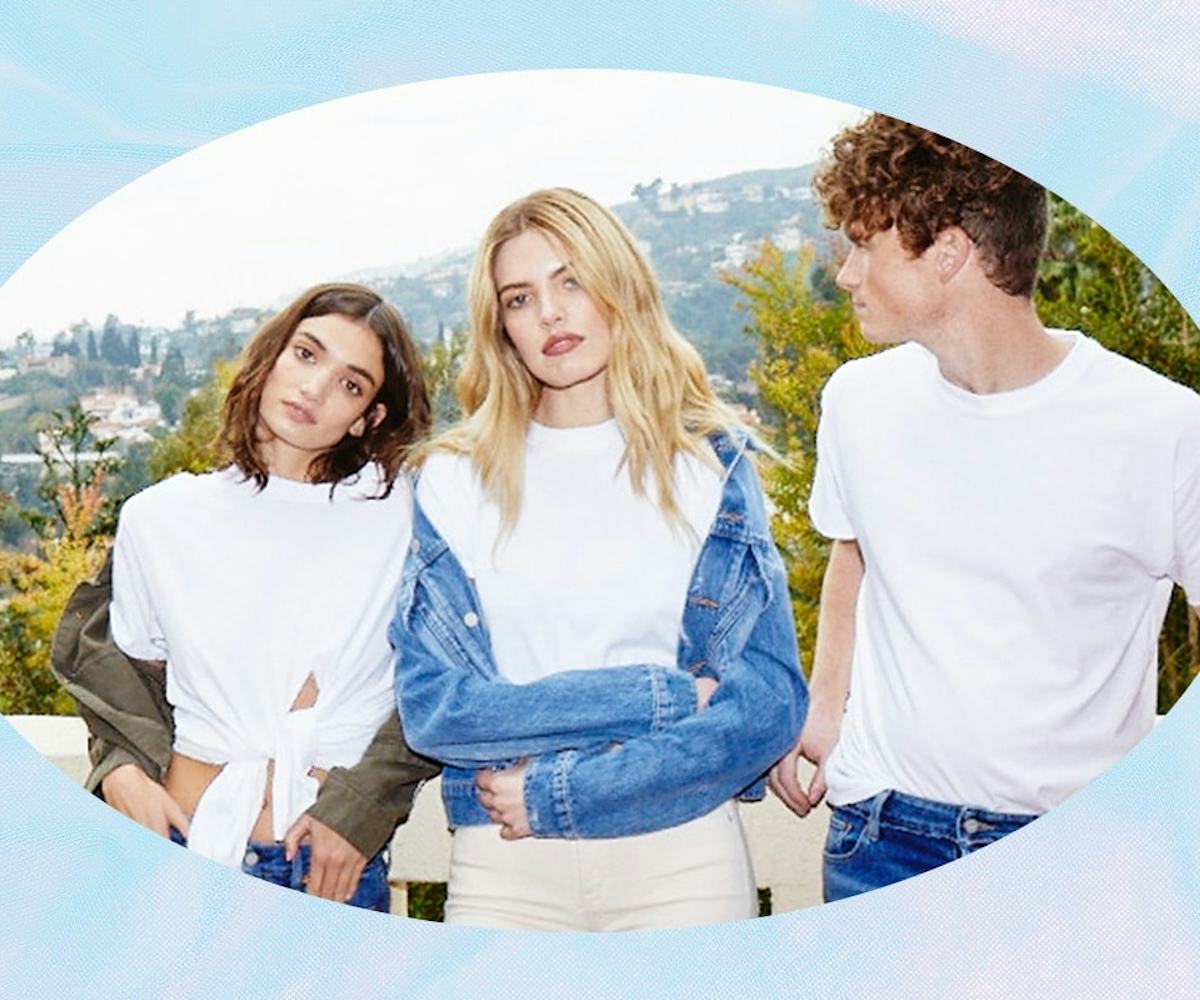 Photo courtesy of Ética
Denim Is Horrible For The Environment—Here's What To Know
Ética is creating community around sustainability in denim
Welcome to The Green Scene. Every week, we're highlighting the designers and brands working to make the world of fashion and beauty a greener, more sustainable place. The brands to support are the ones making a difference; check back every Tuesday to meet your new favorites.
While it's widely known just how polluting the fashion industry is to our planet, not as many people are aware of how harmful the denim production industry, in particular, can be. Not only does denim production use massive amounts of water and energy, it often contaminates nearby bodies of water and subjects factory workers to potential health issues. All to say, we're pretty big fans of any brand looking to challenge the norms and create a more sustainable existence.
So when we stumbled across Ética, a new sustainable denim label looking to educate the world on the environmental impact of denim, we were immediately smitten. The Los Angeles-based brand has partnered with one of the most sustainable denim factories in the world, Hera Apparel, based out of Puebla, Mexico, to show that sustainable, eco-friendly denim can still be cool and contemporary.
Its hope is to create not only a brand but also a community that's committed to doing things better. "We wanted to educate ourselves and consumers on the environmental impact that denim has and how we could do things differently—saving water, energy, and reducing chemical usage along the way," explains CEO Chelsey Santry. "Ética was created with this brand ethos baked in."
Ética has launched with a collection of staple pieces which demonstrate the capabilities of its sustainable factory. In addition to a wide range of classic jean styles and washes, the brand also has an offering of denim jumpsuits, dresses, and outerwear, all with an effortless, laid-back, Cali vibe. The piece we'll be wearing all season long? The Cami jumpsuit, a mom jean-halter top hybrid we're going to live in once the weather warms up on the East Coast.
For Santry, going sustainable wasn't a hard decision—and it really felt like the only one. "In the age of social media and having so much information at our fingertips, it would have been irresponsible to launch another brand just to launch another brand," she says. "We wanted to launch a brand with a message and meaning behind everything that we did. Helping to further educate our consumers on how to choose to buy a better product for all of us, and our planet. The choices we make affect all of us, so everyone making a better decision benefits us all."
Ética strives to be as sustainable as possible, from the very beginning of the manufacturing process to shipping the finished product to the consumer. It begins with textiles: They source deadstock fabrics (mostly from local fabric mills around 15 miles away from its factory) that would otherwise become waste or end up in a landfill. By doing this, they eliminate dye runoff (thus helping keep water sources pure), reduce the amount of energy used for fabric weaving, and decrease their carbon footprint because they're not shipping fabric around the world.
In terms of production, the brand uses advanced e-flow washing machines that save 99 percent of water usage (a big deal, since one pair of jeans typically requires around 1,800 gallons of water), and high-efficiency dryers that save 63 percent energy usage.
All shipping supplies are made of recycled paper product, while the company's poly bags are made of biodegradable materials. Even the hang tags are sustainable and made of seed paper that, when soaked in water and planted, will grow into chia, carrot, clover, or cloud flowers.
Santry hopes to see a future where all brands—and all people—take steps toward becoming more sustainable. "I believe it's our responsibility to leave the planet in a better state than when we entered it," she says. "Humans have done a lot of damage. If we all do small things to help become more sustainable in how we live and how we consume, we can make a huge difference."
As Santry explains, "It's one small ripple made by many people that creates a tidal wave."
Take a closer look at Ética's spring offering at EticaDenim.com.