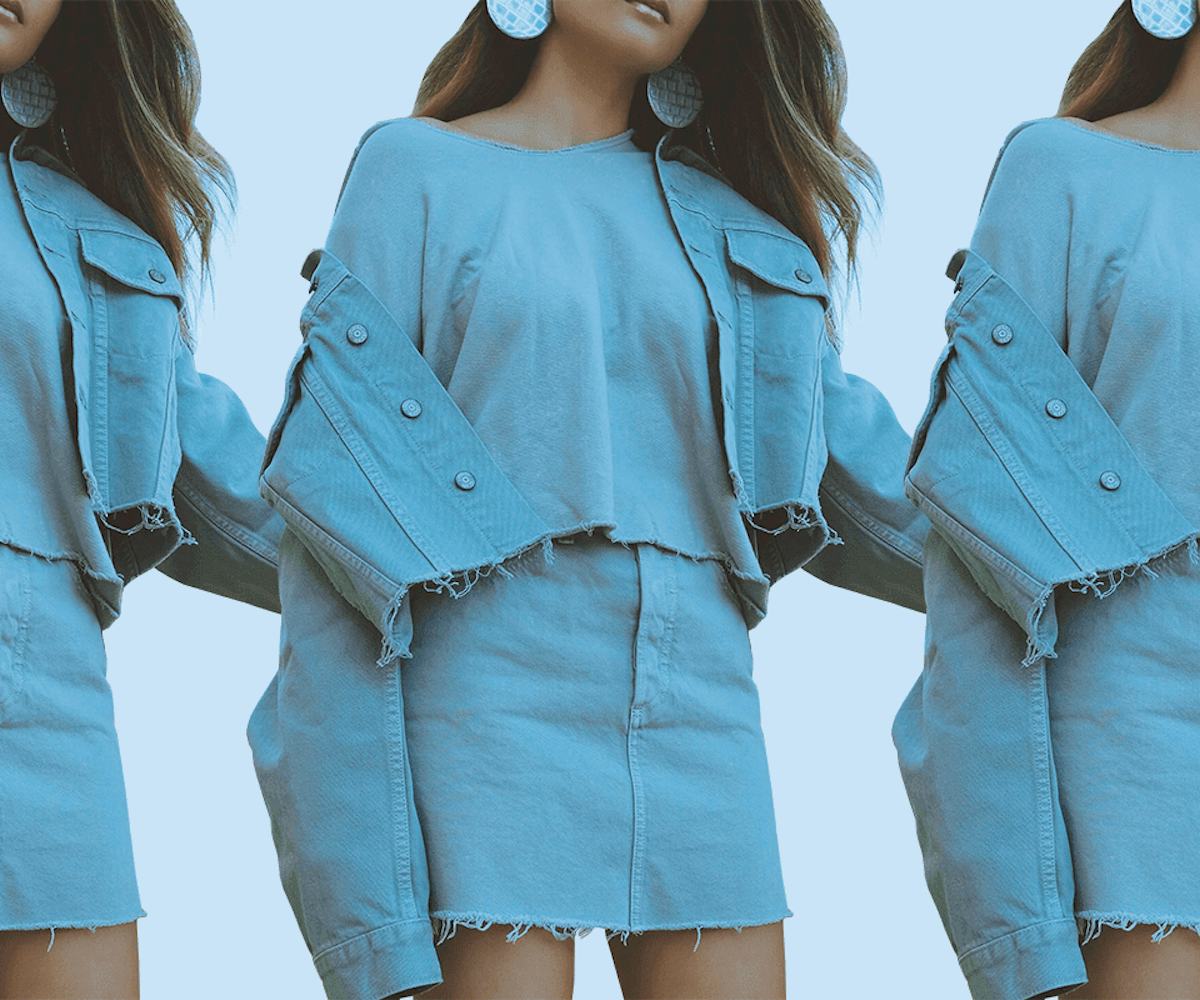 Photo courtesy of The Lunary
This Millennial-Friendly Shop Is Where Sustainable Fashion And Beauty Meet
The Lunary stocks the coolest green bands that won't leave you broke
Welcome to The Green Scene. Twice a week during the month of April, we're highlighting the designers and brands working to make the world of fashion and beauty a greener, more sustainable place. The brands to support are the ones making a difference; check back every Tuesday and Thursday to meet your new favorites.
When it comes to finding destinations for shopping multiple green brands at once—especially ones that span categories such as fashion, beauty, and lifestyle—we're typically faced with two options. First, an offering of earthy-crunchy brands that, well, might not be what the most trend-focused person would be interested in, and second, an assortment of luxury brands that, while sound investments, are not offered at prices accessible to most—especially millennials.
Enter The Lunary.
An e-commerce site that brings sustainable, ethical, millennial-friendly brands together in one (super-cute) website, the Lunary was created by Zeeni Zaheer, who wanted to launch an online destination that makes it easy for consumers to shop brands that are making a difference in the world, whether by using innovative sustainable fabrics or by focusing on ethical manufacturing.
"I wanted to create a platform that makes it easy to shop stylish and innovative brands that are also ethical so that people feel empowered to be a part of this change and feel confident that their decisions as consumers reflect their values too," she says. "I think almost everyone inherently wants to do good, so why not make it easier for people to do that?"
It all started after Zaheer was doing research on buying a leather jacket for herself. It was then she learned about the horrors of the leather industry and how badly cows are mistreated—and from there, she never looked back. "I think once your eyes are opened to the dark underbelly of the industry, it's really hard to go back to feigning ignorance again," she says.
Soon, The Lunary was born—a place for consumers to shop high-quality, cool, and relevant labels that also have a focus on at least one of these five brand pillars: transparency, labor practices, social justice, sustainability, and animal welfare.
A lot goes into the process for deciding what brands The Lunary will carry. Zaheer has created a list of guidelines and standards to go by when she's considering a new addition to the site. While being stylish and culturally relevant are an obvious must in terms of aesthetics, she also ensures that the brands follow strict ethical standards in terms of factory conditions, workers rights, and wages.
Additionally, every brand must have some sort of ethical, social, or sustainable quality about them, whether it's supporting small artisan communities or using sustainable materials, from upcycled to eco-friendly. The Lunary actively tries to not carry any animal-derived products; currently, the shop carries none, but Zaheer is not opposed to stocking vintage or recycled animal materials in the future.
In terms of clothing, its current offering spans brands from well-known sustainable favorites, such as denim brand DL1961 and ready-to-wear label Lacausa, to smaller, emerging labels, like recycled fabrics brand RiLEY STUDIO and organic cotton basics brand Mate The Label. For accessories, you'll find an offering from ethical vegan leather handbag label Angela Roi and NYC-made handmade jewelry from Verameat. The Lunary also offers a number of beauty brands, such as clean favorite NOTO Botanics. For a full list of brands, click here.
And it's not just the brands The Lunary carries that are green. I mean, what good would a company bringing together ethical, sustainable brands be if it didn't take part in the revolution itself? That's why Zaheer takes packaging seriously.
She understands that, in the age of Instagram, the unboxing experience is almost as important as the product itself. So, while she avoids using excessive, wasteful packaging as much as possible, she was inspired to make the packaging she does use (boxes, tissue, and other packing materials) into art to encourage the receiver to save and reuse. Additionally, her cards and hangtags are printed on fashion waste from offcuts of fashion tees by Moo, while tissue paper is made from eco-minded company No Issue that uses FSC-certified paper using vegetable ink. The tape used is recyclable (from Sticker Mule), as are the boxes. And plastic protective bags from Eco Enclose are made from 100 percent recycled materials. Additionally, The Lunary donates 5 percent of profits from The Essentials Edit to The Sierra Club, an environment preservation nonprofit.
While The Lunary is focused on bringing together sustainable brands to the masses, Zaheer thinks that, soon, green fashion is going to become the law of the land. "I at least hope that we reach a point where sustainable practices are the norm, and there is no 'green' vs. 'regular' fashion. Because, for any business, creating while being conscious of how your business impacts people, animals, and the planet seems like the most basic thing." We agree.
Head over to The Lunary to shop its latest ethical, sustainable offerings for Spring 2019.