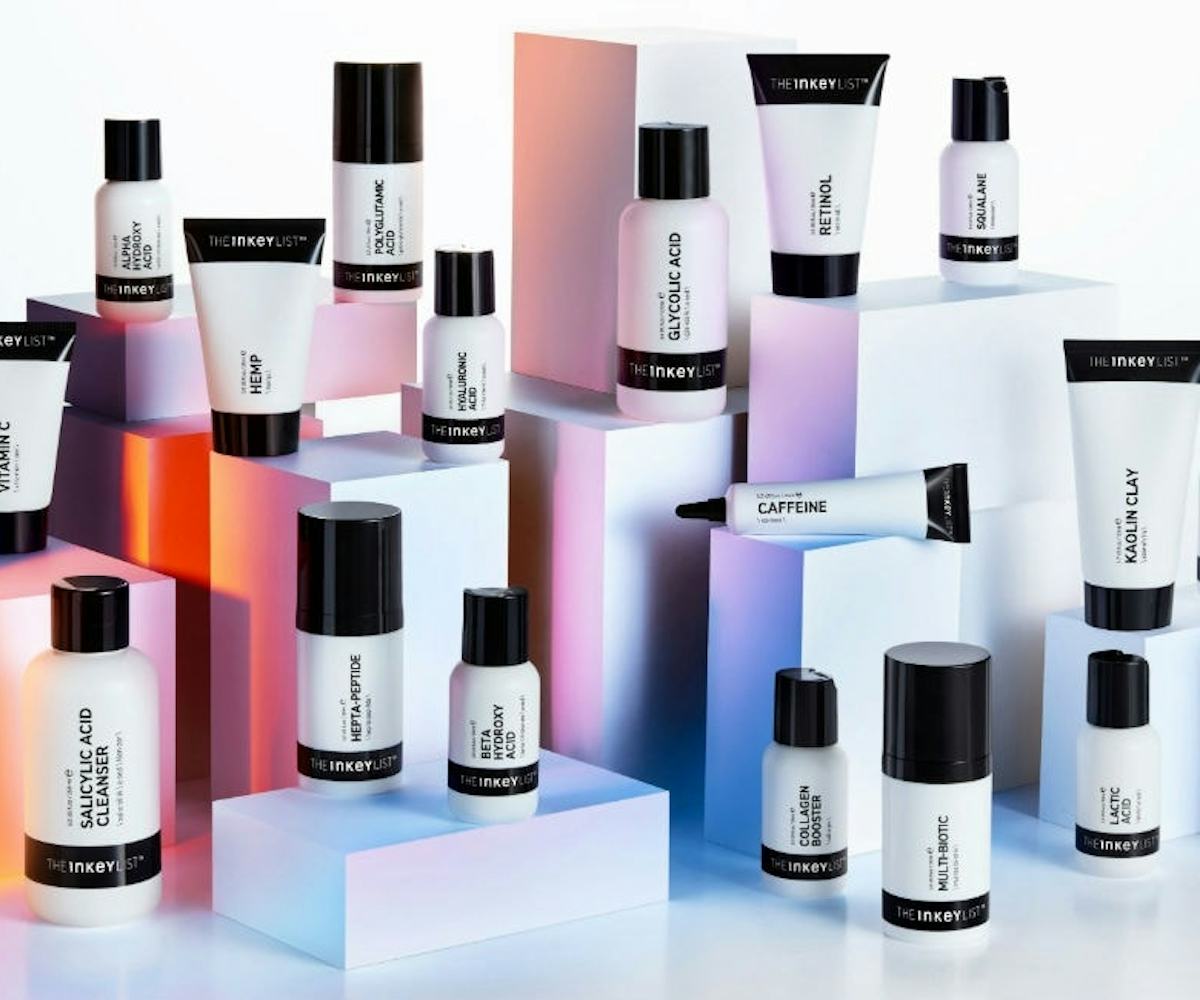 Photo Courtesy of The Inkey List.
Is The Inkey List The New The Ordinary?
It's definitely going to give it some competition
When The Ordinary came onto the beauty scene a couple of years ago, it seemed like a revolution was afoot. Here was a brand that was not only affordable but approached skin care in a way that we hadn't seen before: with utter simplicity. Ingredients were minimal, so was the packaging. And even with its pared-down nature, it didn't skimp on quality. The products worked, and they worked well—and they were affordable.
Then, the brand experienced some… complications that left a good number of consumers skeptical of the company and how it did business. But even if the consumer did want to explore other options, there really weren't any available that offered the same benefits of The Ordinary. Until, that is, The Inkey List came along.
The Inkey List is drawing comparisons to The Ordinary for a couple of reasons. Co-founder Mark Curry explains that its name is a reference to the brand's reliance on simplicity, because an "inkey list" is "the industry name for the long list of ingredients that's in every product," the one that's supposed to "tell everyone what's inside" the product, except for the fact that, Curry points out, "not everyone is a scientist." So, The Inkey List prides itself on having a small number of ingredients, with the focus being on the main, active ingredient in each product. If that's Glycolic Acid, then that's also the name of the product. This way, consumers aren't wondering what it is they're putting on their face. "The reason the brand exists is to take the complexity away from the world of beauty," Curry says.
Then there's the price. All 19 products in the current collection are under $15. Curry says this is possible not only because of where they source the ingredients but also because of the packaging. "We're not budget skin care, we're a low price point, high-end skin-care product," he says. "We make sure that we get the best grade of ingredients from the best source and then strip cost back right through the supply chain. So, no fancy packs and we don't do things that a lot of people do to inflate the price. We keep things as simple as possible to make sure that, when the consumer buys it, it's within their reach, and we're not asking them to overstretch themselves."
Of course, there are ways in which The Inkey List differs from The Ordinary. Outside of general presentation (The Inkey List's products primarily come in travel-sized tubes and bottles), Curry says the brand lives by a "fast beauty" mantra. Meaning, instead of taking the traditional 18 months to come out with a new product, they're able to do it in 18 weeks. "I think a lot of brands will rely on manufacturers to tell them what to do or the way their products should be developed and launched," co-creator Colette Newberry says. She and Curry, instead, basically create the timeline themselves. And they do that by knowing exactly what it is that they want out of a product, and also making sure there's a need for it.
And don't worry, it's still a fairly new category, but as far as we know, fast beauty isn't nearly as harmful as fast fashion. "Speed for the sake of speed is rarely a good thing, but when speed mixed with smart decision develops into agile thinking, everyone wins," Jenny Frazier, senior vice president of Nielsen's Innovation Practice, told Fashionista. "It's a segment we need in the business. We can't continue to say everything's going to take six months."
The line is meant for the beauty novice as well as the expert, Newberry says, which is why it includes staple ingredients like Vitamin C and Hyaluronic acid as well as what it calls its innovation line (that includes Heptapeptide, Polyglutamic acid, and Multi-biotic). Newberry also presents another way in which the brand sets itself apart from The Ordinary. "We're about being beauty translators." She continues: "Price is just one barrier to skin care, but understanding it is the main concern that people are having. You can give a person a retinol for $18, but they might not know that, if you use it in the sun, you can burn your face. So, we're really passionate about helping people to go on that skin-care journey of understanding and education."
The company also makes it a point not only to talk to its customers but to keep in mind their suggestions, too. The brand plans on releasing new products every 12 weeks, one of which will be Niacinamide because, they say, it's what the customers want. "The brand will always be ingredient-led and need-led, then we roll from there."
The Inkey List recently launched Stateside with Sephora, both online and in stores.
NYLON uses affiliate links and may earn a commission if you purchase something through those links, but every product chosen is selected independently.