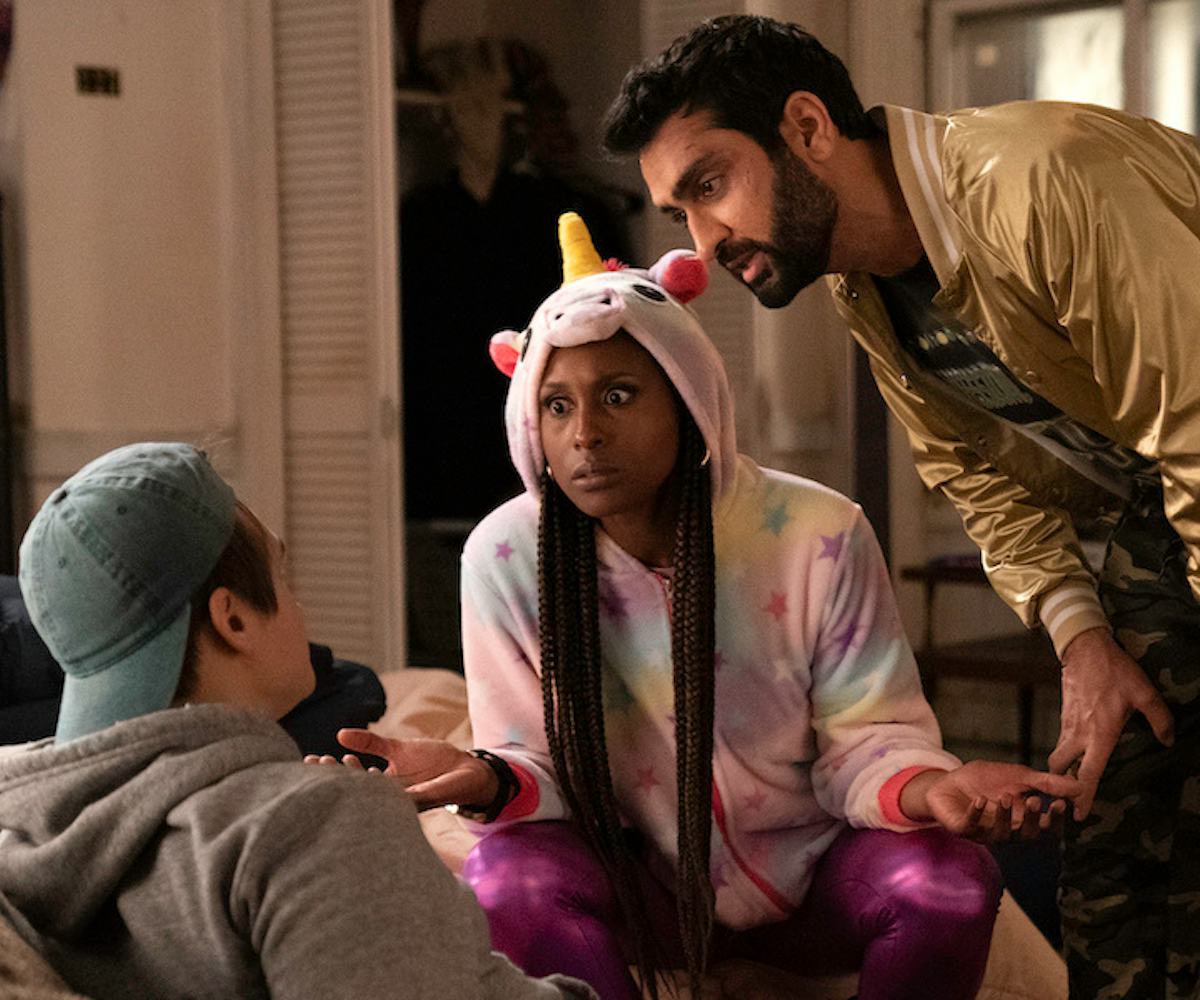 Photo by Skip Bolen/Paramount Pictures
Issa Rae Tries To Solve A Murder In Pajamas & Heels In 'Lovebirds' Trailer
She stars opposite Kumail Nanjiani
Issa Rae and Kumail Nanjiani are the new hot, quirky rom-com pairing of the moment in the first trailer for The Lovebirds. Set to premiere at the 2020 SXSW Festival, the film follows a couple who is "unintentionally embroiled in a bizarre crime," and sets out to solve it in hopes of clearing their names before the police catch up to them.
In the trailer, the couple's car is commandeered by a police officer to chase down a criminal — or so they think. It turns out, their car was actually hijacked by a random dude, who just intended on repeatedly running into and over the "criminal." A few bystanders think Rae and Nanjiani are responsible for the crime, and relay the false information to the police over the phone. It probably didn't help when Nanjiani sprinted away in fear. What's worse, being an accessory to murder or fleeing the scene of a crime?
Soon enough, the couple attempts to solve the case themselves, breaking into a young man's apartment and berating him with not-so-creative insults like "you little beanbag ball-less b*tch" to get him to spill the details on who they're really looking for. It works, sort of, and by the end of the clip they wind up being held hostage by crime boss Brittany Snow.
On January 15, the full lineup of films to be shown at SXSW was announced, including The Lovebirds. The festival will be opened by the world premiere of Judd Apatow-directed The King of Staten Island, which stars and was written by Saturday Night Live comedian Pete Davidson. Spike Jonze's Beastie Boys Story will also debut at the festival.
Watch the trailer for The Lovebirds below, debuting in theaters on April 3 following its SXSW premiere.