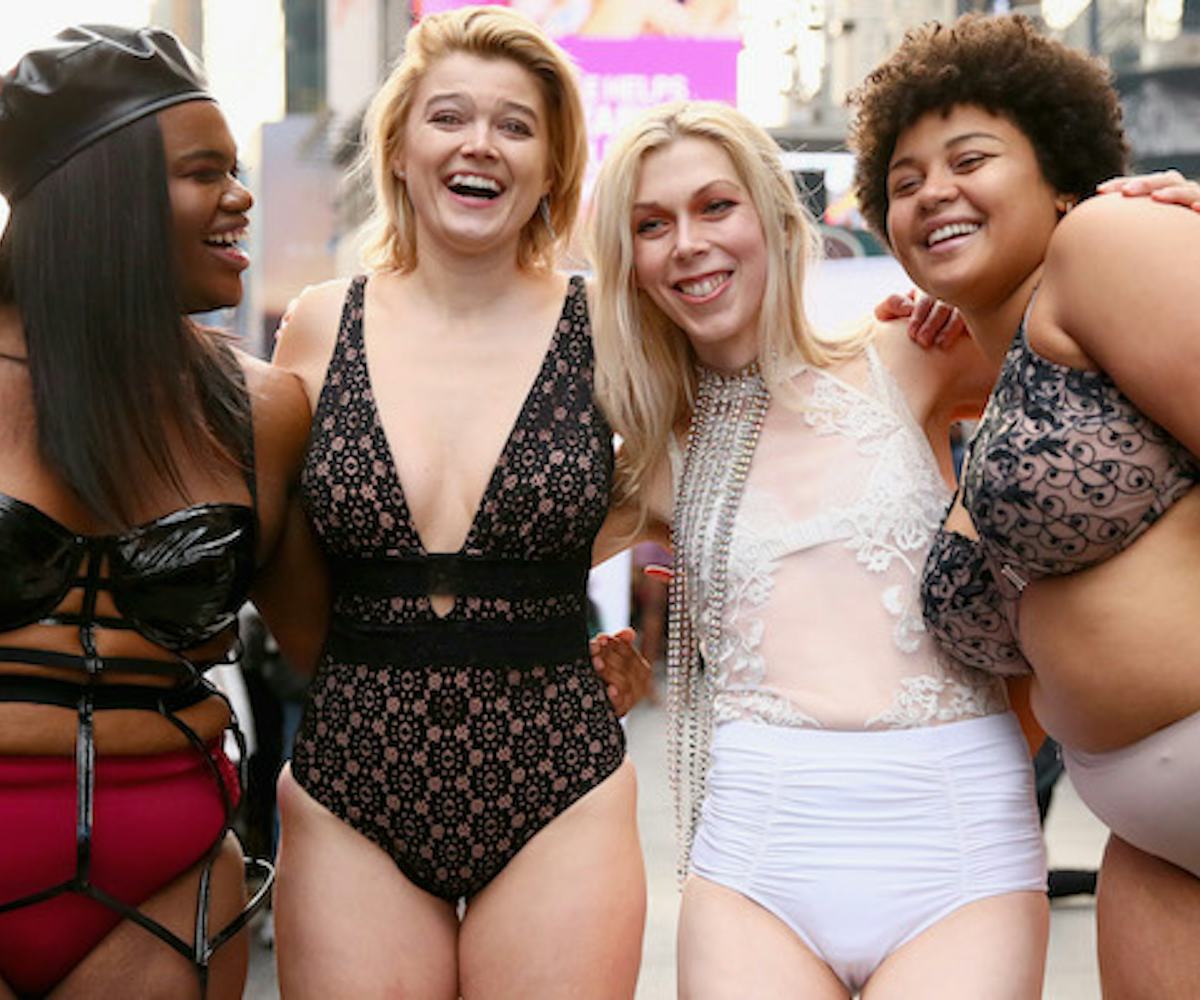 Photo courtesy of The Real Catwalk
Inclusive Runway Show, The Real Catwalk, Returned To New York
We spoke to its founder about the importance of movements like this
This past weekend, The Real Catwalk returned to New York City, showcasing bodies of all shapes and sizes on a runway in Times Square. Saturday's event marked the project's third-ever show, which began in New York last year and moved to London this past summer.
The project—started by KhrystyAna Kazakova, finalist on America's Next Top Model cycle 24 and plus-size activist—has a simple mission: to spread "message of self-love and acceptance for everyone to celebrate." At a time when the industry is taking steps forward while simultaneously taking steps backward in terms of inclusivity, The Real Catwalk is one powerful event.
Kazakova, a plus-size model herself, founded this project in response to her experiences. "It stemmed from my first experience modeling in Times Square in lingerie while I was applying for America's Next Top Model. The feedback and responses that I received on social media were so positive last year that I was inspired to continue the catwalk and include my closest friends and those of all shapes and sizes."
But The Real Catwalk is more than just a celebration of size. It celebrates models of all body types, colors, gender identities, and abilities. "An important part of this runway show is that we are not hiring traditional models," says Kazakova. "The specific requirements to be a model are that there are none. Every single person is qualified and welcome."
What makes this third iteration so exciting? For the first time, brands have jumped on board to clothe the models, making it better than ever. Swimsuits for All, Woman Within, Roaman's, and KingSize supplied swimwear, lingerie, and men's underwear for this year's casting—representing sizes 4 up to a 32.
We can only hope to see The Real Catwalk continue to thrive and inspire, and to see more brands—and more of the industry in general—hop on board with support. Inclusivity in fashion is more than just a trend—it's a necessity. It's what we, the consumers, want.