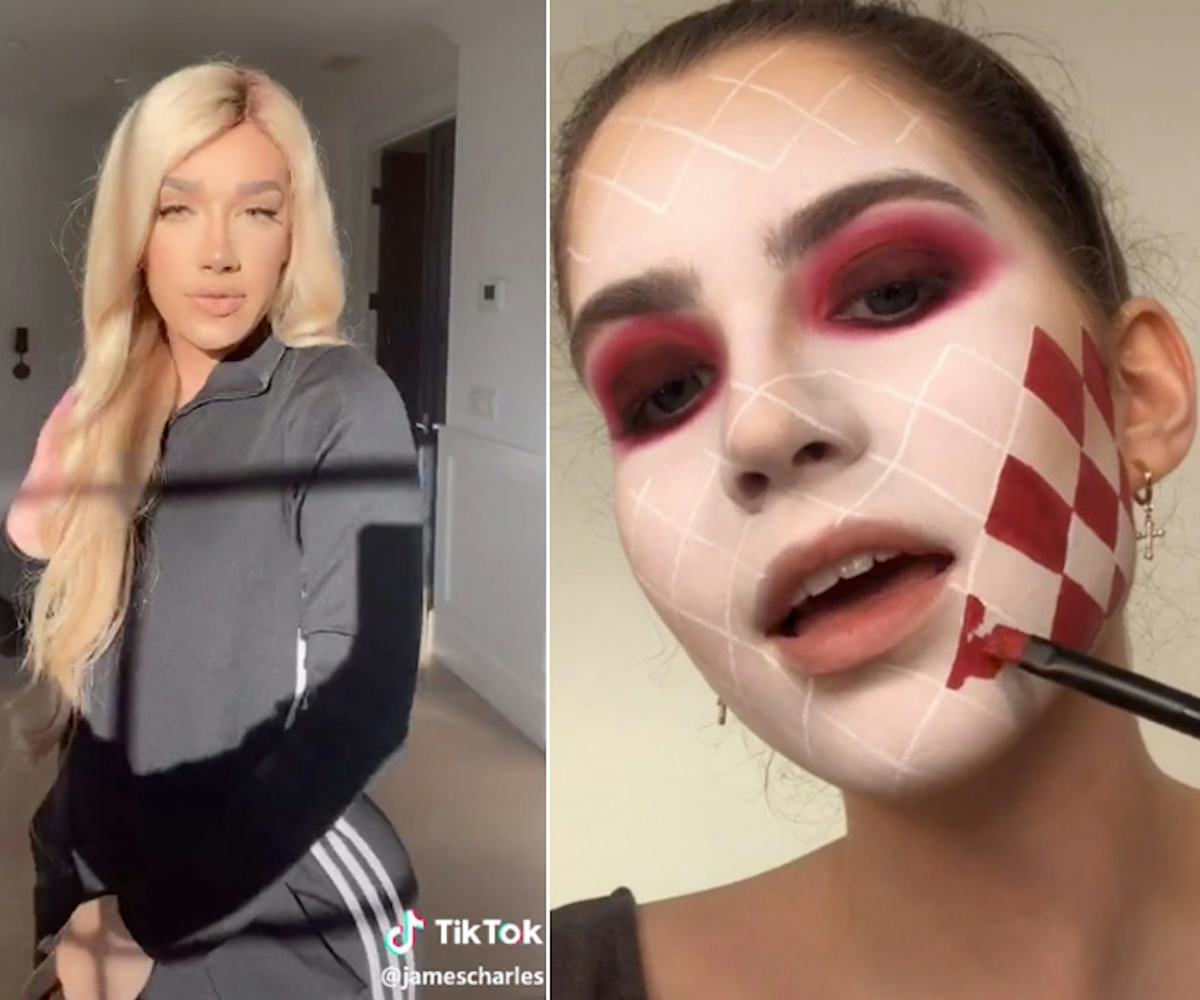 Screenshots via TikTok
TikTok's Top Beauty Videos Of 2019 Are Full Of Glitter Nails And Clown Makeup
This end-of-year list does not disappoint
In what might be the most fascinating, chaotic, and mesmerizing "Best Of" list you'll see rounding out the year, TikTok's top 2019 beauty and style videos list has been released — and it doesn't disappoint. The list, announced on Dec. 9, comes as part of TikTok's Top 100 list, which highlights the platform's best-performing content across all categories, from memes to music.
Judging by the videos in the beauty category, with powerhouse personalities like James Charles and Victoria Lyn topping the list, the platform is shaping up to be the next go-to for beauty content in 2020. From ASMR-like tutorials and face paint challenges to extreme braiding and questionable, albeit viral beauty trends, it's easy to understand why the videos are being played on loop.
"Watching videos on TikTok feels like you're a part of something exciting and unexpected," shared Vanessa Pappas, TikTok U.S. general manager, in a statement. "It ranges from wildly entertaining to truly heartwarming moments that inspire conversation."
See the top 10 TikTok beauty and style videos of 2019, below, and check out the full TikTok Top 100 here.
Like watching paint splatter or slime ooze, there is something extremely satisfying about seeing this blue glitter polish drip acrylic color onto a single long, sharp nail. The video, created by professional nail artist @ youngnailsinc, has racked up nearly 600,000 views.
@abbyrartistry mouths the words to "Lalala," by producer Y2k & Canadian rapper bbno$, while accomplishing a wildly intermediate clown makeup look — complete with a white powdered face covered in red-and-white checker print. The video, hashtagged #clowncheck, is part of a bigger self-deprecating TikTok trend where users paint themselves as clowns when they feel like they've been acting, well, clown-ish. It'll close out the year with over 4 million likes.
James Charles topped YouTube's best of 2019 list this year, so it's no surprise that the beauty vlogger made waves on TikTok, too. In this video, Charles participates in the platform's viral "Eyes Lip Face Challenge," originally created by cosmetics brand e.l.f. It starts with Charles with a bare face and ends — after some winking and air kisses — with him in a full face and a blonde wig.
Acting out the lyrics to Kero Kero Bonito's 2014 "Flamingo" was a big thing on TikTok this year, and @glitterandlazers' interpretation racked up over 2.3 million likes. In the video, @glitterandlazers changes into different colored outfits as the song calls out black, white, green, and blue.
This video is simple, but a relative big deal on the platform with 2.4 million likes. You see user @emilymunyak squeezing pink and purple hair dye into a plastic container, parting her hair, coating the strands, and throwing some peace signs once she's got some tinfoil in her hair. YNW Melly's "223's" loops perfectly in the background.
6. Ombré Unicorn Braids
This video comes from user @learnwithlati, who seemingly only uses the platform to extravagantly braid brightly colored wigs. This particular video features a long, purple ombré wig being braided in a handful of equally impressive ways by a pair of hands coming from off-screen.
Another challenge video from James Charles — except this one is all about eyeshadow. The challenge calls for users to create an eyeshadow look using three randomly selected colors. To select, however, they're asked to count how many shades are in their favorite palette, put each number on a sheet of paper, put them in a bag, shake them up, and create a look with the three you draw. Charles (surprise!) uses the Morphe x James Charles Palette to create a smokey look with brown, orange, and purple shades.
Using the Glow Job mask from Too Faced, @victorialyn created this commercial-worthy video — showing everything from the goopy, glitter formula lifting from its packaging to what it looks like as she slathers it on her face and how she peels it off.
It's safe to say @addyurdaddy is used to a good old viral TikTok, considering she has 2.1 million followers on the platform. In this video, the 17-year-old runs through an '80s-style get-ready-with-me. She starts the video by applying blush and lipgloss and finding an outfit, and ends it by pulling her hair into a half-up, half-down hairstyle with a velvet scrunchie.
Victoria Lyn rounds out the list with another mesmerizing tutorial — this time inspired by all things Barbie. While it's unclear if its an ad, Lyn uses almost every product included in the PÜR x Barbie collaboration, from the bright pink, made-for-Instagram glitter mask to the Endless Possibilities eyeshadow palette and the semi-matte lipstick. At the end, she's left with a vibrant, pink, purple, and blue swirl shadow look that earned over 1 million likes.
NYLON uses affiliate links and may earn a commission if you purchase something through those links, but every product chosen is selected independently.