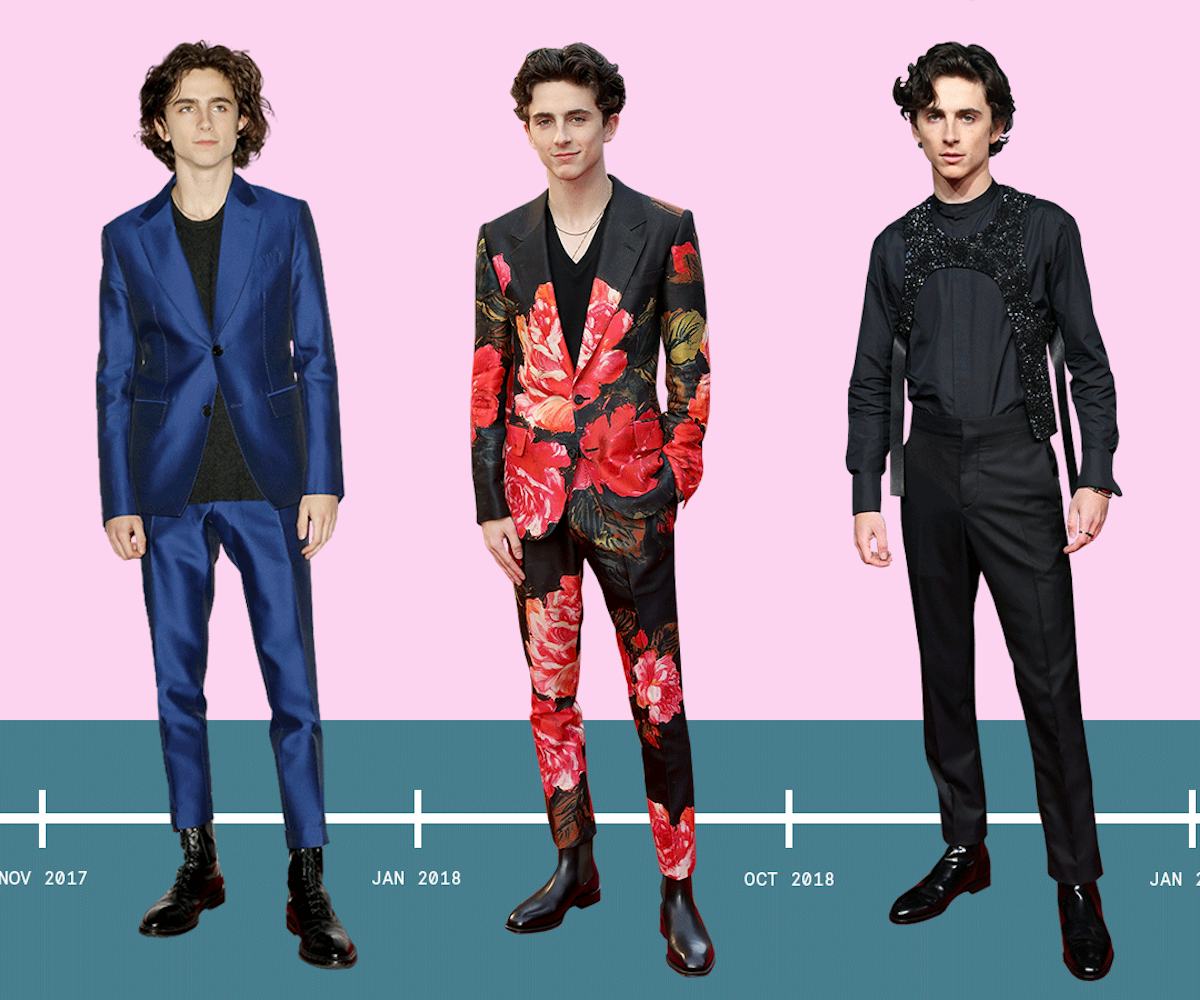 Unlocking The Secrets Of Timothée Chalamet's Perfect Style
Apparently, he does it all without a stylist?!
There was a moment, while watching the Golden Globes red carpet fashion this year, when I actually gasped out loud in my living room. It wasn't when Lady Gaga walked out in a lavender gown with an endless train, paying homage to Judy Garland in the 1954 version of A Star Is Born. (Though, that was very good.) Nor was it when Pose's Indya Moore made her Golden Globes debut in a warrior-inspired Louis Vuitton mini and struck some serious poses. (This was also good—very, very good.) It wasn't even when the Fiji girl photobombed unsuspecting celebrities.
In fact, my gasp did not come courtesy of a gorgeous gown at all. It came instead thanks to It Boy Timothée Chalamet... and his harness. While Chalamet claims not to have known that the accessory, typically associated with the BDSM and leather scenes, was a harness—"I thought it was a bib, they told me it was a bib!" he now-famously proclaimed on The Ellen Show—that's really beside the point. Because, in my eyes, in that moment, Chalamet achieved peak fashion—or what I thought was Chalamet peak fashion; turns out, more daring looks were yet to come—and I was obsessed.
I am not proud to say this, but, after seeing that harness, I spent the next 30 minutes going down an internet rabbit hole, looking up his every look, searching for clues that would unlock the secret to Chalamet's style. Was this a spark of fashion genius? I wondered, or has Chalamet been preparing us for this all along?
Maybe this turn of events is not surprising if you'd already been paying attention to the actor's impeccable fashion taste, but, if you were as innocent to his stylish charms prior to the Globes, let me describe it for you: It's very, very, very good—and full of surprises. And perhaps that's to be expected if you look at the wide variety of roles Chalamet's inhabited throughout his young career. From portraying vulnerable, tender Elio in Call Me by Your Name to the cocky, bass-playing love interest in Lady Bird to the devastating, self-destructive addict in Beautiful Boy, Chalamet embraces the same diversity on-screen as he does on the red carpet, where no two looks of his are ever the same, even if they are all distinctly his.
Perhaps that's because of this one common denominator: Chalamet refuses to comply with outdated rules of what a buzzy celebrity "should" wear to a premiere or an award show, instead, thrilling his audience by wearing printed and colorful suits (a lot of them by Alexander McQueen and Haider Ackermann) that are so wild they might even raise an eyebrow during Fashion Week (which, yes, he has attended in the past), let alone a formal event.
Of course, Chalamet is not alone in his status as a red carpet innovator. In fact, I would consider Chalamet a core part of a group of leading young celebrities—including Harry Styles, Ezra Miller, and Jaden Smith—who are redefining the red carpet dress code by being unafraid to engage in feminine-leaning trends, forgoing what has previously been seen as "appropriate" formal menswear. Instead of sticking to traditional solid-colored suits and tuxedos on the red carpet, they have embraced whimsical prints, rich textures, streetwear accessories, and so much color.
But what makes Chalamet's rise from film's darling to fashion's best-dressed unique is the fact that he claims to have no stylist, which is unheard of for an actor. Also there's an ease with which he pulls off the kind of tricky looks that most men would never dream of wearing, lest they look like they'd forgotten to take off their costume after filming. Instead, the confidence with which Chalamet dons his clothes—whether they're trendy chunky grandpa sneakers paired with a slim-fitting suit, or a polka dot, collared shirt with tight leather pants, or, his favorite, a T-shirt and combat boots with formal wear—is applause-worthy and exciting given the sea of penguin tuxes that can be spotted all around him.
Part of Chalamet's fearlessness when it comes to fashion comes from his genuine love for dressing up and appreciation for luxury designers. He has previously told Time Out, "I hear about celebrities who have stylists, and that blows my mind. It's certainly not why I act, but I can wear cool clothes from some of the nicest designers in the world. [So why] am I going to pay someone to figure out what I should be wearing? That's the fun part."
And part of that fun, I would guess, must be the positive reception that he has gotten from people who watch him (me now included); the lauding and landing on best-dressed lists undoubtedly has encouraged Chalamet to experiment and push his style forward over the past two years. Because, let me tell you, as I discovered on Golden Globes night, there has been a definite style evolution of Chalamet, from when he started doing press for Call Me by Your Name to his most recent appearances for Beautiful Boy, his style has evolved from more standard looks to the strange beautiful thing it is today.
Ahead, we take a moment to appreciate how far he's come.
Velvet
For most of 2017, Chalamet kept his style fairly safe; black, gray, occasional plaid suits, as well as a statement shirt from time to time, marked the beginning of his ascent to cinematic prominence. Near the end of the year, when Call Me By Your Name and Lady Bird began really picking up steam with Golden Globe and Oscar nominations, he started incorporating velvet into his look, with mutely colored suits in the fabric making an appearance at end-of-year award shows.
Color
Going into prime awards season in 2018, Chalamet played with color a lot. There was a cerulean suit at the London Film Critics Circle Awards, a forest green one at Hollywood Reporter's Annual Nominees Night, and an all-white (in menswear, I consider white a "color") suit by Berluti at the Vanity Fair Oscar Party. While he moved on, with more experimental looks after that, he did go back to the color wheel one more time for an incredible all-red look, paired with the aforementioned sneakers, by Louis Vuitton for the Amazon Studios premiere of Beautiful Boy later in October.
Florals
Marking his rise to fashion icon status is the Floral Period during which he donned suits patterned with floral and botanical motifs. While he started slowly in September—first with an elegant black Haider Ackermann suit with white appliqués (with a T-shirt underneath and boots!), and then with a powder blue Alexander McQueen set with bright red flowers and birds crossing from the right shoulder to the left hip, like a sash of sartorial honor—he progressed, by October, to a bold Alexander McQueen suit, featuring giant hand-painted florals (which he again paired with a black T-shirt and Chelsea boots), at the U.K. Beautiful Boy premiere.
Detailing
Next, Chalamet started making accessories the focal points of his looks which prompted the now-famous sparkling harness moment dreamt up by Louis Vuitton. Less talked about was the snake-like pattern that appeared on (and marked his transition from the floral period) his asymmetrical suit jacket and the shirt-cummerbund piece that he proudly displayed by leaving his suit open, both of which came earlier, in November.
Peak Fashion
This January, Chalamet wore what might be my favorite look yet. While attending the Critics' Choice Awards, he stepped out in a literal masterpiece of a suit by Alexander McQueen that mimicked an art canvas with brushstroke motifs. Paired with chunky white sneakers, whose bottoms resembled moon boots, it also recalled a scene from an outer space movie. Just a month later, he followed it up at the EE British Academy Film Awards by wearing a Haider Ackermann printed metallic jacket, shirt, and tie paired with graphic racing-inspired dress pants (words I never thought I would see together). If that's any indication, Chalamet is off to the races for his next fashion era, and I am watching from the stands with bated breath.