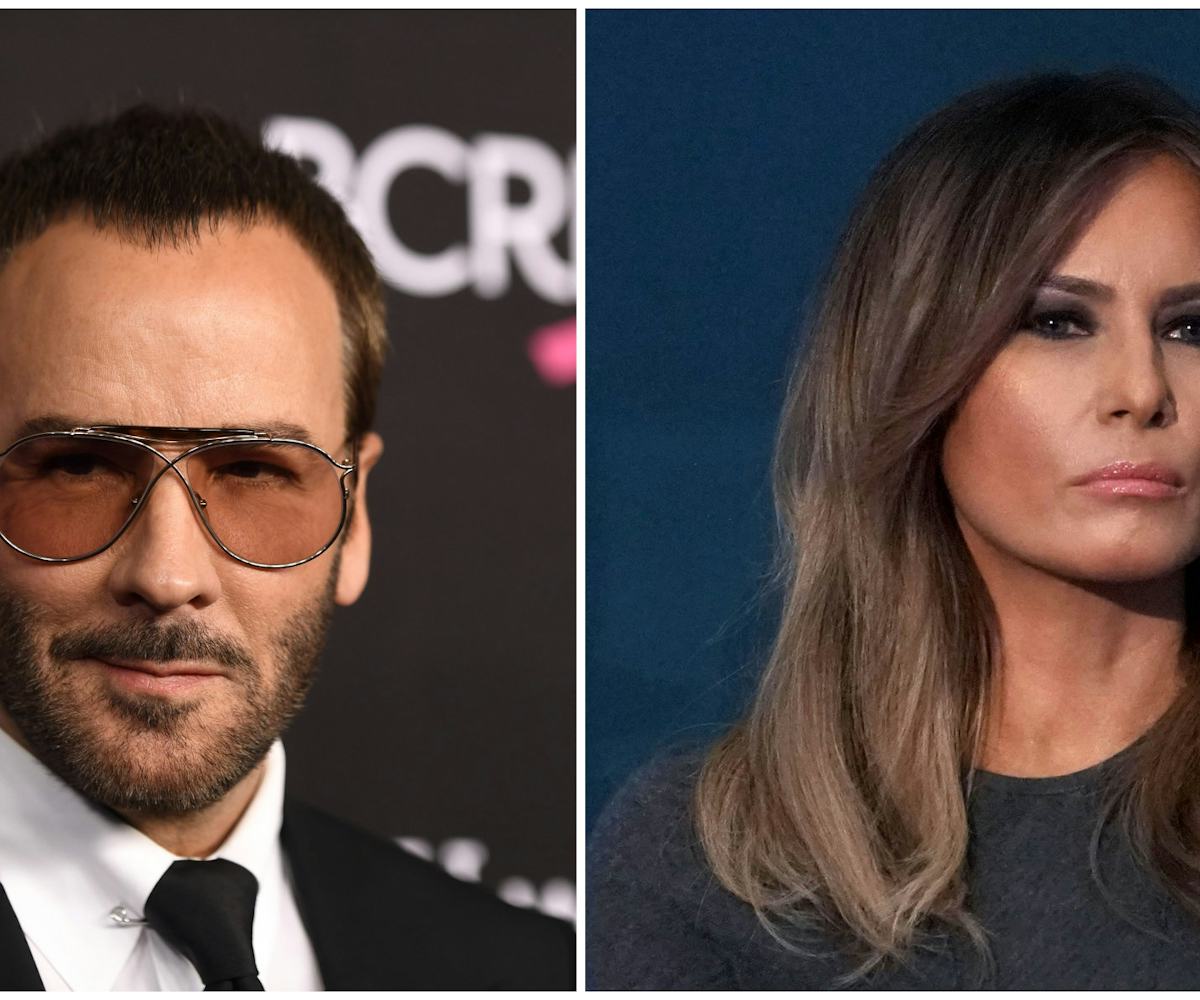 Photos by Frazer Harrison/Getty Images. Alex Wong/Getty Images
No, Tom Ford Didn't Call Melania Trump "A Glorified Escort"
We shouldn't be so quick to believe things
On Tuesday, a quote attributed to Tom Ford went viral on Twitter. The quote alleged that the designer slammed First Lady Melania Trump, saying: "I have no interest in dressing a glorified escort who steals speeches and has bad taste in men." Turns out, though, Ford said no such thing.
And yet, the statement quickly became a trending topic on Twitter, with little interrogation into its veracity. And when its truth was questioned, replies linked to a paywalled article on The Washington Post titled "Designer Tom Ford Won't Dress Melania Trump," falsely leading people to believe that the quote was taken from this article. In reality, Ford's quotes from the article do not say anything about Trump's plagiarism or taste in men, and instead, per The Fashion Law, were given before the last presidential election, and state that Ford will not take part in dressing the 2016 administration, regardless of who wins, because candidates should dress in a way that is relatable.
While it would be great if high-end fashion designers would stop dressing wealthy, shitty people (when they can help it), it's pretty rare when that happens, because: money. This is why we should make sure to celebrate designers like Philip Lim, Marc Jacobs, Kenzo and Opening Ceremony's Humberto Leon, and Sophie Theallet, who have actually taken a stand against the Trump family. And we shouldn't be so eager to believe that influential and rich designers will stand up to people who will line their pockets—and we should definitely be more quick to fact-check before pressing retweet.