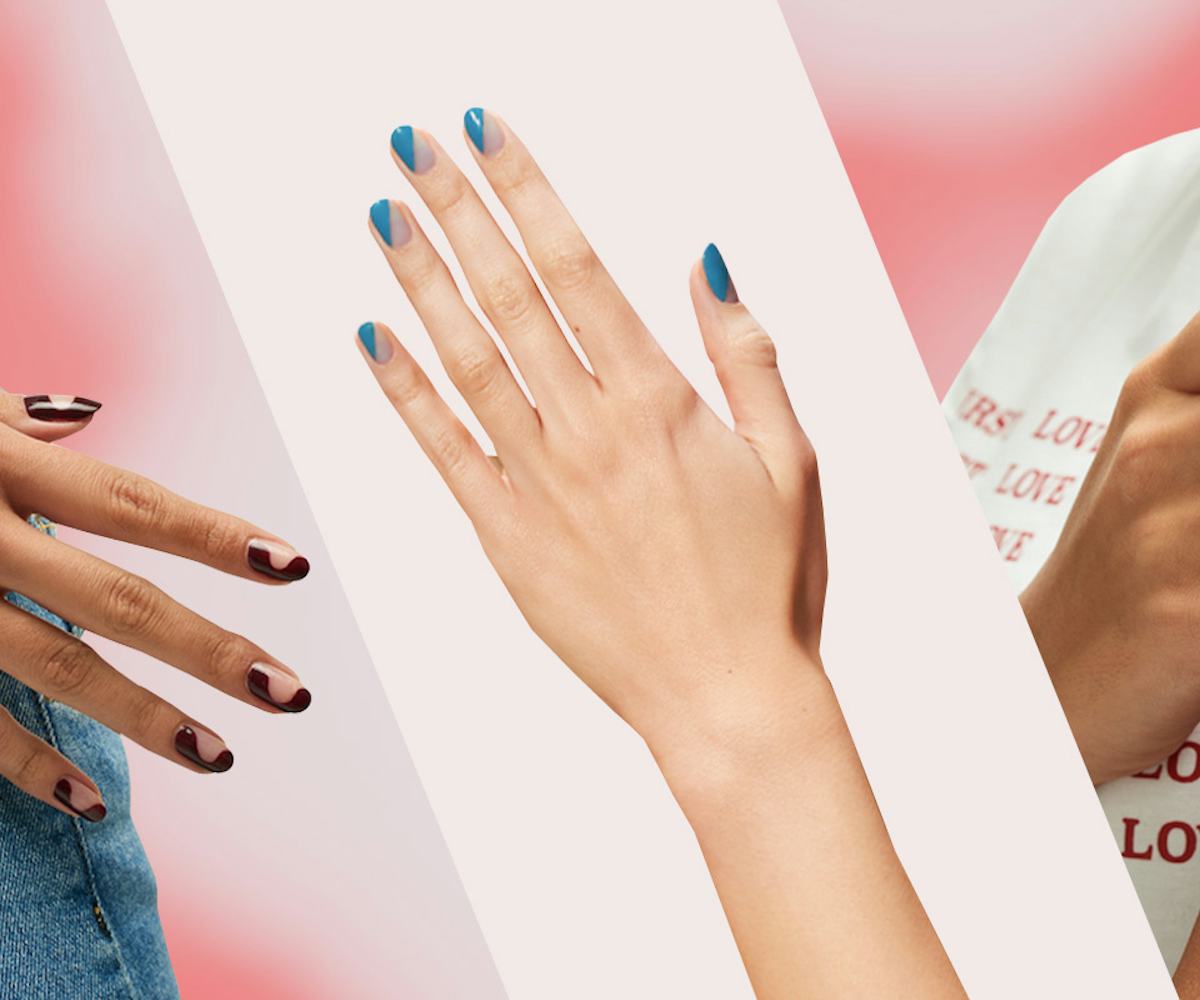 Images courtesy of Paintbox
11 Valentine's Day Nail Art Ideas You'll Want To Wear All Year 'Round
Instagram hearts and holographic foil included
Regardless of whether or not you actually plan to participate in the love-obsessed holiday, Valentine's Day-inspired nail art designs have begun to float around — and they're way too good to pass up. Sure, solid red and pink will always be an easy go-to for February nails, but thanks to all of the fresh ideas at your disposal, you're bound to heart eyes for glitter, non-traditional colors, and some popular nail art trends with a Valentine's Day twist, too.
Valentine's Day appears to be the one season that everyone goes all out with their nails, Eleanor Langston, founder and chief creative officer of Paintbox, tells NYLON. "Our newest look is a heart ombre manicure on negative space, and it's the perfect sophisticated take on the holiday. Our clients also love heart-shaped foils atop negative space in metallic foils like fuchsia, rose pink, or vibrant red." She also suggests incorporating soft glitters and subtle brushstrokes to create a look that alludes to the magic and romance of the season. And for those prefer a little edge to their look, Langston recommended applying a matte top coat.
As for how to keep the love for your nails going even after the candy has gone on clearance, Langston suggests using cuticle oil to lengthen the life of your manicure. "Reapply at least 2-3 times a day, and use top coat," she said.
From nails that double as literal hearts to an ombré effect made for showing off on your Instagram feed, check out 11 of the best Valentine's Day manicure ideas, below.
Classic Red Manicure
There's nothing basic about an all-red manicure, especially if you add some flair. As manicurist Lisa Logan explained, on behalf of Nails INC., there are plenty of potential red hues to choose from and when it comes to selecting the right shade for your Valentine's Day manicure, she shared an important consideration. "People think it's a cliche to get red nails but I don't think it should be overlooked," she said. "You want a red that fits your skin tone first and foremost. You can also take it one step further and use the red to create a negative space design with a subtle heart."
Transfer Foil Nails
Transfer foil nails are a mainstay on Instagram, and this version features the perfect shade of pink for Feb. 14. You can point to this picture as inspo for your manicurist or attempt to re-create the look at home with nail adhesive.
Heart Nail Art
No Valentine's Day nail inspo is complete with a heart-filled manicure. The tiny shape can be used in a variety of ways, and whether you double up on the love like this look or you use a single heart to send a message, you can celebrate the season with a style that you love.
Ombre Manicure
You can easily bring the ombre trend to your Valentine's Day manicure. Using matte polish, this nail art showcased a complete rainbow of pink. As an added bonus, selecting a manicure with variations in color ensures that your nails match your Valentine's Day-themed outfit.
French Tip Manicure
Turn your nails into literal hearts with this twist on a french tip manicure. An upside down heart was painted on each nail and the tip of the nail completed the heart-shaped look. You can trust this style in the hands of a nail professional or make it easy to DIY with decals that require a simple peel and press.
Accent Nails
Seal your perfect Valentine's Day manicure with a kiss. Accent nails are a staple manicure style, but this version used a few lips to spice things up for the holiday. Along with an accent nail, the manicure featured a red outline leading from above the cuticle to the tips.
Day-Glow And Glitter Nails
No matter the occasion, glitter is always an appropriate option. When it comes to Valentine's Day, you want to choose a sparkle that can double as a statement. If you're feeling particularly romantic, you could add the sparkle to every nail or take a cue from this design and paint select nails. To get this look, grab a bottle of pink polish with the hearts already added or pick your pink, and then add a sprinkle of sparkle.
Anti Valentine's Day Nails
If you're simply not feeling the love, there is an alternative mani option. Forget the cutesy designs and instead go for art with attitude. This manicurist incorporated some elements of love, but she offset that with conversation hearts that read 'Ew," "No,' and "Bye." If you're not feeling brave enough to paint your own hearts, you can always go with a sticker decal and then use a fine point brush to add your own phrases.
Blue Hearts Manicure
For those that don't want to follow the crowd, here's a reminder that your Valentine's Day manicure can come in any color. Mix up your mani with hearts in shades of blue. Langston also backed the non-traditional color route, telling Nylon, that a deep teal or a deep oxblood is always a great option.
Leopard Print Hearts Manicure
Turn your hearts into a leopard print pattern for a walk on the Valentine's Day wild side. You could always go all out and rock a full set of leopard print hearts or for a softer look, take a page from this manicure and mix the print up with other patterned and solid nails.
Instagram-Inspired Nail Art
Wear your heart (or like?) on your fingernail. The look was created using two shades of polish and some serious attention to detail. Create your own look worthy of a double-tap with a pack of nail decals that feature heart-eyed emojis.