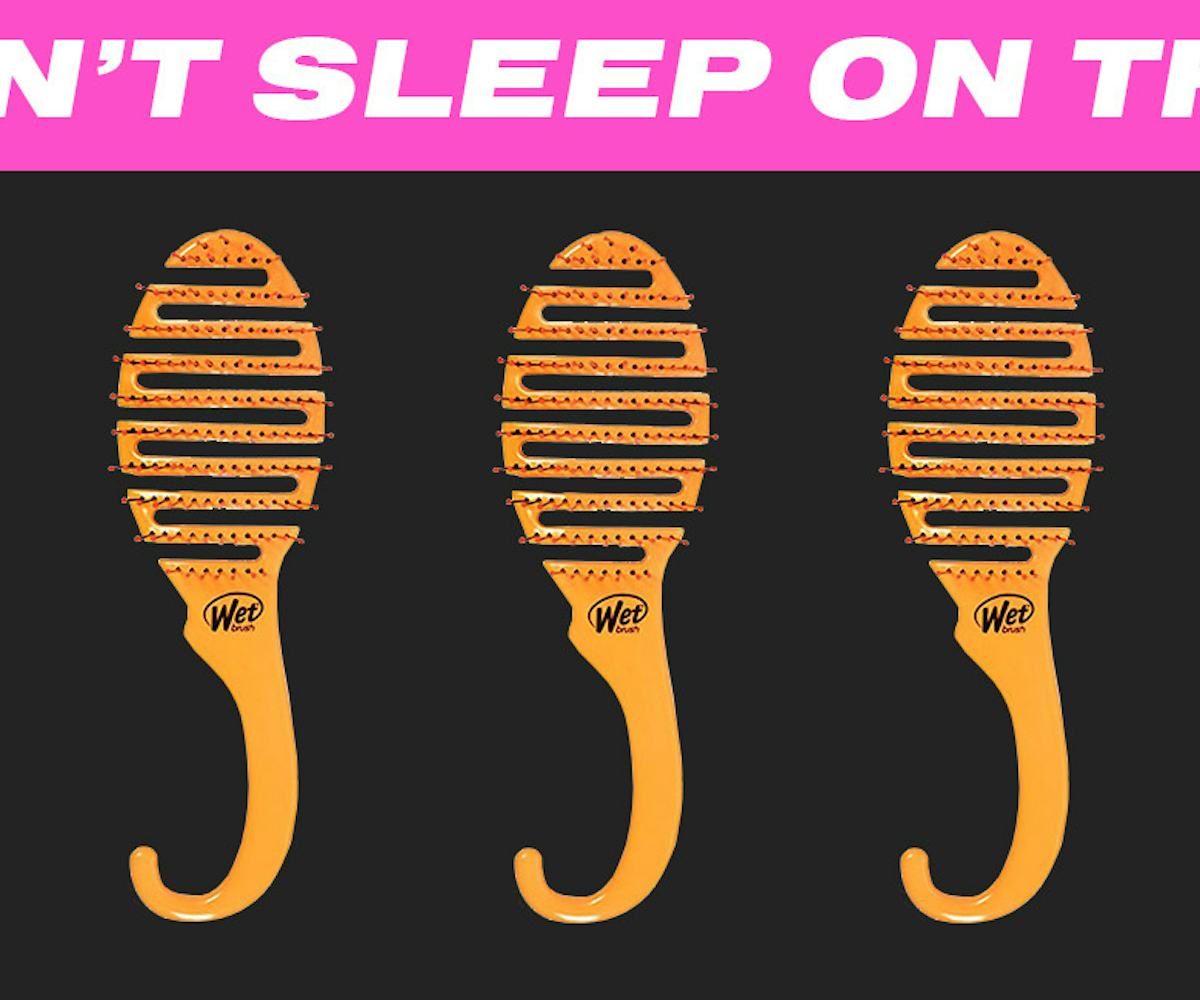 This $10 Tool Is the Only Thing That Can Untangle My Hair
Have long hair? You need this!
Friends don't let friends miss out on all the cool, under-the-radar things they know about, like which little-known beauty brand is low-key making the best highlighter around. And because we consider our readers to be like friends, we gather together all our best finds in our Don't Sleep On Thisseries. Check in every week to see what things we can't wait to share with you.
The majority of my beauty routine revolves around my hair needs. What shower cap can I use to avoid getting my hair wet the six days a week that I don't wash it? What dry shampoo won't leave my scalp with buildup after said six days of not washing it? (amika's Perk Up Dry Shampoo) How can I quickly dry my hair without using a blow dryer on the day that I finally wash it? The question I have taken the longest to find an answer for, though? How to untangle my hair every single day.
As someone with very, very fine, waist-length hair, it doesn't take more than a single gust of wind or few drops of water to get it into a knot. I spent my entire childhood with my hair in two braids after my mom spent one night listening to my screams as she attempted to brush it out after a day at the playground. As an adult, I have given up on highlighting my hair using foils because the process of brushing my strands after the dye has been washed out of them is too long and painful to undergo on any regular basis for both me and the stylist who's been stuck with washing and brushing my hair (bless balayage).
This tangling gets even worse come wintertime. With hats, scarves, and chunky coats constantly rubbing on the back of my head and neck, I often find a nest of tangled hair the minute I get indoors. Again, this leads to painful long minutes of me pulling on (and essentially breaking and damaging) my strands.
When I was introduced to the brand Wet Brush a few years ago, I didn't believe that it would solve my hair woes—so simple was the solution. The brush, with its unique bristles, gently loosens knots without pulling, tugging, or breaking hair. Yet when I tried it, I was amazed by how quickly and painlessly my hair untangled. Don't be fooled by the name—it works just as well on dry hair as it does on wet.
Since first discovering the Original Detangler, I've gotten a mini one for when I travel, a biodegradable version I keep at my work desk, and Flex Dry that I use after showering in conjunction with the brand's recently released Detangling Spray, which not only keeps my hair tangle-free for a few days (it promises three) but also fights frizz and strengthens and repairs split ends. My favorite though is the Shower Flex, that hangs in my shower thanks to its hooked design, which I use to brush conditioner and masks through the entire length of my hair. You haven't applied a hair mask until you've done it with a brush. It's gotten to the point where I carry one whenever I got to a new salon that may not have some version of a detangling brush. And, at $10 or so each, I can afford to!
While my hair may never be tangle-free for good, no matter how much I avoid coloring it or using hot tools on it, with a $10 fix, I have a solution that I can live with. Next problem to solve? How to avoid staticky hair from sticking to strangers on the subway.
Wet Brush, Shower Detangler, $9.99, available at Wet Brush.
NYLON uses affiliate links and may earn a commission if you purchase something through those links, but every product chosen is selected independently.