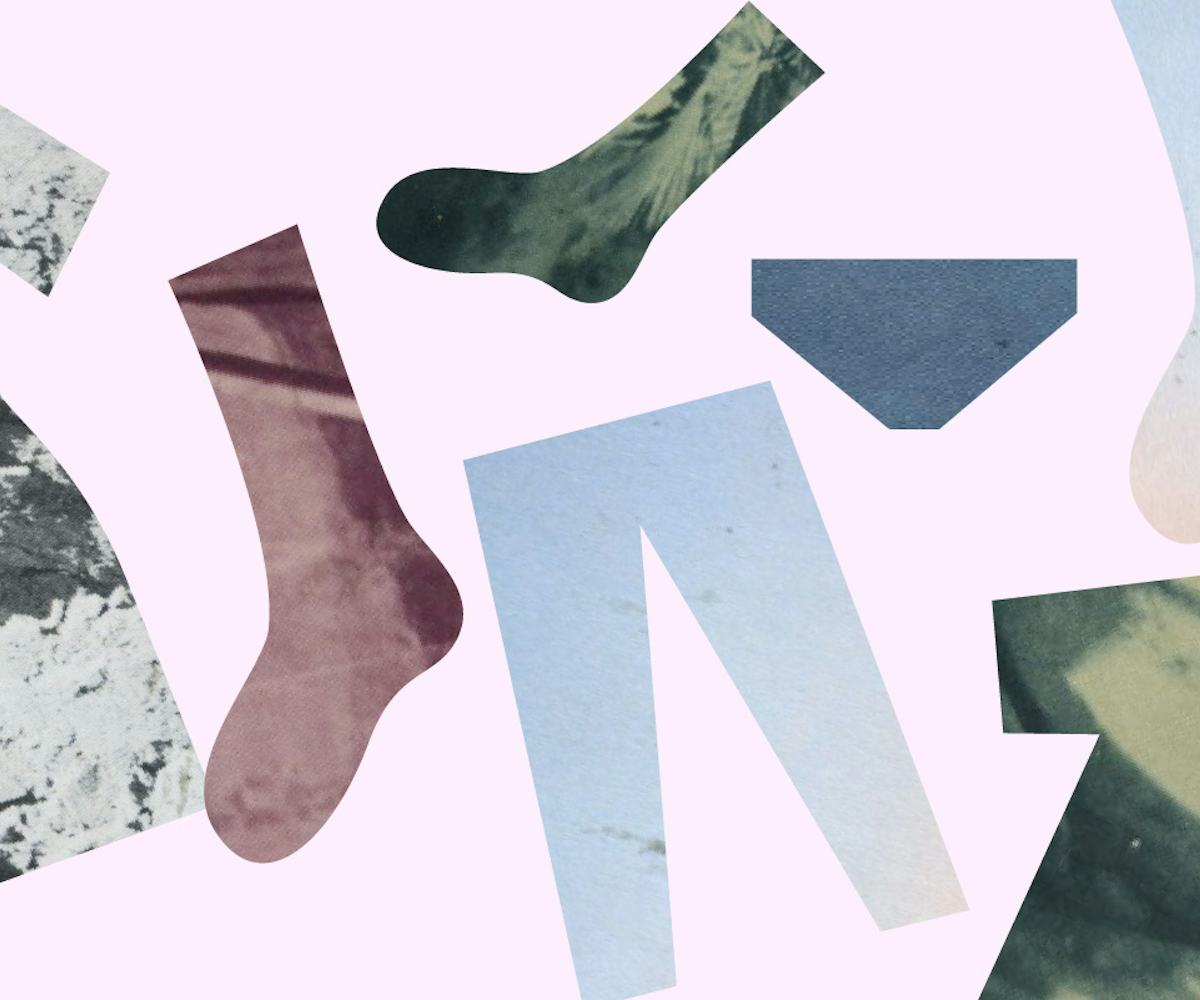 Meet The Company That Wants To Reuse Your Old Underwear And Socks
HELPSY knows even your unwearable undergarments can have a second life
When it comes to disposing of the clothing and accessories we no longer wear, things can get a bit tricky. While, yes, sometimes we're able to flip pieces at buy-sell-trade retailers such as Buffalo Exchange, or even consign our luxury pieces through places like The RealReal, many times, these pieces have simply reached the end of their life cycle.
What tends to happen in this case? Well, sometimes we'll try to donate it to our local Salvation Army or Goodwill if we can (which, frankly, is a whole issue in itself), and, if not, especially when it comes to less desirable items like old swimsuits and old underwear, it likely ends up in the trash bin, and therefore, piling up in our landfills. Both situations yield outcomes that are not really the greatest.
So, how can we ensure our old clothes are going to the best place possible, whether they're donated and reused, or recycled or downcycled? That's where HELPSY, the first B Corp clothing collection company in the world, and currently the largest clothing and textile collector in the Northeast United States, comes into the picture.
HELPSY, founded by Rachel Kibbe, began as an online retailer stocking sustainable clothing labels back in 2018, but after merging with a clothing recycling company—founded by Dan Green, Dave Milliner, and Alex Husted—the initial store shuttered, and Kibbe joined the new team. "I saw more of a need for clothing and recycling solutions than a need for more new clothes—no matter how sustainable—and they were doing an incredible thing in this space," says Kibbe.
She also knew that, with the HELPSY brand already a strong name in the world of sustainable fashion and amongst the consumers who shopped it, she would be able to get the word out there, following where the movement is heading: toward the idea that we need to stop shopping at the outrageous rate we've been. "People are starting to realize we don't need more clothes, we need less clothes and better solutions to extend the life of clothes," says Kibbe. "It's an urgent environmental matter, with 85 percent of clothes directly going to the trash when 95 percent of them are reusable. We're serious about engaging all stakeholders in making clothing recycling easier than ever. When we refer to what we're doing as recycling, we mean reuse and downcycling."
So, how does HELPSY work? Currently functioning within the northeastern U.S. (and hopefully on a much larger scale, soon), HELPSY has about 2,000 collection bins in eight states and is working with hundreds of nonprofits, businesses, and towns as hosts. It also collects from thrift stores, paying them for overages and hosting clothing drives benefiting organizations. (No bin near you? You can also host your own.) Currently, HELPSY also offers free home pick-ups in parts of New York City and Westchester County, with more areas hopefully to follow soon.
From there, a whopping 95 percent of what's collected is reused, upcycled, or recycled (and, most importantly, given a second life and kept out of landfills).
If you're thinking of donating your old things to HELPSY, Kibbe wants you to know that you should consider donating everything, even the items you don't think can have another life. (So, yes, even your old underwear.) "People should send us all clothes, shoes, sneakers, handbags, towels, and linens—the good and the bad—as long as they aren't dirty or wet," says Kibbe. "People are not the ones to decide what is acceptable and what isn't. Don't self-sort! There's a chance something worn or stained can be downcycled to upholstery padding or industrial rags, even socks and underwear." However, HELPSY needs your good stuff (like the things you might try to make a few bucks off of at Buffalo Exchange) in order to keep operating, too. (You can read more about how the clothing donation model is broken in its open letter, here.)
Kibbe wants the world to stop believing that only the "good stuff" can be recycled, and that everything you donated is going directly to someone in need, as that's not the only happy ending for a garment you no longer want. "HELPSY is part of a reverse supply chain and large-scale recycling of clothes, just like any other recyclable commodity like plastics, and just like any other recyclable commodity—like plastics—it's part of a huge secondary market," says Kibbe. "And, it needs to be this way, unless we want only the 'good stuff' resold or donated locally, and the rest going to the trash."
HELPSY doesn't just stop at clothing collection on a consumer level, either. Kibbe works on programs directly with brands and designers, helping procure garments for upcycling at scale, in-store take back programs in fashion retailers (most recently, a program collecting used jeans at all 33 Bloomingdale's locations), and responsible handling of overstock and returns. "We're also starting to sell high-quality blank T-shirts at scale, so people will stop making single-use swag," says Kibbe. "We also sourced 40,000 used winter jackets for NY Cares last year, and delivered 75,000 pro-bono to its community partners."
While HELPSY is providing solutions for ensuring your old clothing finds its proper second life, at the end of the day, Kibbe stresses the importance of slowing down overall production within the fashion industry (which, of course, is directly affected by the demand of consumers, and how much clothing gets reused). As Kibbe explains:
The apparel and footwear industries account for an estimated 8.1 percent of global climate impacts, i.e. global warming. It's estimated that just using recycled fibers to produce new apparel and footwear will not make a dent in this climate change impact. So much of what the industry is touting as circular solutions by making things out of plastic bottles is not really a circular solution at all. The only real impact that can be made on climate change, at this point, is by limiting production, reducing CO2 emissions in the production process by over 40 percent, and reusing clothing and textiles as long as possible. Bolstering large-scale clothing recyclers, like us, by allowing clothing bins in your communities and giving us your good clothes, along with your worn-out clothes, is an essential part in this chain of capturing these goods for reuse.
So, the next time you're sorting your old clothes for reselling and donation, consider bringing it all to an organization like HELPSY, which depends on both the good and the bad donations, to continue doing its part in saving our planet. And, more importantly, consider curbing your consumption of new clothing, and give recycled and upcycled clothing a chance.
Want to see more stories like this? Sign up for our wellness newsletter.