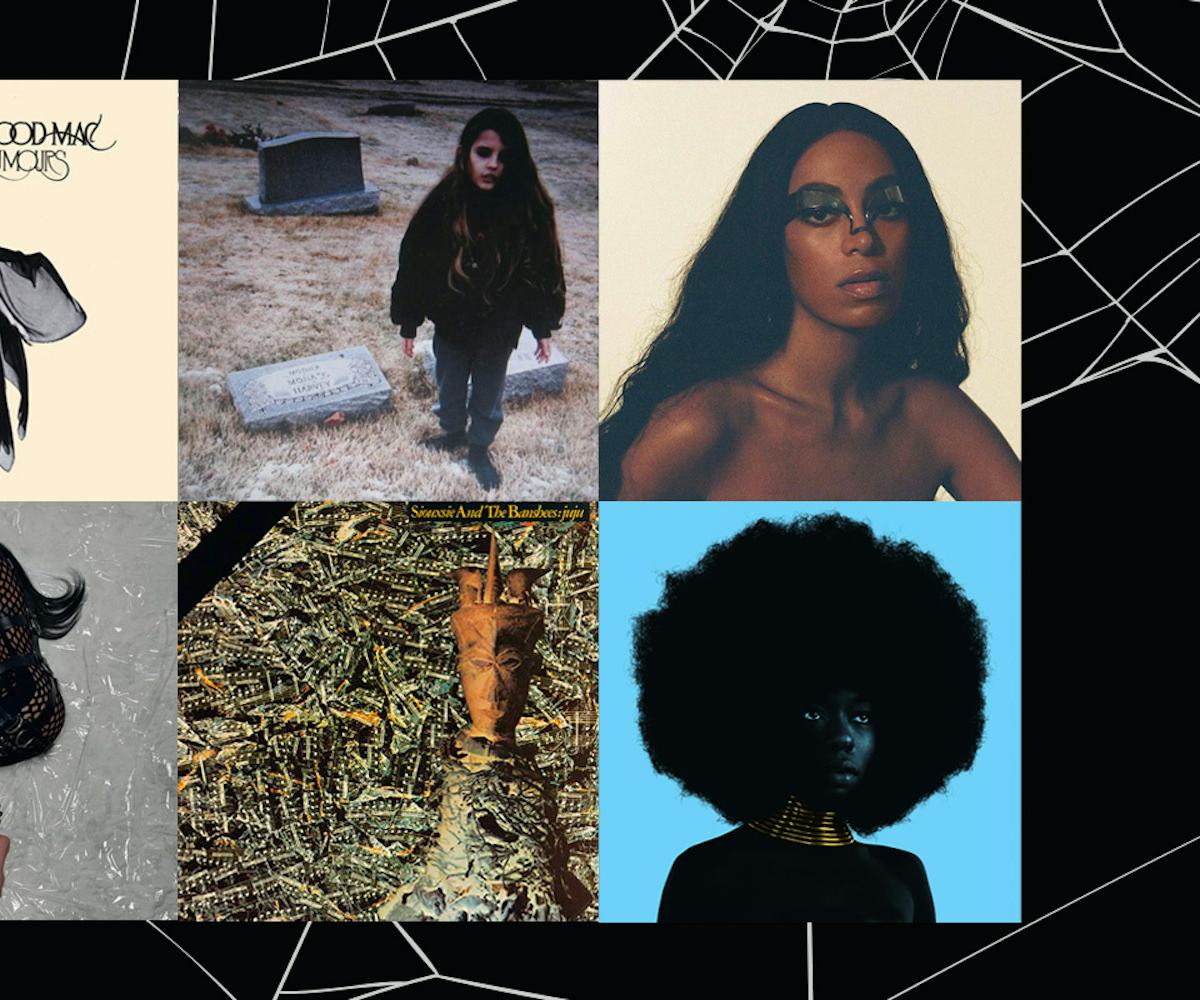 16 Witchy Albums To Set The Vibe For Spooky Season
Light a candle, cast a spell, and turn the volume all the way up
Halloween music can get really corny, really quickly. Past the age of 12 years old, no one really wants to dance along to the "Monster Mash" or the Ghostbusters theme song. All to say: Building a playlist to help you feel spooky for the whole season can seem like a daunting task.
To help with that, we created a list of aptly witchy albums across a variety of genres that will have you ready to light a candle and perform a seance by the time the final track comes to a close. From Florence & The Machine's Lungs to Solange's When I Come Home, ahead, 16 spellbinding albums to soundtrack your autumn.
Bobbie Gentry's The Delta Sweete Revisited - Mercury Rev
A gem from the past, Bobbie Gentry's wildly slept-on gothic country opera got a modern treatment thanks to all your favorite musicians earlier this year. Norah Jones, Phoebe Bridgers, and more turn this vintage record into a modern, witchy masterpiece.
1992 - Princess Nokia
Revisit "Brujas" alone if you need to be reminded that Princess Nokia has always been on her witchy shit.
Sink - Sudan Archives
Technically only an EP — you'll have to wait until November 1 to finally hear her debut album Athena — this solo singer-songwriter-violinist-producer (yes, all of the above) is a master of building puzzling worlds within each new song, redefining R&B with her pizzicato arrangements.
The Calling - Sevdaliza
A simple glance at the track list will prove that the EP is thematically on par for the season, but Sevdaliza's tight, warbling vibrato is what makes standout tracks like ballad "Soothsayer" and sci-fi-infused "Voodoov" so mesmerizing.
Take Me Apart - Kelela
If you don't want to let Kelela seduce and cast a spell on you, then we are very different people.
Lungs - Florence & The Machine
Any number of songs Florence Welch lends her hallowed vocals to could land on this list, but Lungs remains a sparkling, curious work — her peculiar and enchanting introduction to the world.
Juju - Siouxsie & The Banshees
If you don't let Juju soundtrack your party this year (and every year), I don't want to be there. It's the easiest go-to for the season without crossing the line into corny-spooky territory. "Trick or treat/ The bitter and the sweet" is arguably one of the best holiday-adjacent hooks of all time.
When I Come Home - Solange
NYLON beauty editor Tembe Denton-Hurst encapsulated this album in one perfect sentence: "It makes me feel like I can channel my ancestors." I couldn't really explain Solange's inherent witchiness better if I tried.
Rumors - Fleetwood Mac
Stevie Nicks, actual queen of the witches, needs no explanation for her inclusion on this list. If you're still not convinced you'll set the mood right with Fleetwood Mac's extensive catalogue, let Nicks' appearance on American Horror Storyremind you of a thing or two. Find your favorite drapey shawl, tease out your hair, and let Nicks take over.
Hounds of Love - Kate Bush
If you forgot that "Waking The Witch" is essential listening every single day of October, let this be a reminder; Bush's timbre sounds as if she's just beamed down from another planet entirely.
WHEN WE ALL FALL ASLEEP WHERE DO WE GO? - Billie Eilish
Eilish's whispery voice lends itself perfectly to giving yourself goosebumps.
Masseducation - St. Vincent
Both the original and stripped-back versions of "Savior" have the same energy we're all desperately trying to achieve when putting on a pair of cat ears and vintage slip before heading out the door, but sorely missing.
(II) - Crystal Castles
Ricocheting between chaotic walls of noise, synth-laden club beats, and echoing melodies, Crystal Castles checks off everything on the list for creating the right mood to be enjoyed by witchcraft-beginners and haunting devotees alike.
Born To Die - Lana Del Rey
Let's face it, any one of Del Rey's albums could have wound up here; she's the summery witch we can't stop listening to all year long. Bonus song: Del Rey's cover of "Season of the Witch."
Forever Halloween - The Maine
All former pop-punk softies can attest to the lingering nostalgia for The Maine's earlier records, and it's easy to remember a fondness for Forever Halloween this time each year. With raspy ballads and classic frenetic rock songs, John O'Callaghan and company stretched out the romanticization of never growing up and Tim Burton-adjacent aesthetics into an entire era.
All My Demons Greeting Me as a Friend - AURORA
Don't be fooled by her pixie-like falsetto, AURORA's fluttering melodies and knack for storytelling will have you in a trance long before the beat drops.