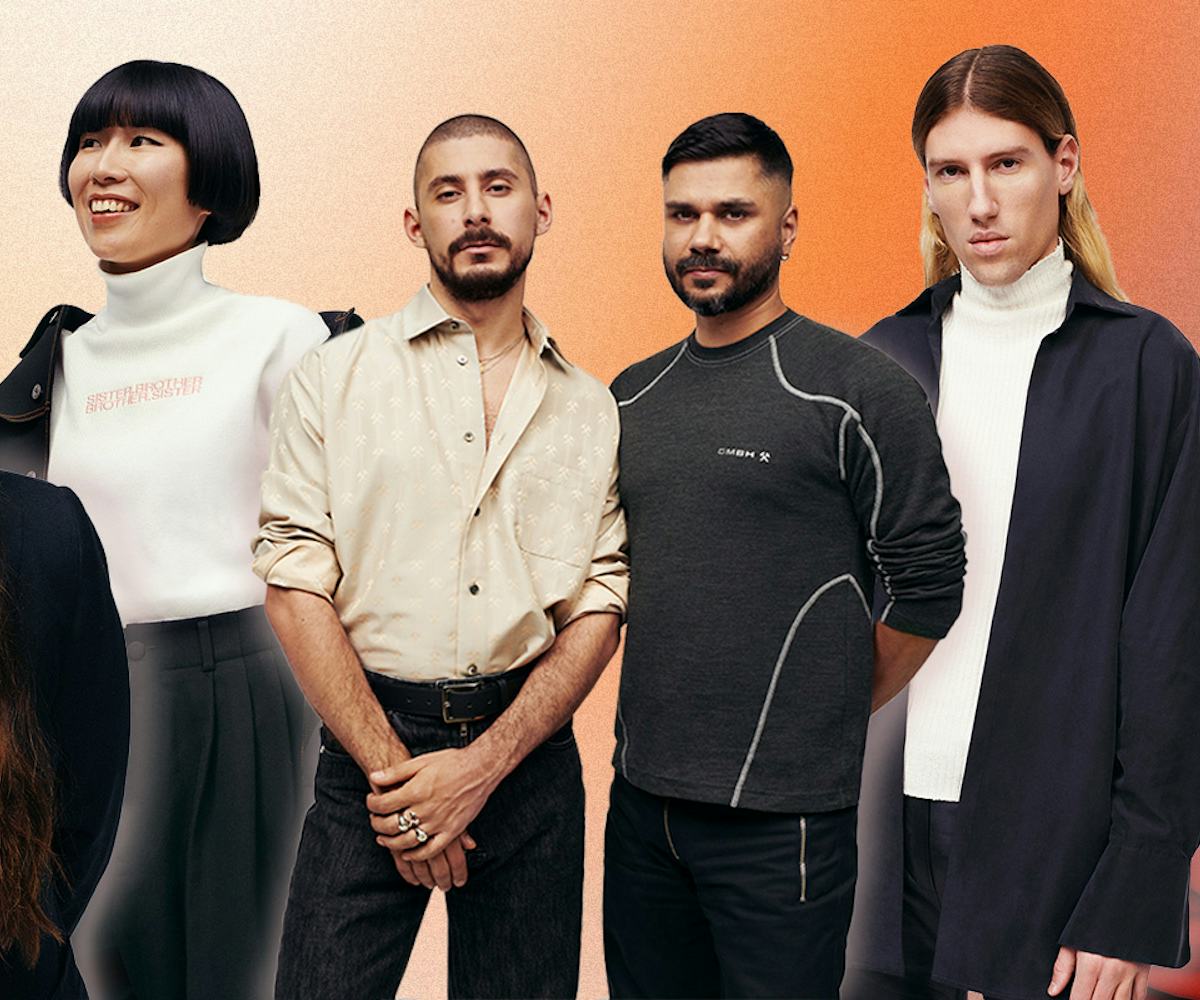 Photo courtesy of Woolmark
6 Designers On What Sustainability Means To Them
The 2020 International Woolmark Prize finalists break it down
Just one week into the multi-city stretch that is fashion month, no conversation has been as omnipresent from front rows to late-night parties as the notion of sustainability in fashion. This season, more than ever, all eyes have been on seeing how designers can make their creations less wasteful and all-around better for the environment. And in London, one show in particular is making this its focus: the 2020 International Woolmark Prize.
Held annually, the prize culminates in a runway show for 10 finalists who are selected from over 300 applicants from 47 countries. This season, the designers will present a mini-collection of six fully traceable Merino wool looks during a fashion show on the final evening of London Fashion Week — and, in addition to their final designs, will submit a sustainability road map to show exactly how they got there.
Here, ahead of Monday's show, six of the finalists detail what sustainability means to them.
Emily Bode, Bode
"My approach to sustainability has focused on a preservation of craft with traditions and techniques that are historic and thoughtfully manufactured. Whilst scaling the business, I have committed to keeping at least 40 percent of our annual production repurposed from antique textiles with an emphasis on domestic manufacturing.
The cultural background and values which provide the backdrop to my IWP collection reflect the principles of Bode: reuse, self-sufficiency, and a commitment to the preservation of the history of craft. I reinterpreted historic traditions such as 1920s pennant quilting with traceable and certified Merino wool felt, a housecoat with hundreds of individually crocheted merino wool fleurettes, and repurposing and reimagining equine show blankets as garments."
Fen Chen Wang
"We have been incorporating sustainability into our business for many seasons, through off-cuts and recycled fabrics to natural plant dye that isn't destructive to the environment, but we see the conversation being broader. We are supporting local businesses and communities in China with ancient traditional crafts and techniques that are being forgotten. By supporting them with manufacturing opportunities, we aim to facilitate growth and education for generations to come.
For our Woolmark collection, we have identified and used different plants that are used in traditional Chinese medicine, most of which are native to China and grow in abundance in the wilderness. We worked with a small group of elderly artisans in China who hand-dye fabrics using an ancient technique, without the use of modern machinery. This art form is lost, and we hope to bring it back to life through this Merino wool collection."
GmbH
"We never use that word [sustainability], because it's been hijacked by big companies who are the worst polluters. But we do everything at GmbH to live our lives responsibly, ethically, and authentically. We don't live wasteful consumerist lives, so this also is how we create.
We worked with Italian factories that have strong ethics and impeccable quality. These are clothes meant to last. There are of course many mundane details to it — we use renewable energy, ship carbon neutral in recycled and biodegradable packaging, and use mostly recycled and organic materials."
Ludovic De Saint Sernin
I founded the brand two and a half years ago. We are still a young and small company with a young team which means that, naturally, sustainability is an important part of our lives and our lifestyle. I always say that my brand represents a return to beauty, and this is not just about aesthetics or design — it's also about the way the garments are made and what materials are used. Sustainability has to become something that's part of our everyday thought process and no longer something that's an effort. For this, I think every step counts, it really is something that you learn about every day; how to be better for the future of the planet. I would like my brand to represent the opposite of fast fashion, I want it to be something that is here to stay, with pieces that you buy and keep forever.
For the Woolmark capsule collection, I wanted to bring the essence of LdSS to life through Merino wool, in a way that is authentic to the brand and makes sense with history. Wool has been used a lot for underwear and even swimwear in the past, so I thought that it would be a great place to start. Especially since my LdSS underwear and swim trunks are so popular, it made so much sense! Furthermore, I wanted to create a capsule that celebrates bodywear in a sexy, minimalistic way. Because of the way we produce and function as a brand, sustainability came naturally, but it was a real learning process to make sure we were working with the right materials.
"Made in France" is a very important component of my brand. I have a very small atelier that makes all the samples in-house, and then the production is made in Paris in an atelier that is just 10 minutes away walking from my studio. This has allowed me to create a strong bond with all my collaborators and to keep a real traceability for all the garments."
Namacheko
"Sustainability in the fashion context is first and foremost awareness of our customers' needs and our environmental limitations as well as the thrive toward reducing our footprint and the improvement of the whole life cycle of a product from early research stages to its end of life. Research and constant experimentation via various methods are at the core of our sustainable design practices.
When working for the Woolmark collection, we are at an advantage as wool is a sustainable fiber that is practical for our products and the environment. We have made cautious decisions for our fabrications, to ensure they are practical and used pure fabrics which can be recycled and given new life through different mediums. Ultimately, we have also looked at the lifecycle of Merino wool and taken inspiration from its journey in its raw form as the sheep's fleece layer to the fabrics' textures and weaving techniques to educate customers about how malleable wool can be."
Richard Malone
"For me, sustainability is about future-proofing our planet, our people, and, in turn, our industry. Nothing can truly be modern or luxurious that doesn't account for its actions and its impact. As a designer, I see a huge personality in research and design solutions, working from the very ground up and acknowledging every person and process along the way.
A lot of sustainability is grounded in ego — designers wanting credit for something innovative — whereas, often, innovation or new systems only add to waste and damage. A good example is leather alternatives; nothing changes with the existing leather industry — you end up just creating more synthetic product that cannot biodegrade.
Part of my project is going right back to the soil and rethinking our archaic fashion systems, which incorporates everything from farming to the extremely damaging wholesale model that permeates our industry. My IWP submission is a real extension of what I already do and what I'm committed to. Working with The Woolmark Company was extremely exciting for me as the Merino wool, including wages and farming and the quality of the fiber, is all legislated and can be trusted. There are vigorous tests in place to determine what can pass as high-quality wool. A lot of cotton or fair trademarks and certificates can simply be bought — they aren't actually legislated — so, as designers, we need to not be lazy and actually visit every facet of our supply chain to ensure it is authentic and safe.
My IWP submission involves using natural, plant-based, and organic dyes with expert weavers to create beautiful, contemporary fabrics. I ensure that everyone in my supply chain is paid over triple the fair-trade wage and that everyone's opinion and expertise is respected and encouraged; it is a real partnership. We've also established a regenerative farm to re-use our water waste and encourage crop rotation (at the minute we have regrown cotton), so we are actually regenerating land that has become barren through mass production and giving back to the planet.
My plan is to present a supply chain that actually gives back to the planet and focuses on educating consumers to buy less and repair and mend where possible; a garment's after-life or end-use are vital for moving forward, and we are finding really excellent solutions through fiber shed."