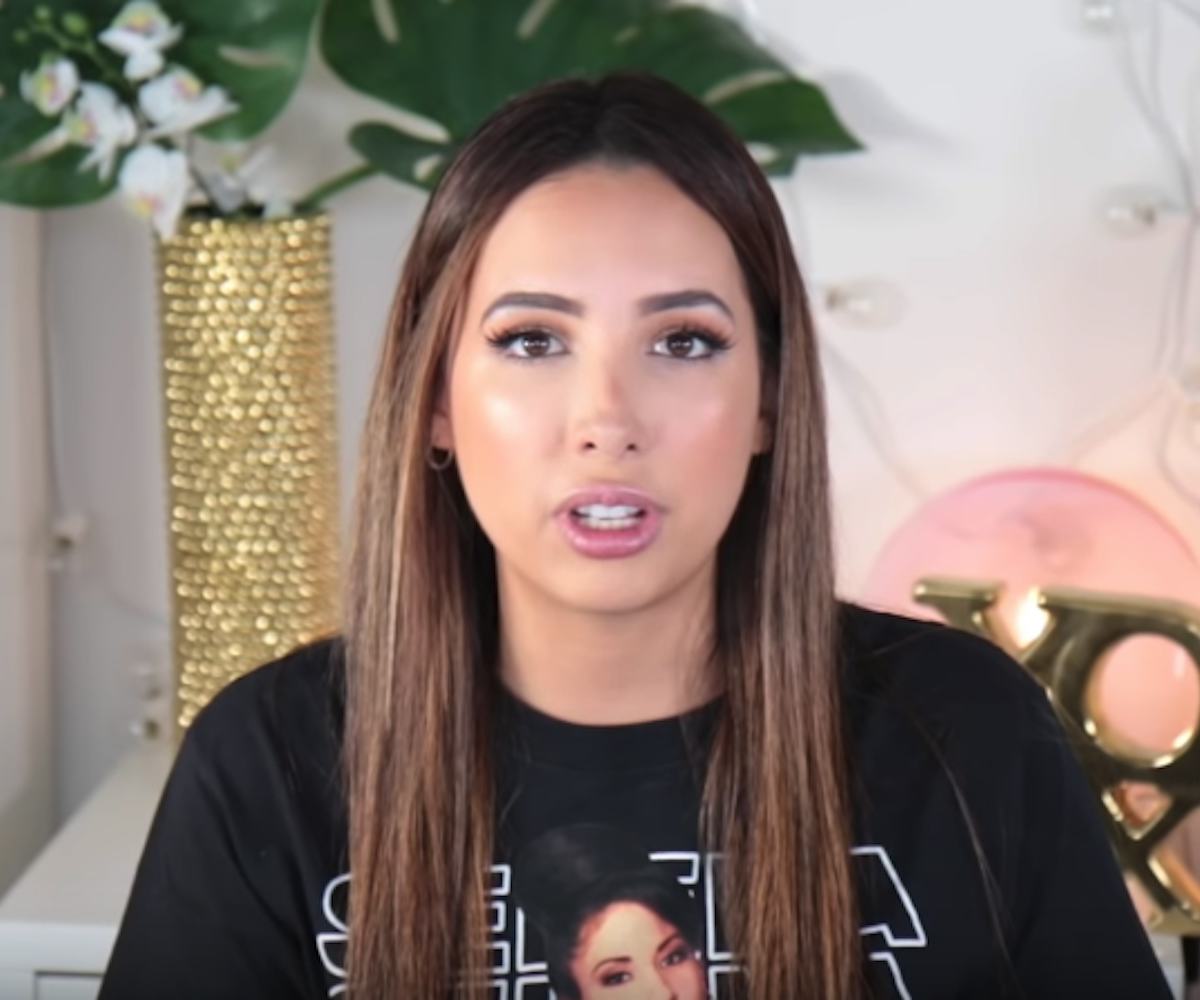 Screenshot via Youtube/Mar
"I Went to The Worst Reviewed Makeup Artist In My City" YouTube Videos Are Reckless
Can this trend die already?
Beauty YouTuber Mariale Marrero found herself apologizing after posting a video titled "I Went to the WORST Reviewed Makeup Artist in Vegas." The video, like many beauty YouTube videos before it, follows a familiar format: After doing some internet research, Marrero visits an unnamed beauty shop in Las Vegas and documents the process—from setting the appointment to getting her makeup done. Throughout the video, Marrero criticizes the makeup artist, both verbally and via text added over the video—suggesting that the makeup artist washed her brushes in dirty mop water and sprayed her face with "salmonella spray." The most serious allegation, revealed by Marrero once the vlog-style portion of the video ends, is that she contracted a skin infection a few days later, which she claims was caused by her visit to the salon.
The video didn't go over well with the makeup artist's daughter, Tiffany Robledo, who took to Twitter to give her side of the story. "This was all a setup and you know it," Robledo wrote in a tweet, adding that Marrero manipulated her mother to get footage for the video. Robledo then criticized Marrero for "tearing down" another Latina for views. "While this store may not be the high end salons you feel like you belong to, this is a salon for the middle to lower class and is respected in the community."
In the video, Marrero also criticizes the makeup artist's work schedule, prompting Robledo to reveal that her mom's availability is limited due to her caring for her sister with special needs, adding that the video threatens her source of income. Many of these videos claim to prioritize the anonymity of the "worst makeup artists," and, although Marrero blurred the faces of the people in the salon, she showed the outside of the business and shared identifying videos of the workspace and interior signage.
Marrero initially addressed the backlash via tweet, responding to a user who retweeted Robledo's initial post: "Everything on my video is 100% real (aside from obvious jokes, such as 'salmonella spray,' obviously this woman did not have a salmonella spray bottle). This business did hurt me by giving me a skin infection so I hope the artist will properly sanitize their makeup in the future."
Later that day—and after a few more heated tweets and lots of negative comments—Marrero released a video, titled "What Really Happened…Las Vegas Makeup Artist," where she apologizes to the Robledo family: "I thought I was doing a good job at keeping your identity really private and nobody would know who you were. That's how I rationalized it in my head which is not okay. I thought it wasn't going to hurt anyone." She then goes on to refer to the text added to the video as "bad jokes" that came from a place of anger due to her skin infection and that, as an immigrant, she understands the struggle of trying to make it in America.
The one thing missing from this apology was Marrero's intention for posting the video in the first place—to get clicks and views. Fans of beauty YouTube aren't new to the "I Went to the Worst Makeup Artist in My City" videos, which are often recorded under false pretenses and posted without the knowledge of the makeup artist. Many of these videos rack up hundreds of thousands of views within days. At the time of publishing, Marrero's main video has over 450K views, and that number continues to climb, despite numerous requests from Robledo and commenters to take it down. That number, of course, translates into ad revenue for Marrero.
This "trend" of videos is particularly unsettling as it has become a go-to way for channels of all sizes to rack up views. Some have even turned it into a franchise, hopping from city to city in attempts to find the worst of the worst. YouTubers often comment on the hours spent looking for a particularly bad salon, which is evidence that review sites like Yelp and Google are already punishing these businesses by hiding them from view. The bad reviews are deterrent enough for local consumers—research shows that many check reviews prior to visiting a business, and of those that do, 94 percent will avoid a business with negative reviews—so what then, is the point of these videos?
These videos are exploitative at best, damaging at worst, and an alarming way to grow a channel. Most people purposefully seek out businesses in hopes of bad reactions in order to create shock-inducing thumbnails and clickbait-y headlines. Furthermore, many of these businesses are in low-income areas or immigrant-owned, sometimes both. In another popular "worst of" video, a YouTuber shares a review in which she alleges an employee working there is doing so illegally. Not only could this draw the attention of internet trolls but, more seriously, immigration officials.
Here's hoping that Marrero's apology is the beginning of the end for this "trend"—but, considering the views that these videos rack, it doesn't seem likely it'll stop anytime soon.
Watch Marrero's apology video, below.
We reached out to Marrero for a comment but, at the time of publishing, have yet to get a response.