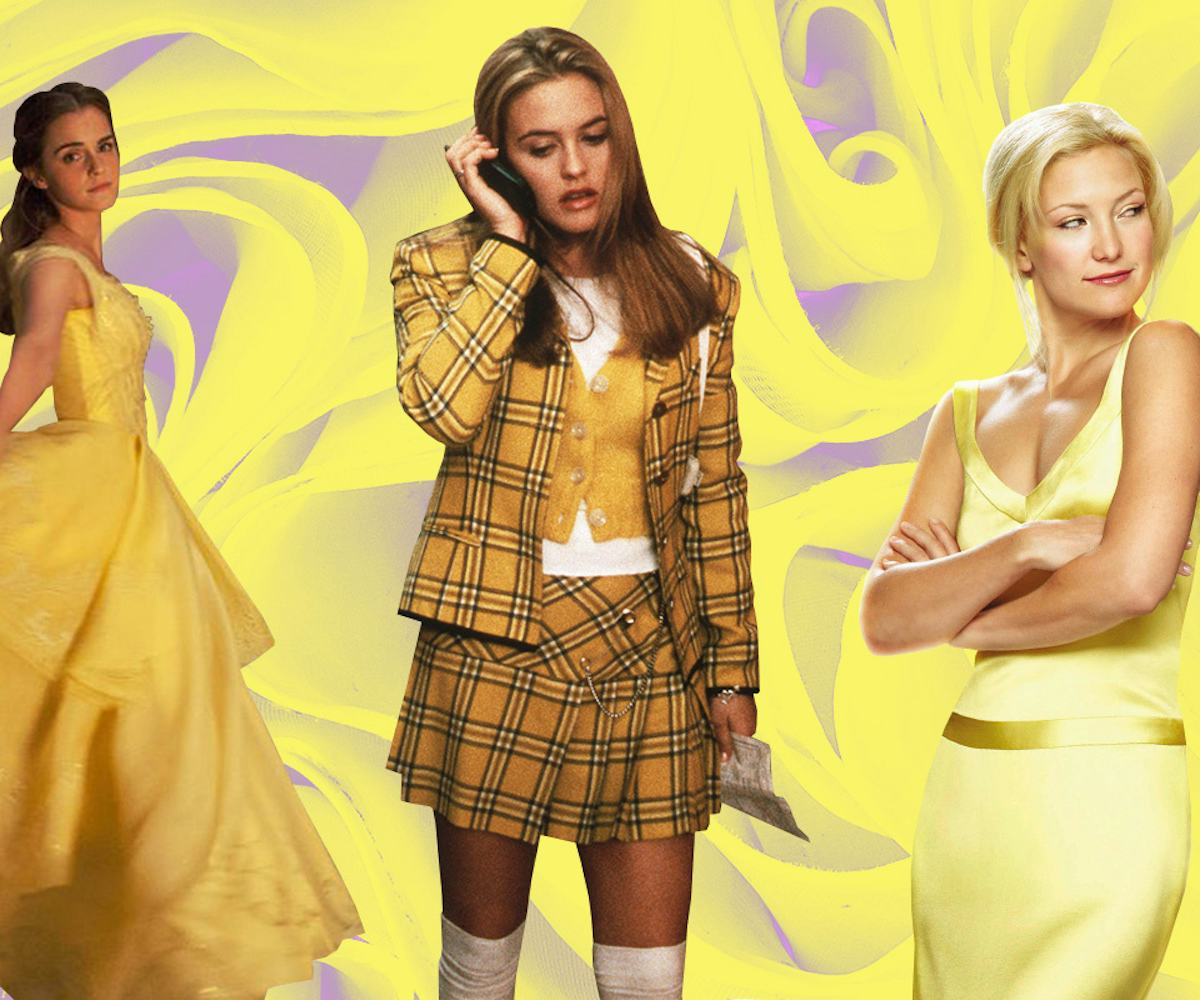 Photos: Moviestore/Shutterstock, Paramount/Kobal/Shutterstock, & Dale Robinette/Black Label Media/Kobal/Shutterstock
Why The Yellow Dress Will Forever Be Iconic, From Rom-Coms To Fairy Tales
We spoke to the costume designers behind some of the most memorable onscreen looks
Typically, in a movie or a TV show, a character appearing in a red dress hints at a climactic moment, danger sign, power move, or general flex. But why is it that the yellow dress is an iconic look in pop culture, too?
Since time is a flat circle, let's look back 17 years to the rom-com classic How to Lose a Guy in 10 Days: Kate Hudson, as Andie — a "how to" columnist for the thriving magazine Composure — and ad exec Ben Barry (Matthew McConaughey at the height of his rom-com reign) are about to hit the crisis point of the five stages of rom-com plots. Do we remember what the Judies were trifling about or even that ginormous Harry Winston diamond and mongo 51.94 carat yellow sapphire necklace? Not really. Because Andie's dream of a sunny yellow slip dress, which we'd all wear nearly two decades later, brings the sweet, sweet nostalgia back and makes us fall in love with a pre-athleisure Hudson all over again.
"I wanted to design a dress that lived up to the jewels and not overpower them," says the movie's costume designer Karen Patch. "I wanted an iconic image — that's the other thing that came to my mind — that would come together before us."
Patch recalls designing two additional dress bodices in "mossy green" and "midnight blue" for initial camera tests for that peak scene. But once Hudson put on the yellow, accented by a faux version of the Winston necklace, "there was no question. We knew right away," recalls Patch, who then completed the design of the gown in the moment. "We were pinning it on her and cutting it in front of the camera."
The behind-the-scenes reaction to the finished product proved an accurate teaser of the audience's reaction, which is still going strong years later. "I remember [Hudson as Andie] walking on set the night that everybody saw [the full look] in front of the camera for the first time," adds Patch. "There was an audible gasp from the crew and everyone around."
In a life-influences-art instance, Emma Stone's 2014 red carpet appearance in a cap-sleeve canary Versace played a part in the now-famous yellow dress synonymous with the musical love story La La Land. Costume designer Mary Zophres already dressed Stone in emerald green and royal blue for the film's poppy, Jacques Demy- and French New Wave-inspired primary palette. So she pitched director Damien Chazelle Stone's yellow red carpet look for the custom-designed '50s-style silhouette, which was delicately hand-painted with Matisse-inspired florals, for the memorable song and dance with Ryan Gosling, above the lights of Los Angeles.
"We were shooting the scene at magic hour, so we knew it had to pop against the blue-ish [and skyline-lit] sky," adds Zophres, who received her second of three Oscar nominations for the film. In line with the character's struggling actress budget, she found the lovely shade of yellow in a budget-friendly polyester knit at mall mainstay Joann Fabric and Crafts. Zophres credits the movement and silhouette of the dress, as opposed to the color, for its staying power. But perhaps the hue subliminally helped set the scene for Stone.
"The shape and the movement really got her in the mood, and she felt good in that color. Obviously, she had worn it before," says Zophres who, at this point, is hesitant to repeat herself. "I tried something on Janelle Monáe in [the upcoming horror movie] Antebellum, and I thought, 'That is a little too close to that yellow,'" she laughs.
Patch notes that yellow makes for a memorable and "unexpected" color for a plot-defining, pivotal event, but its infrequency — as compared to red or black — may partly be due to the underestimation of its versatility. "Yellow was [always] a 'stay away from' color," she says.
The trick? "You have to find the right yellow," says Clueless costume designer Mona May. She designed Alicia Silverstone's plaid school uniform: runway-ready blazer and mini-skirt outfit in a "cool yellow" tone to complement the star's blonde hair. "Cher is glowing when you first meet her. The color has energy," says May. "It was the first day at school, so we always wanted to make sure she pops."
For the scene, May first considered a blue-and-red palette but eventually assigned it to BFF Dionne (Stacey Dash). "Yellow is very powerful, but still, to me, more of an innocent color," she adds. The "energizing" hue made the most sense to illustrate Cher's aspirational, yet approachable Queen Bee persona, as she declares her territory and status in her high school eco-system.
Of course, when it comes to staking a claim, Queen Beyoncé swinging a baseball bat while stomping down the street in a fire ruffled marigold gown in her 2016 video for the Lemonade single, "Hold Up," remains queen. "Ultimately, the yellow dress is what makes it [the video] iconic and memorable and stands out," Beyoncé's costume designer/stylist B. Akerlund toldBillboard that year.
The look has been re-imagined for similar empowered effects, albeit with a touch of lol comedy, like a window-smashing post-breakup Titus (Titus Burgess) in Unbreakable Kimmy Schmidt and Yara Shahidi's college freshman Zoey, in the first season of grown-ish.
"What does everybody remember about that [Beyoncé] video? The yellow dress," says Michelle Cole, costume designer of black-ish and its young adult spin-off. In one of the show's signature fourth-wall-breaking fantasy sequences, Zoey narrates her rush of firsts: newfound semi-freedom from overbearing parents, Dre and Bow, and first love with aspiring NBA draft, Cash. For Zoey's softer and sunnier interpretation of the Lemonade star's mustard Roberto Cavalli, Cole combined several dresses and layered in even more ruffles for extra flouncy swagger.
"When Beyoncé or Yara walks down the street — and you see this yellow coming through — it's so powerful," says Cole. "Because you do see red and these other colors, but yellow is unique. It's a golden color. It's powerful and makes a statement."
The radiant intensity helps put the spotlight (sorry) on the character, of course. But another factor may play into the longevity of the on-screen iconic yellow dress: a classic silhouette, but with subtle and differentiating details. Think: Andie's criss-cross straps accenting the low-plunge back, Cher's plaid pleated skirt and blazer 'fit, and, of course, Rachel's floral-embroidered strapless sheath on Friends, which Jennifer Aniston still loves.
"To this day, I get inquires about it constantly," says costume designer Debra McGuire, who finally joined Instagram and is rolling out vintage Polaroids and sketches from Friends fittings. "There are lots of things I get inquiries about. But that one, consistently for 20 years, is a weekly obsession of people."
Like her colleagues, McGuire emphasizes that the color wasn't the main reason she chose the dress by now-shuttered British label, Idol London — which she picked up while shooting scenes for Ross's second doomed marriage, to Emily, across the pond. Rachel wears the shoulder-baring dress, with a chic side slit, while agreeing to a date with hot Dave, but wanting to tell Ross that she still loves him.
"I wanted her to just look amazing. I had a few choices of dresses, but that was just hands down the greatest fitting dress ever," remembers McGuire. "That dress would look as good today as it did 20 years ago. And 20 years from now, it'll still look great." Patch says the same about Andie's slip, which she's received many fan requests to custom-design for occasions, from prom to weddings. The "simple" and timeless design is "one reason so many people can relate to it or feel attracted to it," she adds.
But no timeless yellow dress brings as much warm nostalgia as Belle's circa-18th-century-France ballgown, which Oscar-winning costume designer Jacqueline Durran brought to life in the live-action version of Beauty and the Beast. Emma Watson starred in the 2017 live-action movie as an updated badass, independent, and non-Stockholm Syndrome shocked Belle, operating with her own agency. But, the heroine's dress remained true to the original Disney animation from our childhoods.
"You can't really change the dress that much," says Durran, who just received her seventh Oscar nomination for Little Women, also starring Watson. "You could, but I don't think it would have been a success if you had." Durran did low-key tweak Belle's IRL gown to allow for more movement to dance with the Beast (and lean into the final action scenes in the castle) and she skipped the limiting and period-accurate corset. But otherwise, the classic, timeless yellow fairy-tale gown lives on.
"Because you want to see your childhood memories come to life — or [feel] the way you felt about the yellow dress and cartoons," says Durran. "You want to remember that when you see this one."