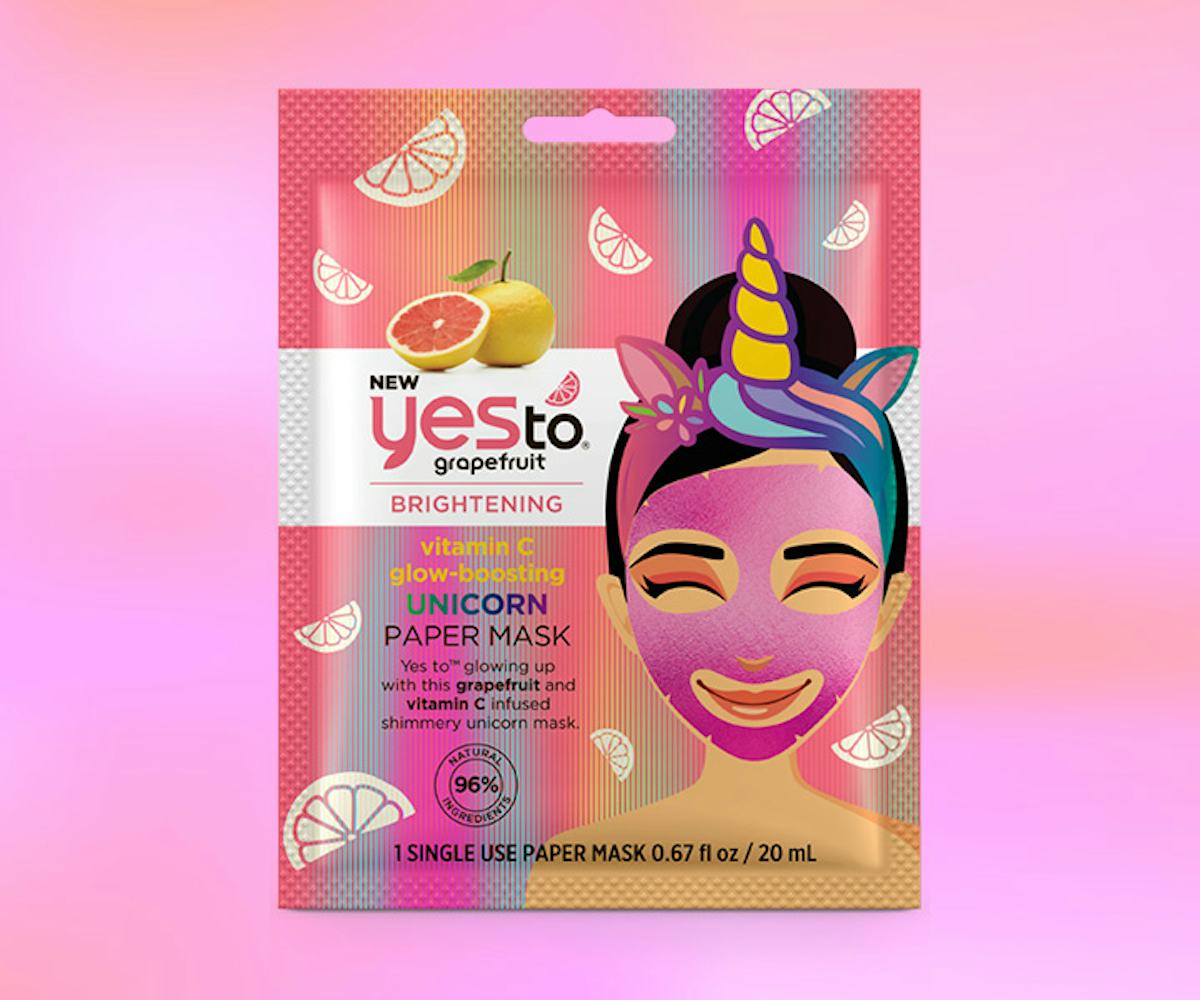 Image courtesy of brand
Yes To Recalls Product After Customer Reports Of Painful Reactions
People are complaining of red, itchy, and "burning" skin
Following reports of adverse reactions, Yes To Unicorn mask has been recalled from store shelves by the popular beauty brand. The decision comes after several customers reported skin irritation and alleged allergic reaction after using the brand's Grapefruit Vitamin C Glow Boosting Unicorn Paper Mask. The mask, like many of Yes To's products, was available on Amazon, as well as various Target and Ulta locations nationwide.
According to a report by BuzzFeed News, consumers began sharing photos and descriptions of painful "bright red" and "burning" skin — what they claimed was in direct result of using the product which launched in July of 2019. Donna Baines, whose 15-year-old daughter received the mask for Christmas, spoke to BuzzFeed Newsabout how after about 15 minutes, her skin began to look "sunburned" and very itchy." "I was also worried that other children received this mask as a gift for Christmas," she said. "The unicorn makes it seem like a kids' product."
Yes To announced the recall on Jan. 3, in a statement posted to Facebook, in response to customer complaints on social media. "In light of reports that our Grapefruit Vitamin C Glow-Boosting Unicorn Paper Mask has resulted in skin irritation for some consumers, Yes To has decided to remove this particular product from store shelves while we investigate," the post read.
The statement opened the floodgates for customers who said they've have had similar issues. Many complaints were coming from parents whose children had used the mask, some as young as nine years old. "My daughter got the mask as a stocking stuffer. Within two minutes of wear she was crying. Her face was red, blisters were forming, and she was in pain," one person shared on Facebook.
One user took to Twitter to share a photo of her daughter's visibly red face, saying, "Bought this yesterday, and this happened tonight. Maybe don't use shimmering unicorns to market things that have strong adult-only facial peel ingredients in them?" Another user responded to the tweet by saying, "I'm 33 and had the same reaction!" As of Jan. 8, Yes To does not share a suggested age of use on its product or FAQ pages.
In another comment given to People, Yes To stood by the quality of its products, noting that it is committed to ensuring the safety and integrity of its products. "While our products are all independently tested for safety, irritation, and allergy — and while we provide both warnings and instructions on our products about the potential for skin irritation — the safety and satisfaction of our customers are our main concerns," the statement shared.
To avoid similar situations, be it with a product from Yes To or from any other brand, Ellie Markey, a New York City-based aesthetic nurse practitioner at SKINNEY Medspa, stresses the importance of listening to your skin when trying something new. "It's always best to do a test spot when using new products to see if any reaction occurs within 24 to 48 hours," she tells NYLON, noting that first signs of a bad reaction are usually redness, itching, and a tingling, burning sensation. "If you think you're having a reaction, immediately remove the product, rinse face with water, and monitor the area closely," she adds. While the symptoms should resolve themselves, especially with the help of an antihistamine, it can take the skin anywhere 24 hours to weeks to fully resolve.
Yes To did not respond to NYLON for additional comment at the time of publishing. See the brand's latest statement, below.