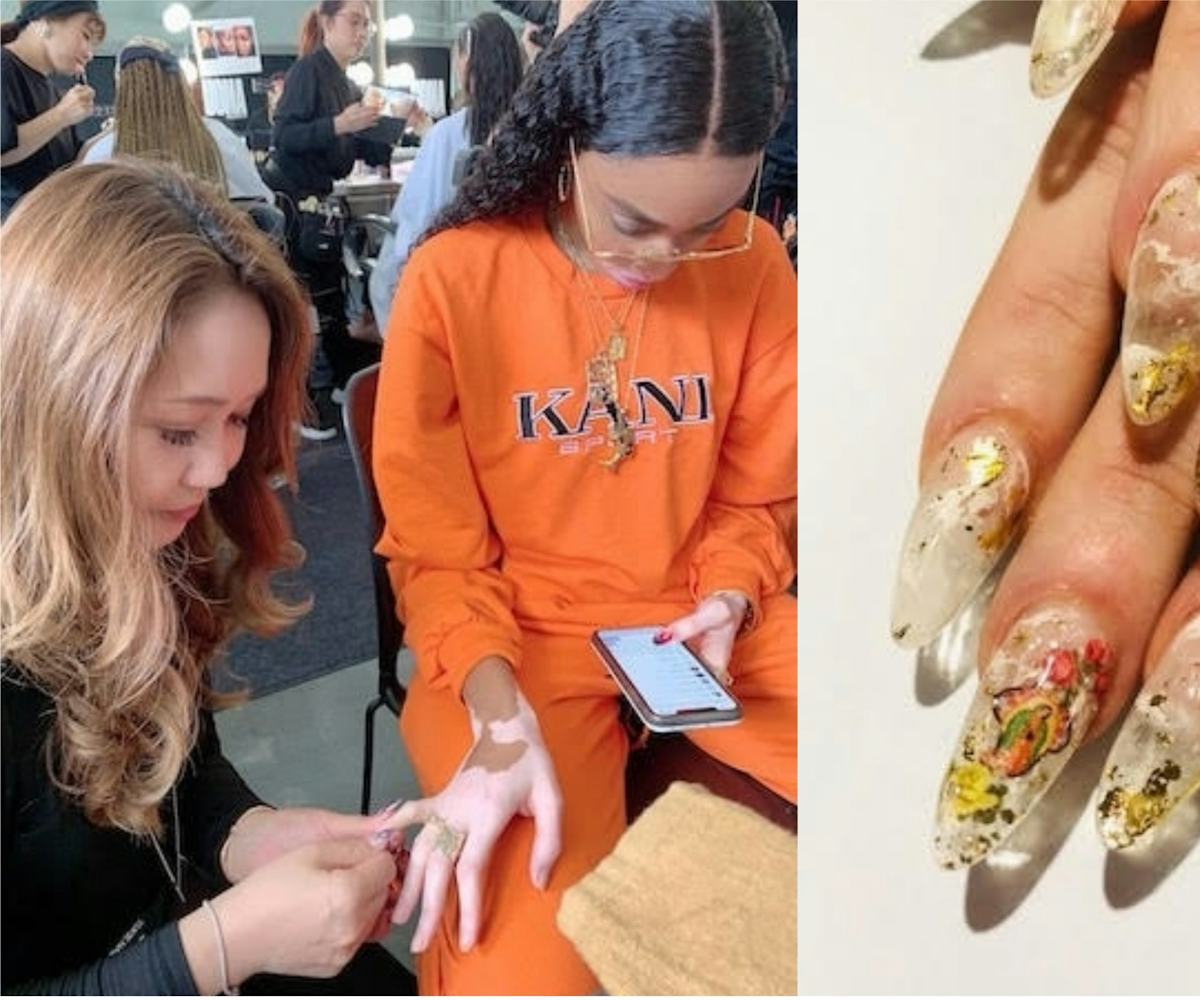 Photos courtesy of Yukie Natori
Meet Yukie Natori, The Nail Veteran Behind Some Of New York Fashion Week's Best Manicures
The Japanese-American artist created the nail designs for nearly a dozen shows for the Fall 2020 season
On the long list of things that fashion week show-goers pay attention to when a model is walking down the runway, the painted nails on the hands of every model surely falls somewhere behind the soundtrack, scenery, hair, makeup, and, you know, the actual clothes. But even with this a given, New York City-based nail artist Yuki Natori doesn't take her job any less seriously — viewing it as a true extension of the collections her work supports, not just an afterthought to it. And rightfully so, considering that Natori's nail designs, be it a delicately painted scene or a three-dimensional mini-sculpture, are true works of art.
With her very own namesake spa in New York City's Midtown neighborhood — and a nail design school, with over 300 students in Japan and 800 in China — Natori has made a serious name for herself in the world of nails, backed by over 20 years of international experience. She went to beauty school in New York to learn basic nail skills, and took her first job at a salon that was frequented by celebrities and actresses.
"A few years after I returned to Japan from New York, the trend of nail design began," Natori tells NYLON. "I decided to start a nail service in a beauty salon and became sought after by many customers. At that time, long, decorative acrylic nails with 3-D art or Swarovski crystals were popular. Though such acrylic nails cost more than $300, they caught on among fashionable women."
They caught on so much so amongst the fashion crowd, that those are some of her most frequented designs on the fashion week circuit. For the Fall 2020 season, Natori and her team were responsible for 11 shows, ranging from Laquan Smith, Tia Adeloa, and Christian Cowan to Sergio Hudson and more. While some, like Smith, opted for a more toned-down approach, with Natori creating a pure white, coffin-shaped nail look, others like Cowan went all out — the show saw four different nail looks, ranging from long, black-and-gold crystal colored designs to asymmetrical purple stripes. At Tia Adeola's debut runway show, Natori created a delicate pearlescent nail with mini gold chains hanging from each tip.
During the busy week, Natori made time backstage to talk to NYLON about her favorite New York Fashion Week show, the process of collaborating with a designer, and how the practice of nail art differs in Japan versus America. Read highlights from the conversation — and see some of her work from the Fall 2020 season — below.
How would you define your nail art aesthetic, before involving collaborator influence?
Delicate design created from advanced techniques. How do we incorporate the mood into 10 small pieces of canvas using a variety of different techniques? How do we express them? The happiest moments for us are when we think about these issues.
What is the process of doing nails for a major fashion show? Do you always get inspiration from the collection, or is it more of a collaborative process with the designer?
Nail inspirations are sent from the designer a few weeks before the show in the form of drawings, pictures of fabrics, paintings, or images of the collection. We study the inspirations and submit a number of samples. The colors, designs, lengths, and even the shape style are determined in detail.
Once the design is decided, we run to secure the product to be used. I want to use high-quality products at the show; I often use Chanel or Dior when polishing and the finest Swarovski crystals. We also sometimes order products from Japan by airmail. Sometimes we work all night until the day before the show to make design chips for 40 or 50 models. I have many motivated and skilled nail artists. Their passion for the show produces great work.
What do you look for in a designer before agreeing to do the nails for their show?
I want to request more nail designs from designers. Many designers in the past have wanted natural, clean, single-color nails. However, nail art is now part of fashion. The model with nail art has beautiful hand gestures on the runway and the model that poses backstage to show the nails for the photographer are moments that complete the artistic vision.
What has been your favorite show of this fashion week season, purely based on the nail design you were able to create?
Christian Cowan. For Cowan, we received several submissions of designs until we created a look with Swarovski crystals covering the nails. I also edited a fabric pattern in Photoshop that Christian sent me, to create nail stickers that were cohesive with his collection.
How do you find nail art differs in the states versus in Japan?
The foundation of Japanese nail art is the Japanese nail education system. Nail artists in Japan are required to pass three exams before becoming licensed: one for nail care, one for nail extensions, and one for gel nails and design. The total time spent studying for the technical nail is about 400 to 500 hours.
About 15 years ago, gel nails started becoming popular in Japan. As opposed to nail polish that needs drying, gel nails require curing to stay intact for three to four weeks. This characteristic makes gel nails suitable for the busy everyday life of modern women and has resulted in the explosive, widespread popularity of gel nails. Nowadays, about 90 percent of orders at nail salons in Japan are gel nails and designs. Japanese nails are designed to give gradation to the base color or to put rhinestones or glitter on a single color, and many people enjoy changing nail designs on a regular basis.
How do you see nail art evolving as it becomes more mainstream?
Numerous products and designs will continue to be produced by nail artists from around the world, making it accessible to more people. Nail design is now crossing through cultures more quickly than ever because of social media, and nail artists will continue to evolve and explore each other's techniques.