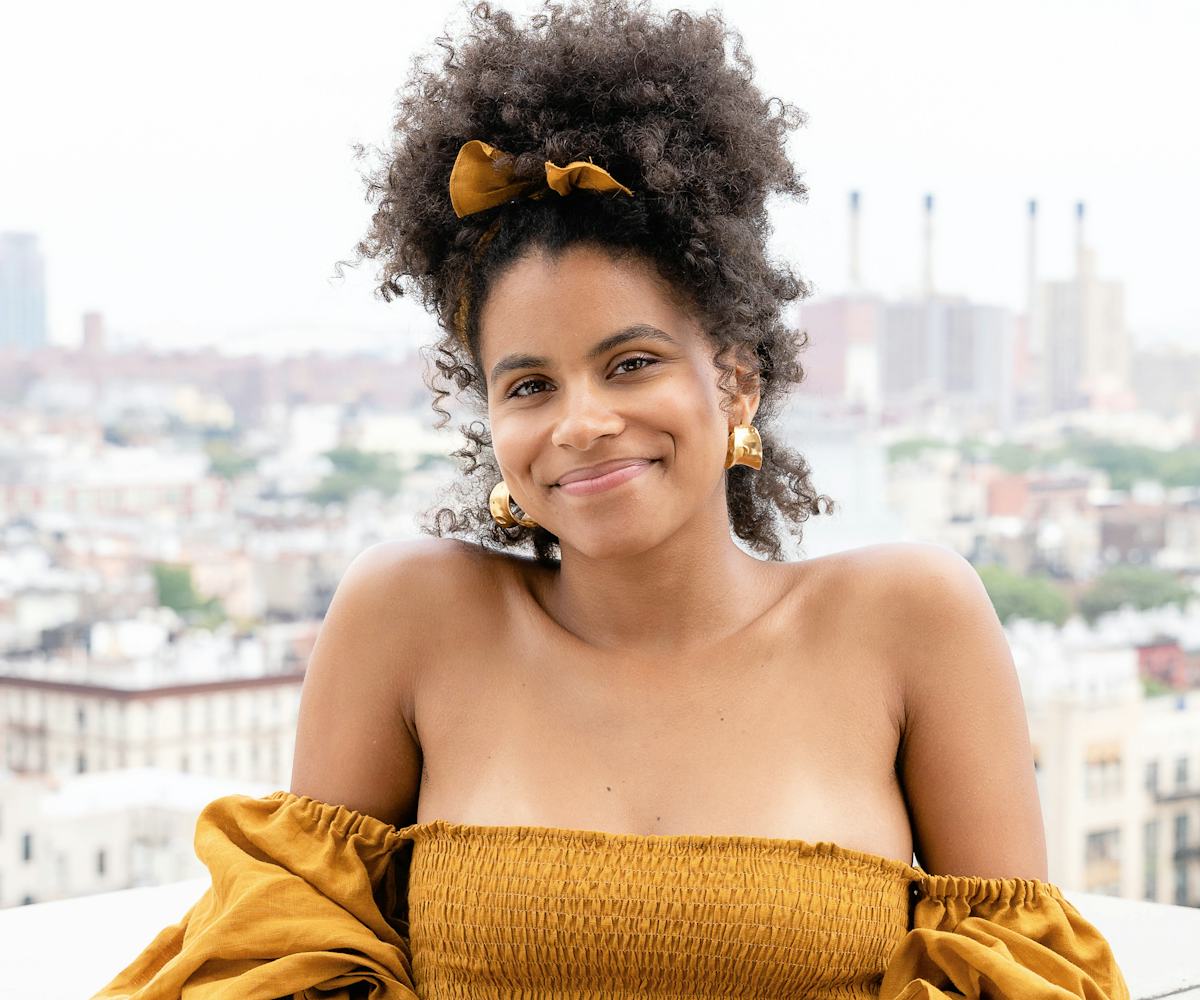 Image courtesy of True Botanicals
Zazie Beetz Talks Clean Beauty, Her Skin-Care Routine, And Why She's Always Felt Beautiful
According to Beetz, "it's a journey"
Zazie Beetz has always seen herself as beautiful. She credits her parents, partner, and immediate community for always helping her to feel that she's enough. It's a confidence that radiated from her and was instantly noticeable to me when I sat with her on a bed at the Bowery Hotel on a bright July afternoon, her hands animated and skin radiant.
Beetz's energy is that of someone who's both been here before and still open to the unpredictability of life: measured but curious, and impossibly sure. But like many of us, Beetz doesn't feel beautiful all the time. "I can compare myself to others, and there are elements of my body I wish were different, and I'll cry about my hair because I get frustrated with it, or because I want it to look different," Beetz said. "I think that's normal because that's just life, but when I really kind of pare it back and I'm in a room on my own, I'm good, you know?"
Best known for her starring role as Vanessa "Van" Keefer on Donald Glover's Atlanta (which scored her an Emmy nom in 2018), Beetz has been quietly embedding herself in the cultural consciousness as someone to watch—and fangirl over. She's appeared in indie films like High Flying Bird (which was notably shot entirely on an iPhone 8) and bigger budget box-office hits like Deadpool 2—a testament to her versatility. The unifying theme of her projects—no matter how different—is perspective. All of them take a nuanced approach to a familiar medium, kind of like Beetz herself.
Her approach to activism is one example. Not only is the actor vocal about causes she's passionate about on social media—her Instagram bio is a link to information about the Title X gag rule—it carries into her everyday life too. Some of her activism, she shares, is linked to her care for the environment. "I think our global community is going to have to realize we are just living in a time of excess," she told me. "We have to pull back from our consumption across the board. It means you have to make sacrifices." For Beetz, sacrifices means cutting out plastic (which, she admits, is an ongoing journey), buying less fast fashion, and swapping out her skin-care routine. She's mostly switched over to True Botanicals for her skin care—Beetz is also the brand's newest brand ambassador—which prioritizes sustainable sourcing practices and organic, natural ingredients. "To have a brand doing that as their standard will help inspire other brands to see that there is a market and that people are interested in it," she said.
Ahead, Beetz shares her journey to a clean beauty routine, how she navigates her aesthetic on set, and the ways self-care and beauty go hand in hand.
When did you decide to shift to a "clean" beauty routine? I use clean in quotes because I feel like there's no good definition for what clean means right now.
As my engagement in environmental activism has increased over the last few years, I try to be more aware of the kinds of products I am using for my beauty routine. But I am not perfect. None of us are. I'm still transitioning out of a lot of my skin care, but it's mostly transitioned over to True Botanicals. Their products really work. I don't think my skin has ever looked better, and I say that as someone who was using this on a daily basis when I was flying every three days for a month and a half. Usually, that destroys my skin, and my skin was fantastic. In a way, I think it speaks for itself.
What makeup looks and products are you loving right now?
I like fresh skin, whether that means nothing on the skin or very, very minimal [product]. I've also been having a lot of fun with poppy eyeshadows. I'll put a splash of bright, glittering pink on my eyelids; sometimes I'll do mascara (I've been using M.A.C. Extended Play), and sometimes I won't and leave everything kind of bare. I always feel fun and punky when I do that. I've been using the Urban Decay Moonstruck Eyeshadow Palette and Fenty Beauty. They have pink, orange, blue, and lavender eyeshadows, and I like those on my eyes.
What are some ways that your beauty routine informs your self-care routine?
Self-care is number one in my life. It allows me to have the mental capacity to function on a day-to-day basis. If I don't take care of myself, I do not function in the world. Taking care [of myself] has spread into having empathy for others and for our environment. It's simplifying and taking a step back from a lot of the things our culture demands of us and really thinking, What are these age-old things that have worked? I think the answer to that is meditation, breath exercises, engaging in nature, and engaging in community. It translates into my beauty routine in terms of simplicity. I can let my body take care of itself, but then also use ingredients that have been tested and have worked forever. My hair likes argan oil, which has been around forever. I also use coconut oil for my skin and to shave. I don't use shaving lotion or anything—particularly for my intimate areas—because it causes irritation. I think that's potentially the crossover for me between self-care and my beauty routine. Grooming makes me feel like, Okay I've arrived to take care of my day. And that's not makeup, that's not getting my hair done. That's cleansing and washing myself the night before, and beginning anew.
What impact has your heritage had on your beauty routine?
I was just talking about this actually, but my heritage is very big on moisturizing.
It's so funny because I remember my mom used forced me to put cocoa butter on, that's what I grew up with. Now I can't have dry skin, it makes me physically uncomfortable. It's really interesting when people with lighter complexions don't know that moisturizing is important because [they] don't see the dry skin. But when they do begin moisturizing regularly, they realize it makes a difference. Even the saying Black don't crack: Is it just because we moisturize?
For my hair too, I am constantly putting in oil and moisture. The hydration element of the body is a huge part of my heritage and my beauty routine.
Who or what do you find beautiful?
I find the nude woman beautiful. I grew up painting, and to this day, I paint the naked woman.
How do you negotiate your beauty routine on set—have you faced any difficulties in navigating that?
Yes and no. I have a very strong sense of what I like and what I don't like, and I have a very weak sense of confrontation. In the beginning, that was really difficult for me, but it doesn't have to be an insulting or confrontational conversation. I can say, "Can we adjust this?" Or, "This is a shape that I like." Or, "This is a color that I like." In the beginning, I had no idea how to navigate that, and it would always stress me out. I would go to the bathroom, wipe it off, change it, and bring my own makeup. And then go on set and hope they didn't notice. But then I adjusted, and I learned. I was like, Oh, I can collaborate here. That was a big thing for me that I still work on in other respects. Also, as I've been working more in the industry, people can now research my "aesthetic" because you can Google it. [Makeup artists and hairstylists] have come to me multiple times and said, "I've heard you like your skin to just be skin." That's a big thing [for me]. I don't like a full-on look.
Do you often find yourself in environments where there are lots of makeup artists and hairstylists of color that are specifically involved to do your hair or makeup?
A photoshoot is different than a movie set. People on movie sets are also part of different unions, so the makeup artists and hairstylists that work in fashion often aren't the ones that work on set. For a photoshoot, I can, depending on schedule and availabilities, request my team. I used to be like, Why do people always have an entourage? Why do they always come to set with their makeup artist? Then I realized it's a creative process, and [my team] understands my language. If I tell Lacy Redway, for example, "Today I feel like looking like a daisy," whatever that means, she gets it. She interprets it in a way that coincides with my aesthetic, my creativity and what I like. Somebody else might be talented, but that doesn't mean that our creative collaboration is the same. Now on a movie set, most of those people, unless you're a megastar, are already hired. So, you're coming into an environment where you're meeting people [for the first time] unless you've worked together before. You don't have the option to pick and choose. So, you have to work it out and collaborate. It can be a little bit of a learning curve sometimes, and usually, you figure it out. But if you don't feel strong enough in voicing what you need or what you think the character needs, it can be frustrating. I have gotten better at being able to vocalize, and people usually appreciate collaboration. It's their creative process and work, as well.
NYLON uses affiliate links and may earn a commission if you purchase something through those links, but every product chosen is selected independently.