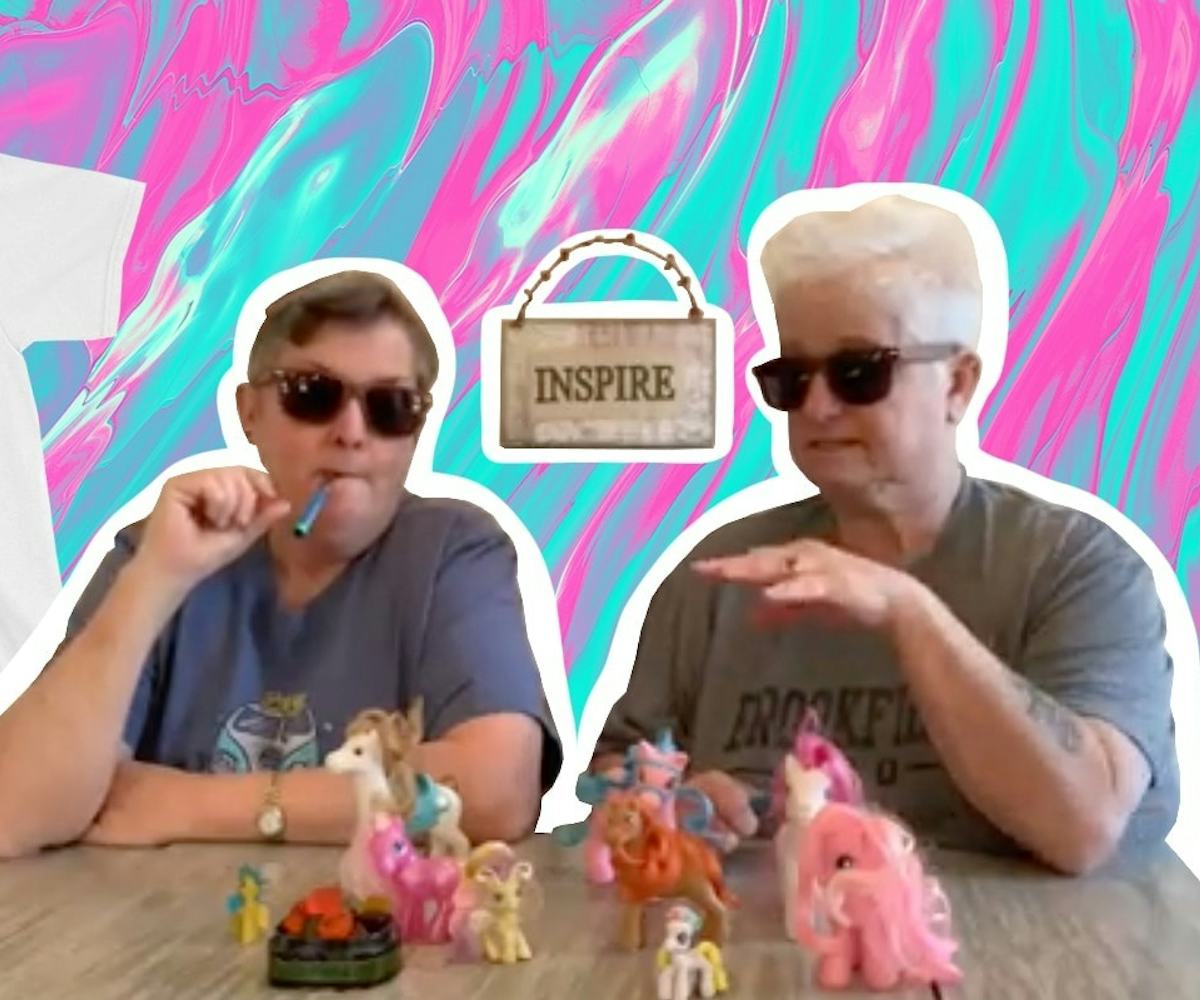 420OldFatLesbians Is The Only Instagram Account You Need To Follow
My favorite form of self-care is watching its videos
420oldfatlesbians is the Instagram account of Sue and Lee, a couple of retirees living in Maine, who are creating some of the most wholesome weed-friendly content ever to grace the internet. A quick scroll through their feed and you'll find an assortment of delightfully funny videos geared toward stoners, perfected with dollar store decor and whichever innovative bong or pipe Sue has concocted that day (this means it could be anything from a squeaky unicorn toy to Lee's iced coffee). Watching their daily videos has quickly become my favorite form of self-care, whether I have a joint in hand or not.
They're, perhaps, the only couple I've ever found on the internet (or otherwise) where the words "relationship goals" feel not cringeworthy, but entirely accurate. Watching Sue remind her "much much better half" to hide her exhale as she sneaks a vape at the hospital is exactly the kind of love and support we should all hope for in life.
Though Maine's weed laws are a bit murky (recreational use has been approved by voter referendum, but not implemented legally yet), new residents Sue and Lee are still able to thrive online behind some wayfarers and a loving community of fans. Ahead of 4/20, I chatted with Sue and Lee over email about what inspired them to log on and share their magic with the world, and how they'll be spending the holiday. Read the Q&A, below, and follow along with "The Likes of Dykes" at @420oldfatlesbians.
What inspired you to start the Instagram account?
After we moved to Maine and retired for the most part, we thought it would be fun to have an IG account—we wanted to help remove the stigma behind being fat, being old, using cannabis, and being gay!
Did you expect such an immense response to your page?
No, not at all. We were actually shocked.
What do you think it is that followers connect with the most?
We are just regular people trying to be who we are and don't pretend to be someone else.
What do you hope your impact is with this account?
We would like others to realize that life is short—and they should be true to themselves and not worry about what others think of them.
If you could only partake in weed-related activities in one way for the rest of your lives, how would you choose?
Edibles for sure.
Do you have a go-to edible recipe of choice?
We make a root beer-flavored hard candy that is 10 mg. We can low-dose throughout the day as needed.
Do you remember your first time getting high?
Sue: Freshman in high school, in the woods with friends.
Lee: While on vacation in Arizona, someone had Hawaiian. I got so high.
How did you two first meet?
On Plenty of Fish. Then realized we were both from the Chicago area, but when we met online, we were only living 75 miles apart.
Do you have any relationship advice?
Unconditional love. Trust. Don't try to change the other. We realized we are twin souls and have known each other for eternity.
How will you be spending 4/20 this year?
Celebrating our granddog's birthday of course. The rest is obvious.
Are you active in any areas of pro-legislation activism when it comes to weed?
Not yet. We are fairly new to Maine and really need to research the details in the laws here.
Anything else you would like to share with?
Don't ever be afraid to try something new and present yourself as who you really are.