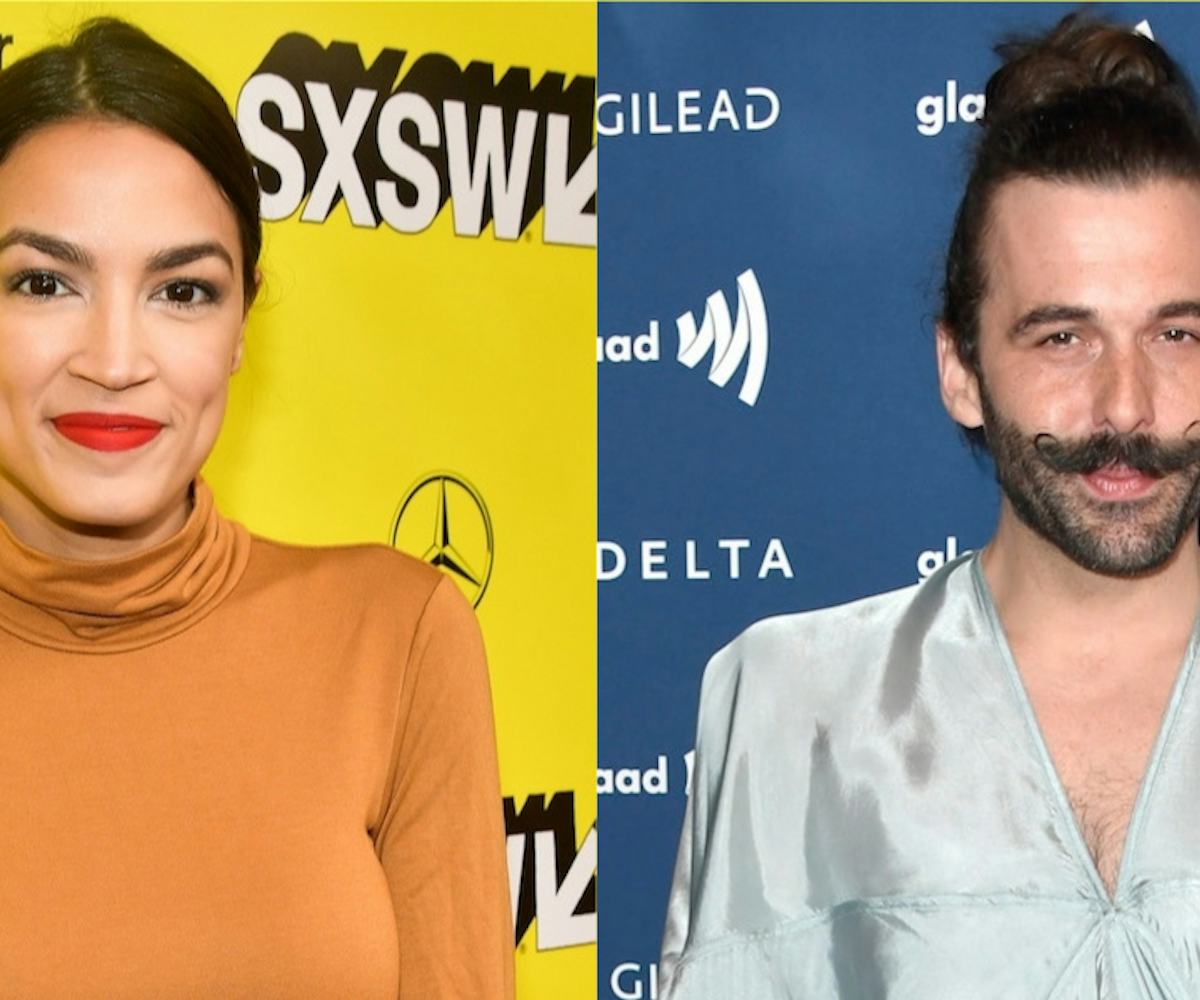 Photos by Matt Winkelmeyer, Frazer Harrison/Getty Images
Did AOC Just Tap 'Queer Eye' Cast To Give The U.S. Congress A Makeover?
We already knew Alexandria Ocasio-Cortez is going to shake up Congress for the better, but might she have tapped some of our favorite Netflix stars to take up the task alongside her?
Spotted: Ocasio-Cortez leading Queer Eye's Jonathan Van Ness to Nancy Pelosi's office in Washington, D.C. Not much is known about what the powerful duo was up to, but the two were clearly on a mission and serving spring-ready looks. Antoni Porowski can be spotted in the background looking vaguely bewildered; clearly, Van Ness has taken the reins on this one.
Van Ness later posted to Instagram that he was "talking policy" with AOC, sharing an adorable video of the two walking the halls while whispering secret plans back-and-forth.
Porowski shared a separate photo to his own Instagram. "Today, one of us is championing for The Violence Against Women Act, ending the privatization of prisons, enacting gun-control policies and abolishing U.S Immigration and Customs enforcement," he wrote, "While the other regularly contemplates what kind of cheese to end the day with. Guess who's who!" It's not a difficult question, but a lovely reminder of why I adore him so much.
Apparently, the rest of the crew (minus Karamo Brown) was along for the visit, as revealed in a photo Van Ness also shared. I'm thinking this was a location scouting for the next season of Queer Eye? Instead of home makeovers and lessons in self-love, stale Republicans get lessons in respecting women, POC, and queer people and you know... everyone they represent. I'd watch that for sure.