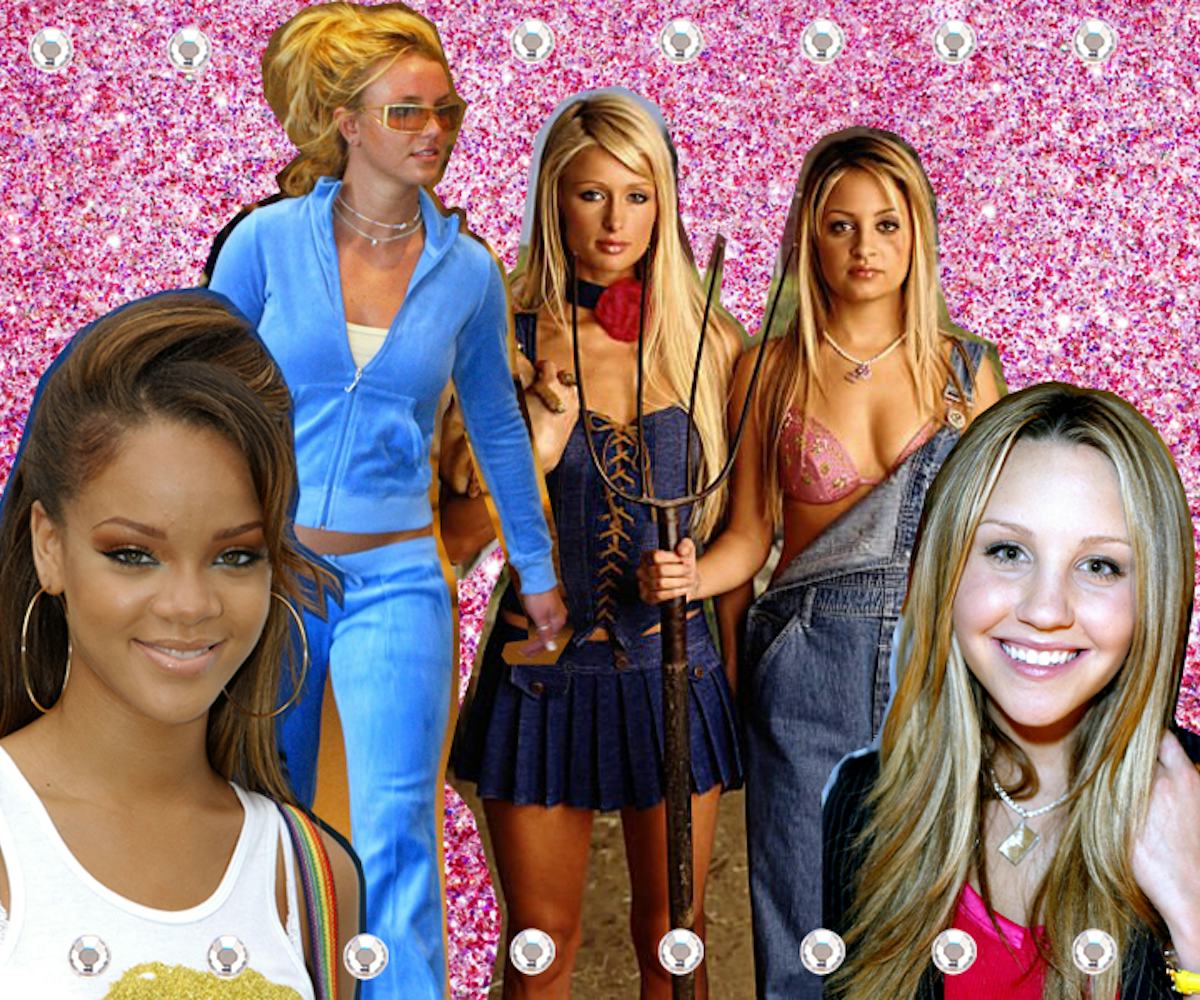 18 aughts trends we're nostalgic for
you are always on our minds.
by leila brillson, ben barna + yasmeen gharnit
The aughts were a wonderfully strange time: We were all trying to figure out how to use the internet properly (we still kind of are); we were all running around in Von Dutch trucker hats (some people still are); and we deemed everything "hot" (this meaning has changed somewhat thanks to various online dating apps). It was a decade that wanted freedom from outside influences, and was completely obsessed with creating new trends. 
Now, halfway into the '10s, it seems as if we're grasping at every nostalgic straw we can get our hands on: '90s chokers, '60s bell bottoms, Woodstock-esque festival wear... And, well, we kind of miss all of the sloppy aughts trends. We're not saying it's time to bring them back, but if you feel so inclined...
T-MOBILE SIDEKICKS
photo via getty images
The T-Mobile Sidekick was essentially the precursor to the modern smartphone: It had internet access, a full keyboard, and a "sophisticated" swivel screen that was both obnoxious and addictive. The first was launched in '02 and the last generation (4G) was officially "retired' in 2012. R.I.P. to the massive phone and the millions of rhinestones wasted to "glam" it out.
STUDDED WHITE BELTS
photo via getty images
Nothing screamed "punk-rock poser" more than a studded white-leather belt. And yet it was the aught's go-to accessory and kept destroyed light-wash hip-huggers PG-13.
MYSPACE TOP 8
The Top 8 was one of MySpace's many strokes of genius, none of which were genius enough to beat back Zuckerberg and his gang of thugs. If only we could rank our Facebook friends, life would be so much more...dramatic. We miss you, Tom.  
EYEBROW PIERCINGS
photo via getty images
Here's a theory: What if the true mark of a decade is the piercing that was popular during that time? For instance, the '80s were all about getting your lobes stabbed with mall-earring guns for your twelfth birthday. The '90s had giant, Joan Osbourne-esque nose hoops and, of course, belly buttons. The early aughts had eyebrow piercings—specifically, curved barbells. With gems in them. Purple gems. Oh, dear Goddess, someone please burn our yearbooks. 
THE SIMPLE LIFE
photo via twentieth century fox pictures
There was nothing real about this fish-out-of-water experiment premiering in the heart of reality TV mania, but who cares? Two privileged Beverly Hills brats basically parachuted into rural Arkansas is the stuff sitcoms are made from, and this show was essentially that. It turned Nicole Ritchie into a star—not a bad thing—and made Paris Hilton kind of likeable—basically an impossible thing.   
VELOUR TRACK SUITS
photo via getty images
Popularized by The Simple Life and Britney Spears, velour tracksuits (most specifically ones made by Juicy Couture) took over closets across America. Owning one was an accessible symbol of status, but the trick to pulling them off was a task in and of itself. The trick? Expose a little midriff and a whole lot of hips. Bonus if you paired it with your mini monogrammed Louis Vuitton pochette bag.
AWAY MESSAGES
Your AIM profile away message said a lot about you: Who you were dating (and the date of your first shared kiss), the angsty song lyric you identified with, the initials of all of your best friends, and (most importantly) the reason you were "brb"-ing.
SMARTERCHILD
Before there was Chatroulette, you would chat with SmarterChild—an automated inter-bot—on AIM. As Urban Dictionary says, SmarterChild was "a pretentious robot who believes it's better than you," which pretty much sums it all up.
UGG BOOTS
photo via getty images
Originally intended for surfers to wear post-waves, the sheepskin boots caught on in the mainstream U.S. after an injured Britney Spears wore them to the gas station. With her Starbucks cups in hand, she forever changed the face of aughts fashion and brought comfort into every household in America.
REALLY BIG SKATE SHOES
photo via getty images
Etnies and DC skate sneakers were the official shoes of mall rats everywhere. They were clunky, they were puffy, and your laces were essentially untied and tucked into your shoes—yet we were all somehow duped into thinking they were both practical and cool. Sigh.
TRIPLE FIVE SOUL
There was an internal argument whether 555 Soul (or Triple 5 Soul) peaked in the '90s or the '00s. This particular author went to a sample sale for Triple 5 in 2002 and the line was packed and a fight erupted over a cropped baseball jacket, in which said author briefly became a horrible person in order to procure said jacket. It is still alive today, albeit sans sleeves. 
Other brands of note: Akademiks, LRG, Phat Farm.
POINTY TOED HEELS
photo via getty images
The sophisticated shoe for the sophisticated woman?
INNER RIM EYELINER
photo via getty images
What was this? Why did we do this? Why were we like, "Let us paint as humanly possible to the eyeball as we possibly can, so our eyeliner looks like a watery eye infection waiting to happen"? Who started this? Can we riot?
MISSHAPES
photo via getty images
Along with nightlife photography, Last Night's Party, and the Cobrasnake, NYC was home to an electro revival that was pied pipered by the Misshapes, a super-cool DJ collective who were known for throwing massive parties in Manhattan. The downtown vibe, along with their proto-usage of social media (they posted pictures the night after, where fellow partygoers were hoping to get snagged), perfectly summed up the early aughts. 
TRUCKER HATS
photo via getty images
The trucker hat was largely made popular by Ashton Kutcher. Perhaps his greatest punk of all...
AMANDA BYNES, ACTRESS
photo via getty images
The Amanda Show, Big Fat Liar, She's The Man, What I Like About You: All aughts classics.
BANDANA TOPS
photo via getty images
Perfect for exposing your abs, the bandana top effectively covered a woman up just enough. Our question: Was the bandana top a cleverly disguised premature #FreeTheNipple?
MSN MESSENGER
After there was ICQ and before there was Gchat, there was MSN Messenger, or MSN for short. It was the last true messaging service before Steve Jobs made your cell phone a messaging service, and it was glorious. Was there a more thrilling feeling than seeing your crush online, practically begging you to message them? No, no there was not. 
Related Articles: