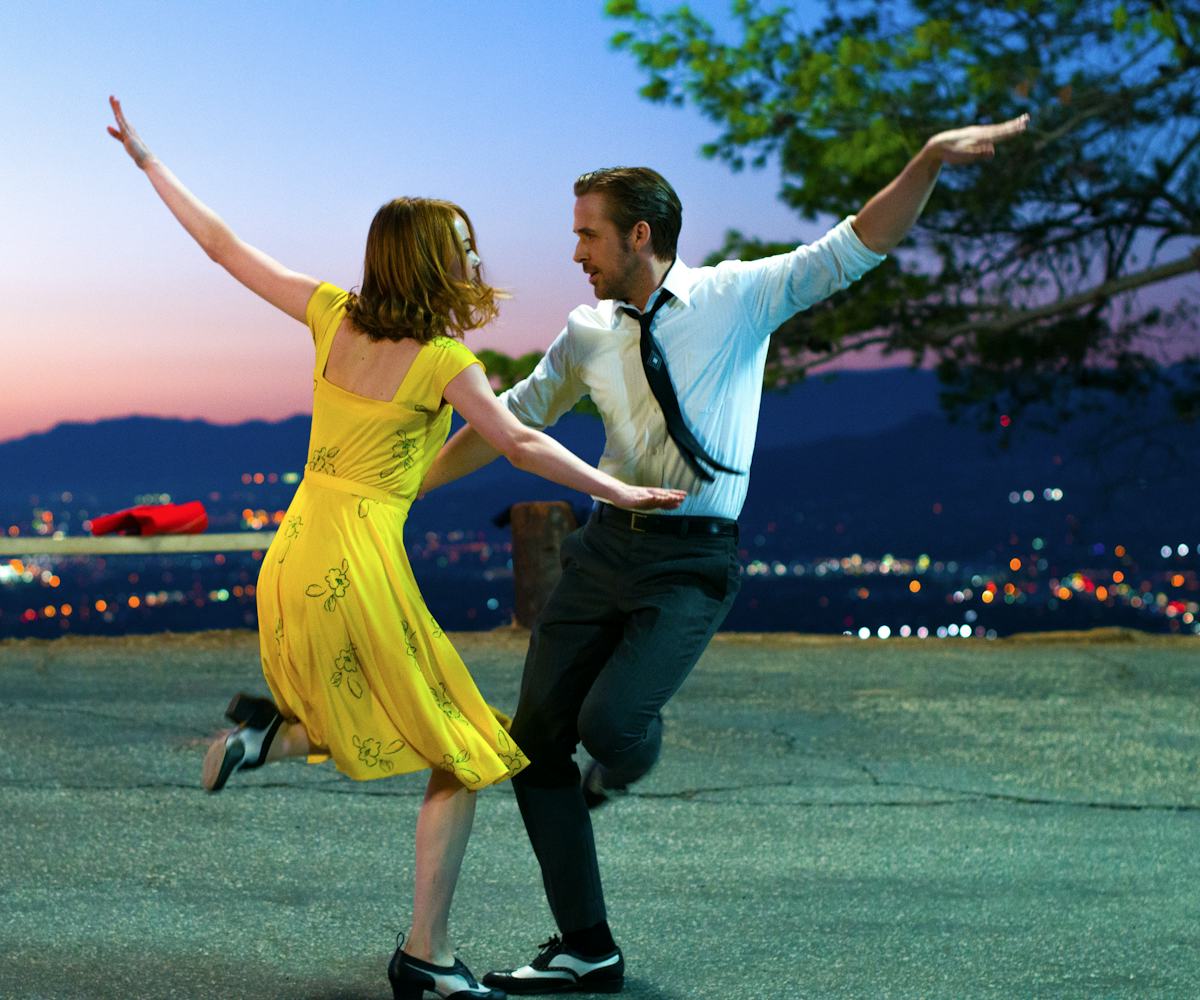 Photo courtesy of Lionsgate
'La La Land,' Diversity, Dominate This Year's Oscar Nominations
See the full list of nominees
The 2017 Oscar nominations were revealed on Tuesday morning, and, as expected, La La Landled all films with a whopping 14 nominations, tying the all-time record for most nods in a single year (also held by Titanic and All About Eve). The retro musical is officially the frontrunner for Best Picture and will go toe-to-toe with Arrival, Fences, Hacksaw Ridge, Hell or High Water, Hidden Figures, Lion, Manchester by the Sea, andMoonlightfor the top prize. 
Both Emma Stone and Ryan Gosling, who play the film's star-crossed lovers, earned top acting nods, and while Stone is widely expected to win a category that also includes Natalie Portman (Jackie), Isabelle Huppert (Elle), Ruth Negga (Loving), and Meryl Streep (Florence Foster Jenkins), Gosling will be in tough against this year's favorite, Casey Affleck (Manchester By The Sea), as well as Denzel Washington (Fences), Andrew Garfield (Hacksaw Ridge), and Viggo Mortensen (Captain Fantastic).
La La Land's directing wunderkind, Damien Chazelle, will battle it out for Best Director against Denis Villeneuve (Arrival), Kenneth Lonergan (Manchester by the Sea), Barry Jenkins (Moonlight), and Mel Gibson (Hacksaw Ridge), whose inclusion in this year's awards season has left many feeling puzzled after a tumultuous past that includes both racist tirades and wildly misogynistic behavior. 
While the Academy may find themselves having to answer for Gibson's nomination as the show nears, they'll also be commended for rectifying the lack of diversity in last year's nominees, when #OscarsSoWhite dominated the narrative leading up to Oscar night. This year, six black actors were nominated including three in the Best Supporting Actress category alone, with Octavia Spencer (Hidden Figures), Naomie Harris (Moonlight), and Viola Davis (Fences) all earning nods. 
Find out who takes home the gold, when the 89th Academy Awards unfold on February 26. See the full list of nominees below.
BEST PICTUREArrivalFencesHacksaw RidgeHell or High WaterHidden FiguresLa La LandLionManchester by the SeaMoonlight
BEST DIRECTOR
Denis Villeneuve, Arrival
Mel Gibson, Hacksaw Ridge
Damien Chazelle, La La Land
Kenneth Lonergan, Manchester by the Sea
Barry Jenkins, Moonlight
BEST ACTOR
Casey Affleck, Manchester by the Sea
Andrew Garfield, Hacksaw Ridge
Ryan Gosling, La La Land
Viggo Mortensen, Captain Fantastic
Denzel Washington, Fences
BEST ACTRESS
Isabelle Huppert, Elle
Ruth Negga, Loving
Natalie Portman, Jackie
Emma Stone, La La Land
Meryl Streep, Florence Foster Jenkins
BEST SUPPORTING ACTOR
Mahershala Ali, Moonlight
Jeff Bridges, Hell or High Water
Lucas Hedges, Manchester by the Sea
Dev Patel, Lion
Michael Shannon, Nocturnal Animals
BEST SUPPORTING ACTRESS
Viola Davis, Fences
Naomie Harris, Moonlight
Nicole Kidman, Lion
Octavia Spencer, Hidden Figures
Michelle Williams, Manchester by the Sea
BEST ORIGINAL SCREENPLAY
Hell or High WaterLa La LandThe LobsterManchester by the Sea20th Century Women
BEST ADAPTED SCREENPLAY
ArrivalFencesHidden FiguresLionMoonlight
BEST CINEMATOGRAPHY
ArrivalLa La LandLionMoonlightSilence
BEST FILM EDITING
ArrivalHacksaw RidgeHell or High WaterLa La LandMoonlight
BEST VISUAL EFFECTS
Deepwater HorizonDoctor StrangeThe Jungle BookKubo and the Two StringsRogue One: A Star Wars Story
BEST PRODUCTION DESIGN
ArrivalFantastic Beasts and Where to Find ThemHail, Caesar!La La LandPassengers
BEST COSTUME DESIGN
AlliedFantastic Beasts and Where to Find ThemFlorence Foster JenkinsJackieLa La Land
BEST MAKEUP & HAIRSTYLING
A Man Called OveStar Trek BeyondSuicide Squad
BEST ORIGINAL SCORE
JackieLa La LandLionMoonlightPassengers
BEST ORIGINAL SONG
"Audition (The Fools Who Dream)," La La Land
"Can't Stop the Feeling," Trolls
"City of Stars," La La Land
"The Empty Chair," Jim: The James Foley Story
"How Far I'll Go," Moana
BEST SOUND EDITING
ArrivalDeepwater HorizonHacksaw RidgeLa La LandSully
BEST SOUND MIXING
ArrivalHacksaw RidgeLa La LandRogue One: A Star Wars Story13 Hours: The Secret Soldiers of Benghazi
BEST ANIMATED FEATURE
Kubo and the Two StringsMoanaMy Life as a ZucchiniThe Red TurtleZootopia
BEST DOCUMENTARY
Fire at SeaI Am Not Your NegroLife, AnimatedO.J.: Made in America13th
BEST FOREIGN LANGUAGE FILM
Land of MineA Man Called OveThe SalesmanTannaToni Erdmann
BEST DOCUMENTARY SHORT SUBJECT
Extremis4.1 MilesJoe's ViolinWatani: My HomelandThe White Helmets
BEST LIVE ACTION SHORT
Ennemis EntreniersLa Femme et le TGVSilent NightsSingTimecode
BEST ANIMATED SHORT
Blind VayshaBorrowed TimePear Cider and CigarettesPearlPiper