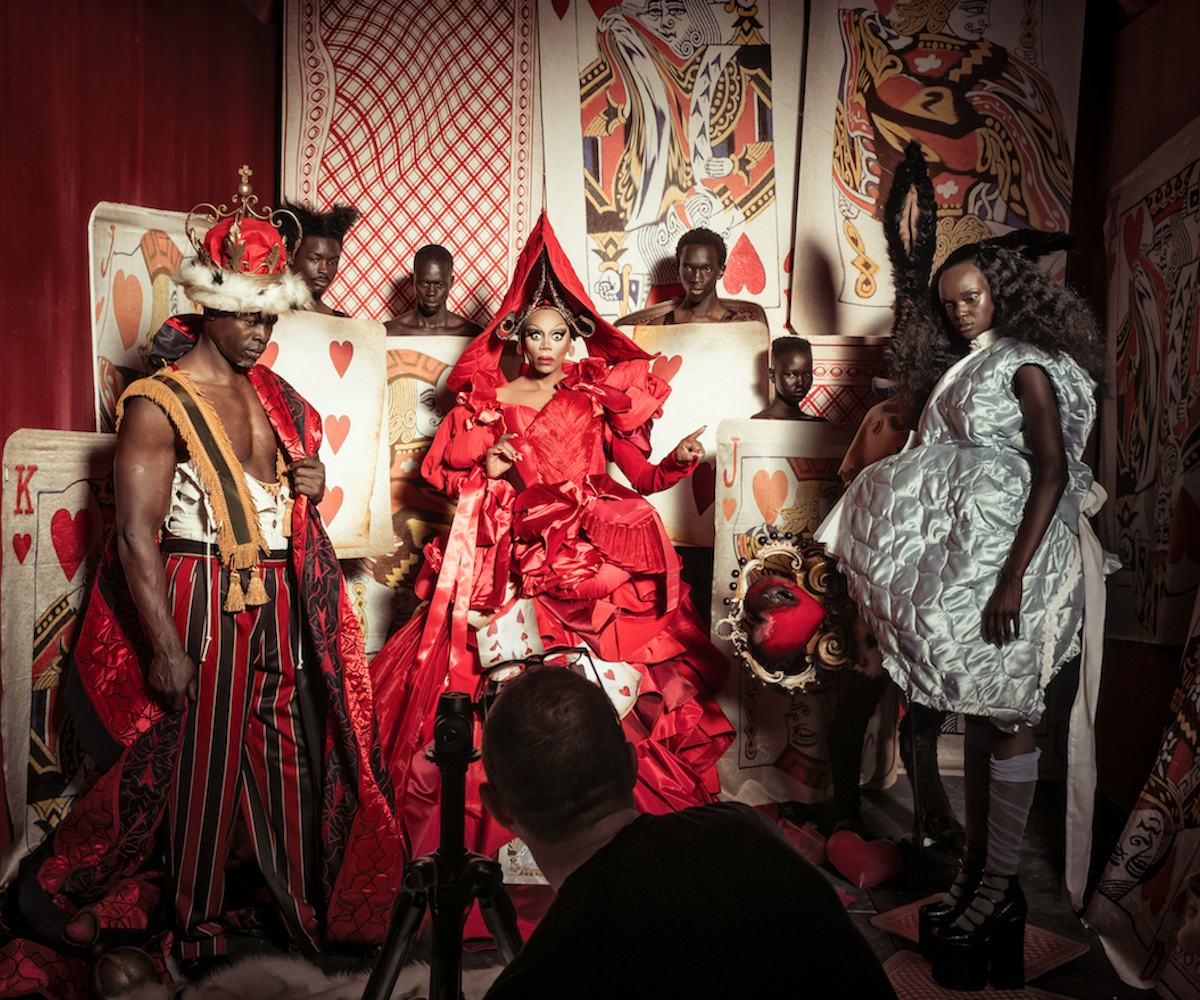 Photoographed By Tim Walker.
The 2018 Pirelli Calendar Features All Black Models Recreating 'Alice In Wonderland'
Including RuPaul, Naomi Campbell, Lupita Nyong'o, and more
For the past 40-plus years, the limited-quantity Pirelli Calendar has evolved from high-class soft porn to a key component in the cultural Zeitgeist. More recently, the company's lineup has expanded to include, yes, still scantily clad women in some cases, but also unretouched actresses, activists, women in their 70s, and plus-size models. For its 45th issue, the calendar is reimagining Alice in Wonderland with an all-black cast shot by Tim Walker and styled by new British Vogue editor-in-chief Edward Enninful.
"Any girl should be able to have their own fairytale," Walker said about this year's theme. And this one just so happens to star model Duckie Thot as Alice, actor Djimon Hounsou as the King of Hearts, RuPaul as the Queen of Hearts (of course), model Adut Akech as the Queen of Diamonds, Whoopi Goldberg as the Royal Duchess, Naomi Campbell and Sean "Diddy" Combs as the Royal Beheaders, Lupita Nyong'o as the Dormouse, Adwoa Aboah as Tweedledee, Sasha Lane as the Mad March Hare, Lil Yachty as The Queen's Guard, and many, many more.
"Given the state of the world we live in, sometimes I think we all feel like we've fallen down the rabbit hole," Enninful told The New York Times in an interview. "For me, a retelling of 'Alice' for the modern world was a perfect project, particularly once the cast fell into place."
This is a special moment for the calendar, though this isn't its first foray into all-black casting territory. (A 16-year-old Campbell posed with a host of other black models back in 1987). However, now, conversations surrounding diversity—more so the lack thereof—in the fashion industry has hit fever pitch. In a perfect world, the photographer, in this case, would've also been black as well, but that didn't happen. And representation on a scale like this is still worth applauding.
Check out some of the behind-the-scenes shots below. Now, all we have to do is figure out how to get our hands on one of those calendars.