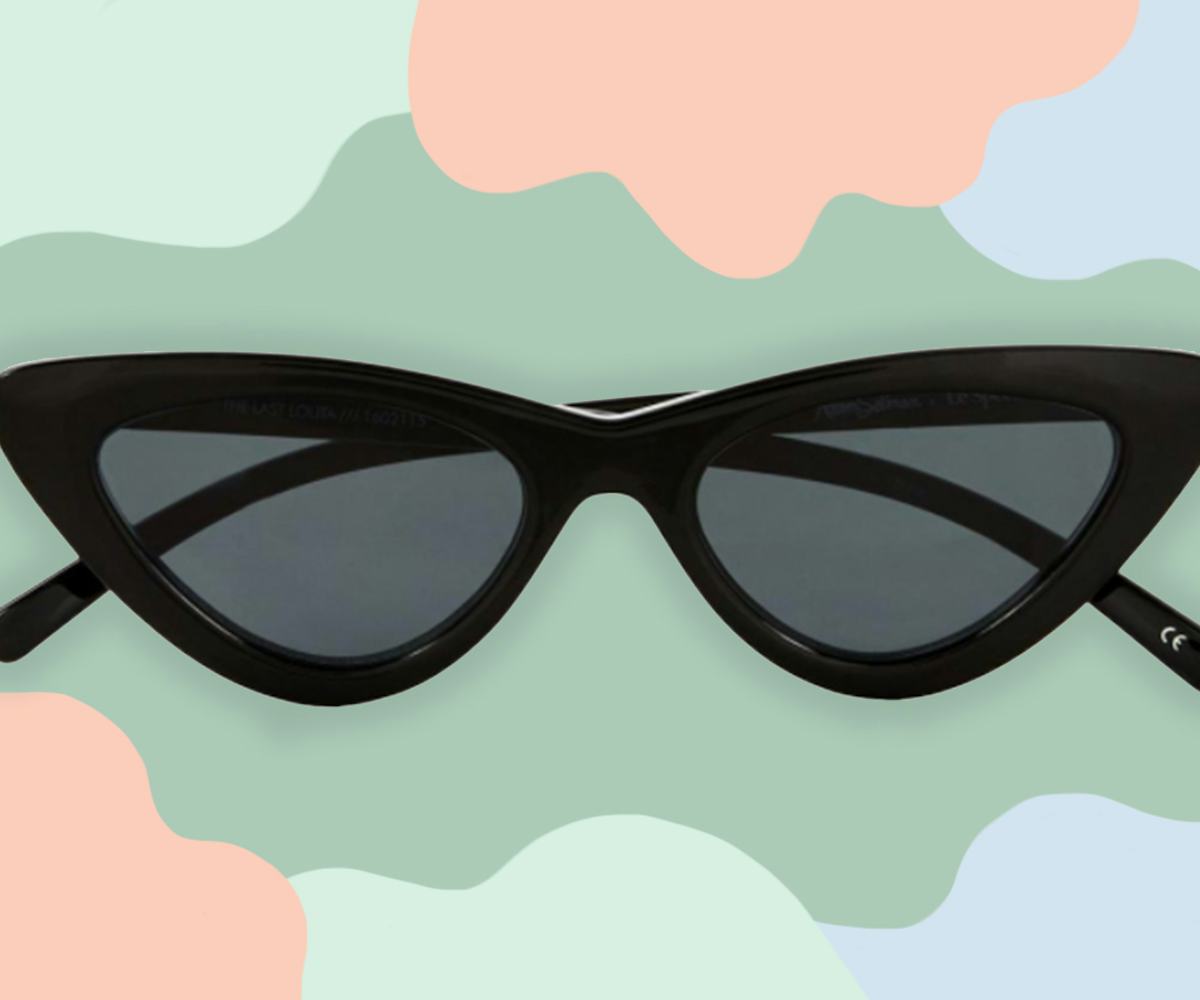 The Sunglasses You're Going To See Everywhere This Summer
Every year, there seems to be one distinct accessory, piece of clothing, or beauty trend that defines the summer. If we had to declare what those were for 2016, we'd go with: highlighter products, culottes, and mules. This year, we're calling buzzed hair, all gingham everything, and Adam Selman x Le Spec's "The Last Lolita" sunglasses.
We've walked you through the other two already, so let's talk about the third. The Lolita shades are what anyone else would call cat eye sunglasses, but these come with a hip designer name attached to them and a lot of celebrity backing. They're practically the only pair Gigi Hadid has been wearing lately. Rihanna's been photographed with them; Zoe Kravitz, too.
The best part about them is that they're not as "fashion-y" (read: impractical and over-the-top) as other sunglasses endorsed by the famous set typically are. Meaning, you won't feel ridiculous wearing them next summer, or the following, or even into fall, because they have a classic feel that won't go out of style.
Now, for the bad news: They're practically sold out everywhere (another reason you're going to see them everywhere is because, well, everyone's already bought them up). You can probably find a pair with some internet sleuthing but, for the most part, "The Last Lolita" sunglasses are the last thing you'll be able to hunt down. Luckily, like we mentioned, since they are such a classic style, there are a bunch of very similar versions available from different brands. They might not be the exact ones Gigi or Rih Rih have but they're no less cute. See the alternative pairs ahead.
Aldo, Serasio Cat-Eye Sunglasses, $16, available at Aldo.
Vogue Eyewear x Gigi Hadid, Cat Eye, $139.95, available at Sunglass Hut.
Kendall + Kylie, Vivian Extreme Cat Eye Sunglasses, $100, available at Nordstrom.
Free People, Who's That Girl Sunnies, $20, available at Free People.
Prism, St. Louis Cat-Eye Sunglasses, $405, available at Neiman Marcus. 
Forever 21, Mirrored Cat Eye Sunglasses, $9.90, available at Forever 21.
Sunglass Museum, Sandy Cat Eye Sunglass, $25, available at Sunglass Museum.
Freyrs Eyewear, Mimi Round Cat Eye Sunglasses, $40, available at Nylon Shop.
Topshop, '90s Pointy Polly Sunglasses, $38, available at Topshop.