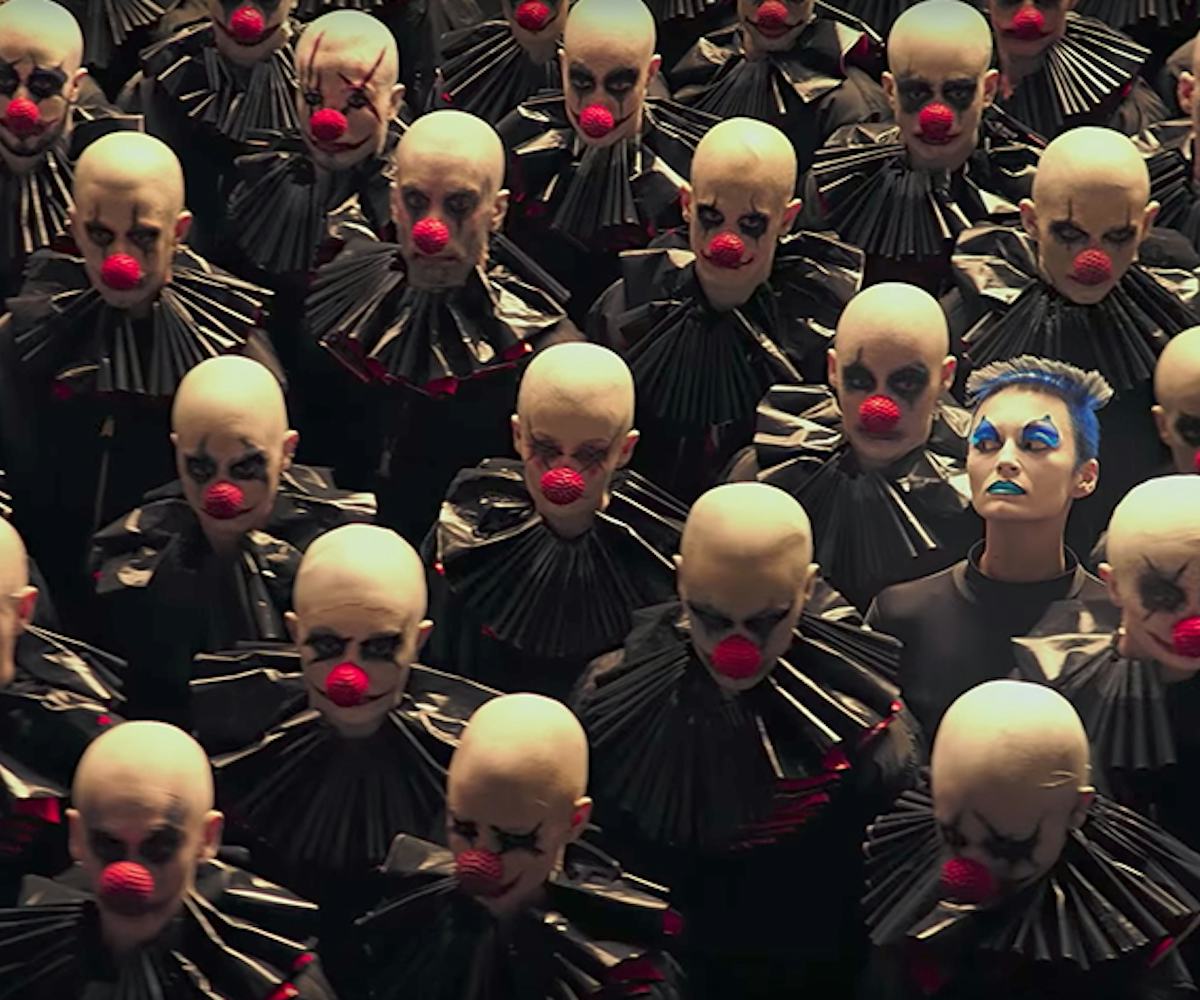 Photo via FX/YouTube
Everything We Know About 'AHS: Cult' So Far
Now that the title of the seventh season of American Horror Story is public knowledge, Ryan Murphy is truly doing the most. (When is he not?)
American Horror Story: Cult arrives September 5 on FX. This time last season fans had absolutely no idea what the theme was. Murphy waited until the literal premiere to announce it, which, though bold, did not do much for the success of its run. A new website launched at the time of this title announcement, alluding to a weekly update on the forthcoming season's premise. There will, of course, be creepy teasers released along the way, too.
But what do we already know about the notoriously enigmatic show? How the heck does the cult theme tie in with the previously announced 2016 election theme? Is the Beyhive a part of this somehow? So many questions that will likely be answered in a cryptic fashion.
What's known is that Lena Dunham will be joining the ensemble cast alongside Colton Haynes and Scream Queens' Billie Lourd. Cheyenne Jackson and Sarah Paulson are set to return. Paulson is rumored to be playing the love interest of Murphy newcomer Alison Pill. A zoetrope at Comic-Con showing two female figures, one in a red dress and another in blue, kissing has many speculating Paulson and Pill aren't just lovers, but lovers who come from opposing political parties. Billy Eichner has also joined the cast.
Murphy revealed that series regular Evan Peters will have a sizeable role. "This is his heaviest season yet," he told Comic-Con. (There is a rumor Peters' character rocks blue hair.) Frances Conroy and Mare Winningham are to return, as well. 
A cryptic "sweet dreams" thread between AHS' official Twitter page and a tweet from Jackson have many thinking Season 4's character, Twisty The Clown, will be making a comeback. As what? The below Instagram looks like he's a comic book villain. All the creepy cult clowns in the current teasers and that disturbing elephant clown illustration add fuel to that fire. 
Finally, we know what the first episode will center on: the night of the 2016 election. "The first 10 minutes of the season, this season, takes place in a very eerie macabre way on election night and there's something terrible that happens in the lives of our characters on election night as they're watching it all go down," Murphy told Andy Cohen during Watch What Happens Live!. He adds, "Which in itself was a horror story, so it's like a horror story upon a horror story." Alrighty then! Let the year of, like, realizing stuff begin... again.