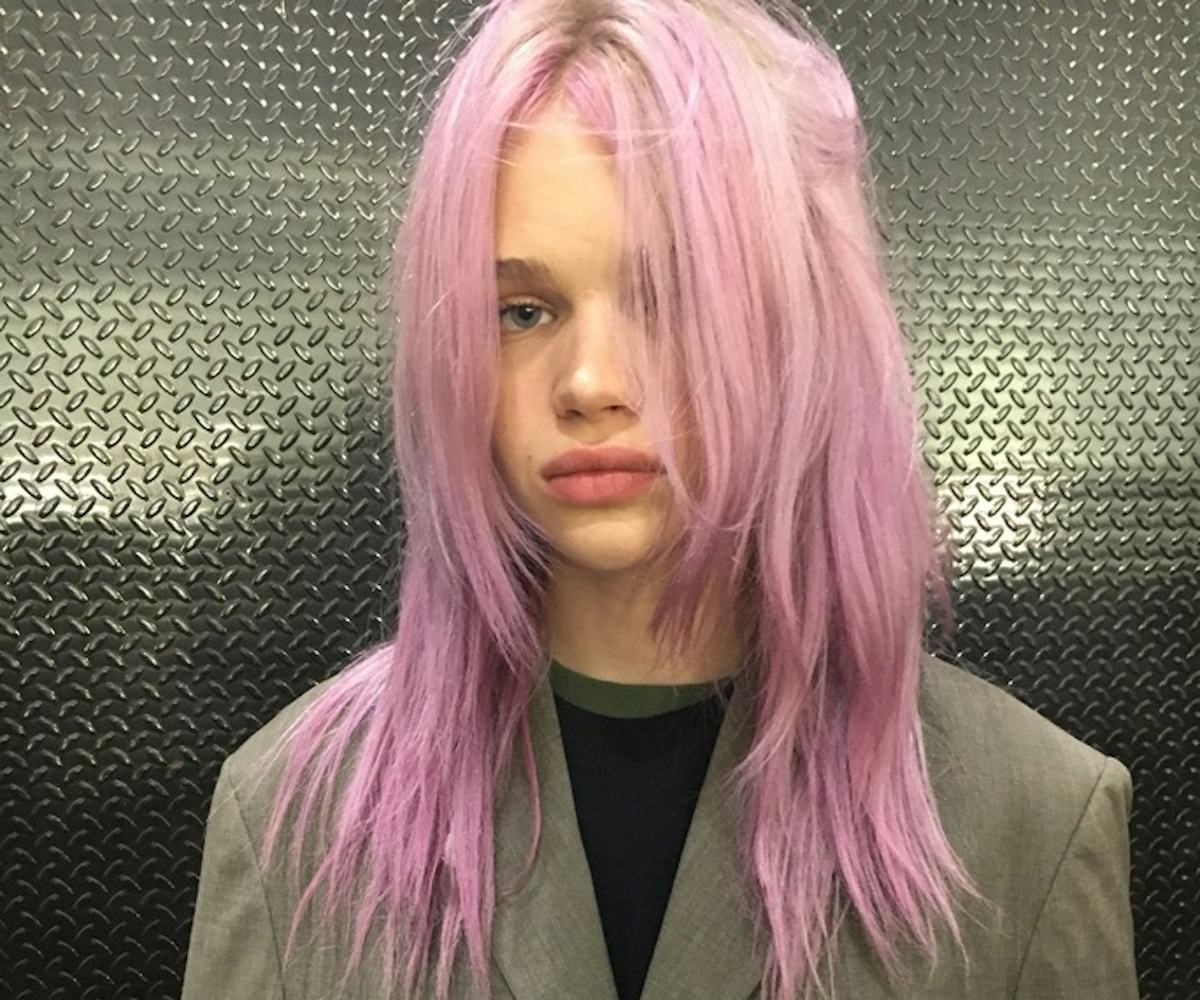 Photo by Jenna Igneri
Alexander Wang Just Made Rose Quartz The Hair Color Of Spring
Last night's beauty look at Alexander Wang was quite a one-eighty from what we saw back in February. Moving away from the grungier, grittier, and brooding vibe of Fall, Spring 2018 consisted of a more minimal and fresh look—embracing each model's individual style with an emphasis on flushed cheeks, free-flowing hair, ever-so-slightly pink lids, and a very fresh glow.
But what stood out the most among the sea of natural looks was one model's hair: Stella Lucia's pinkish-purplish 'do.
Dubbed "rose quartz," the color manifested from a very specific idea that Wang had in mind, which was then executed by colorist Josh Wood of Redken. Inspired by Kate Moss in the '90s, this particular shade of pink has a glamorous, yet rebellious (it wouldn't be Alexander Wang if it wasn't, right?) feel.
While Woods admits that we've been seeing a lot of pastels and pinks during the recent resurgence of unconventional hair colors, this shade is different from those we've seen in the past. In fact, it was a pretty intricate process to create.
First, Woods bleached Lucia's locks and then dyed them with a gray base. Next, he layered on various colors—violet, pink, and coral—one at a time, letting each set and rinsing out before beginning the next.
The result? A multifaceted pink, fit for springtime. "The idea is that you can almost see a color within a color," he says. We have to agree that rose quartz is pretty, erm, mystifying.
All in all, Wood says that it's really all about being able to express one's personality through hair color, and last night was proof that we'll continue to see hair colors of all sorts emerge—with rose quartz leading the pack come spring.
Or perhaps, sooner. Excuse us while we raid our nearest beauty supply shop and start experimenting.