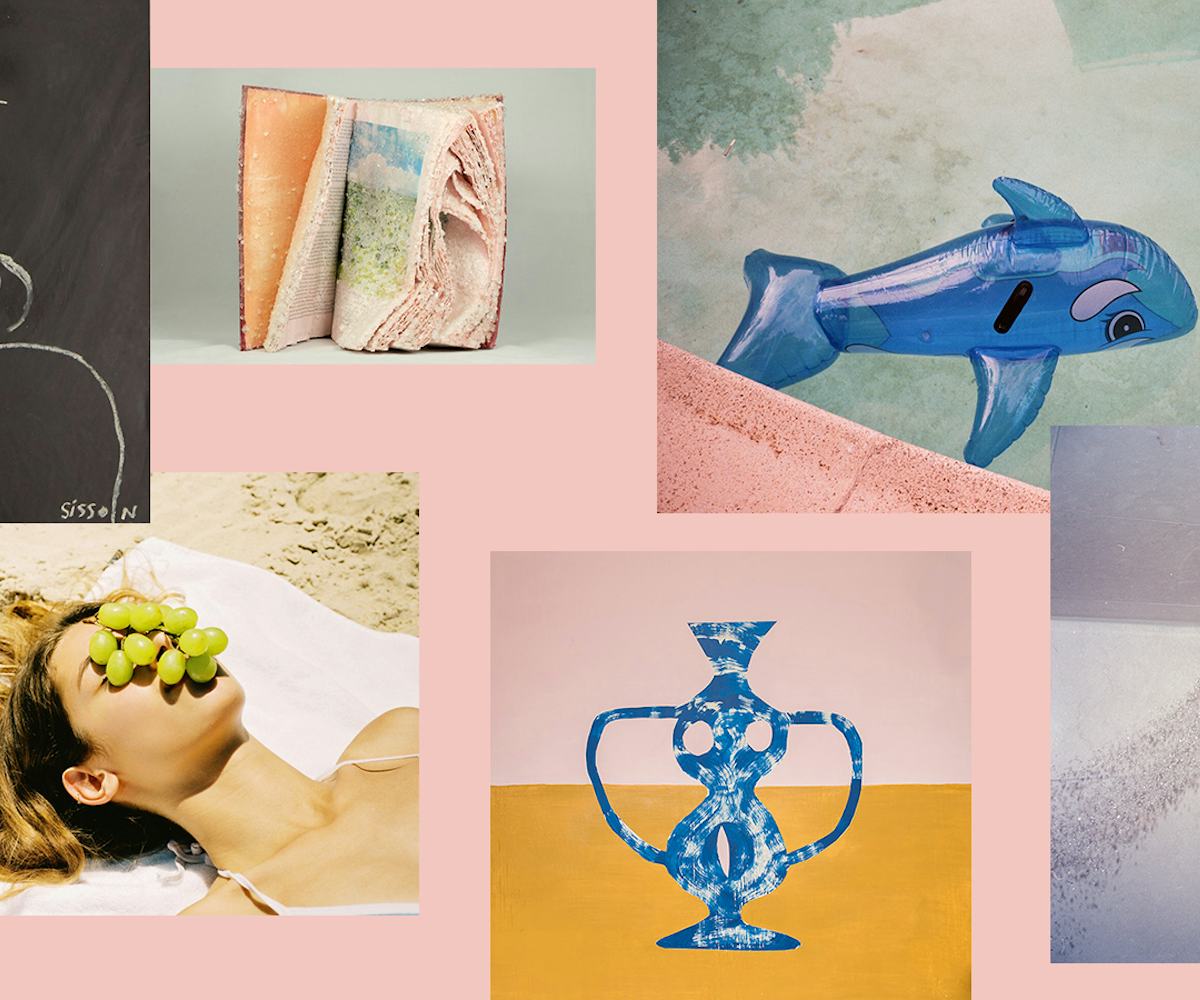 Photos courtesy of Tappan
How To Start Collecting Art: A Beginner's Guide
Your walls will thank you
You've always dreamt of your first ~Real Adult Apartment~. You know the one: Where the decorative coffee table isn't from Craigslist and the bar cart offers more than a half-empty bottle of Three Wishes. And don't forget the eclectic collection of art that spans the walls and shelves. It's the last checked box—starting an art collection—that can seem the most daunting, though, right? Not to mention expensive. 
The good news is, it's not as challenging as you think it is to trade in those band posters and Ikea art for meaningful, original pieces. Thanks to art collecting experts Cristina Salmastrelli and Chelsea Nassib, we've got all the advice you need to start your own collections right here.
While Salmastrelli has spent 10 years directing art fairs (currently New York City's Affordable Art Fair, which kicks off March 30), Nassib is the brains behind Tappan, an online gallery for emerging artists that aims to make art more accessible to young buyers. Both began purchasing art in their early 20s, and have since spent their careers connecting artists with new collectors. We got their advice on first-time art buying, from how to hone in on your personal style to why you should always keep the receipts.
But these women aren't just eager to share how to start collecting art—they're also quick to emphasize why it's worthwhile. 
"There's a level of identity that comes with collecting, similar to the clothes that you wear, the way you design your house," explains 28-year-old Nassib, who, in addition to running Tappan, is an artist herself. "Anything you buy really is a reflection of who you are and your individuality, so that is ever more expressed through the art that you buy."
Salmastrelli says she sees art collections as a timeline of the collector's life. Often, the meaning of a piece changes over time. In fact, the first piece of art Salmastrelli purchased—a blue and green line drawing from an adult art therapy center when she was 24—now hangs in the room of her soon-to-be-born baby son. 
"Your collection becomes a chronological map of who you are and how you are evolving as a person," Salmastrelli says over the phone. "This is your diary, and it's all visual, and it's in your home, and I just can't think of anything more magical than that."
Sounds convincing—now what? Scroll through the gallery (no pun intended) below for eight art collecting tips on where to look, how to prepare, what questions to ask before buying, and when to trust your gut.
#1. Have a plan
The immense amount of art on the market is both a blessing and a curse for collectors. Whether you're starting your search online, in a gallery, or at an art fair, Salmastrelli warns, "it's going to be overwhelming." Counter that by deciding on an art medium, price point, and the dimensions of the space you're hoping to fill ahead of time. "You can then [look for art] with a detailed eye and only focus on the artworks that meet your criteria," Salmastrelli says.
To start developing a personal style, Salmastrelli recommends that first-time art buyers flip through an art history book to explore different mediums first. "When you flip through the pages, you will see yourself going towards gradually liking one medium over the other," she explains.
#2. Be honest about your budget
Tappan was founded on the principle that art can be found at any price point—on the site, some pieces are as low as 40 or 60 dollars. "So don't feel like if it's not expensive, it's not a real piece of art," Nassib explains.
On that note, if you're having trouble finding art that won't break the bank, it's probably not your fault. "There is a lot of room for overpriced pieces, overvalued work," Nassib says. "Make sure you do your research before spending to understand why something costs that much." Nassib suggests reading the artist's CV, which is essentially a resume, to find out what galleries have represented the artist, what shows they've participated in, and other details. You can also compare the cost of work by artists with similar CVs to make sure you're getting market price.
#3. Get involved
But planning your budget and the wall space to fill can only get you so far. The best way to get familiar with art collecting is to get involved—whether that means going to gallery openings, roaming through art fairs, or scheduling visits at open studios in your area to meet artists. "Essentially, the more you see, the easier it will become to understand what you like and dislike," Nassib says.
You might want to ask gallery managers about emerging artists, too. "It's a very welcome question, because usually, emerging artists are those artists [galleries] have just signed on and that they're most excited about," says Salmastrelli. At the Affordable Art Fair, for example, a "Young Talent" section showcases artists who have graduated from art school within the last three years.
#4. When in doubt, ask
On that note, don't be afraid to ask questions—in fact, you probably should. For starters, Salmastrelli recommends asking galleries about the artist's background ("how has his or her career evolved?"), and why the gallery has chosen to represent the artist. "Ask away," Salmastrelli urges. "If you don't, you may be missing out on an artwork that you've fallen in love with."
The same goes for online art shoppers. If you can't find answers to your questions on the web, Nassib recommends reaching out to galleries to set up a studio visit. But there's really no way to go wrong. "I think that a lot of people are intimidated by art in general, and it's important to know that there's no wrong interpretation of work, and there are no stupid questions," Nassib says.
#5. Get the back story
It's easy to be swept away by a piece at first sight—after all, art is visual. But both Nassib and Salmastrelli find that often, it's the story behind a piece of art that can make it a must for your collection. "I cannot detach the visual from the artist," Salmastrelli explains. "Whenever I'm looking to expand my collection, I always need to read up on the artist, talk to the gallery about the artist, and really just know them."
A good place to start is by searching online for interviews with the artist or asking gallery owners directly for more information. But if you're having trouble finding info on the artist behind a piece, try speaking to the gallery about setting up a meeting with the artist him or herself. "It just makes it that much more intimate and that much more special when you take [the artwork] home," Salmastrelli says.
#6. Ask about a payment plan—yup, they exist
If you're on the hunt for art, chances are, you're going to fall in love with something a bit outside your budget. But that doesn't mean you'll be going home empty-handed. What many millennial buyers don't realize, Salmastrelli says, is that galleries often offer payment plans, where collectors are charged incrementally on a month-by-month basis. 
"Something that might be at the tip-top of your budget, they'll say, why don't you give us 25 percent now, 25 percent next month, et cetera," Salmastrelli says. "Always ask."
#7. Show us the receipts (literally)
Congratulations—you've bought your first artwork. But we're not done just yet. Before taking off, Nassib recommends that young buyers document the purchase in as many ways as possible. Not only does this ensure that what you're getting is an authentic work, but it will also become important if you choose to sell or trade the piece down the line.
"The more information you have on the context of your purchase, the better," Nassib says. "The history of where the work has been, what show it was a part of, the note the artist wrote you, will always increase that particular piece's value."
#8. Just do it
One of the most difficult parts of starting an art collection is learning to trust your instincts. Salmastrelli says the biggest mistake she often sees new buyers make is talking themselves out of a purchase. "You might be afraid to trust yourself, but more often than not, you should," she says.
If you're truly unsure about a piece, a good rule of thumb is to sleep on it. "I wake up the next morning and say, 'Are you going to regret not buying that?'" Salmastrelli explains. "If I say yes, I know that I have to purchase it." 
Sooner or later, though, you'll have to take the plunge. The good news? It gets easier with time.
"Once you start buying art, you'll become more comfortable with the process and you'll begin to see what direction you want to take," adds Nassib.