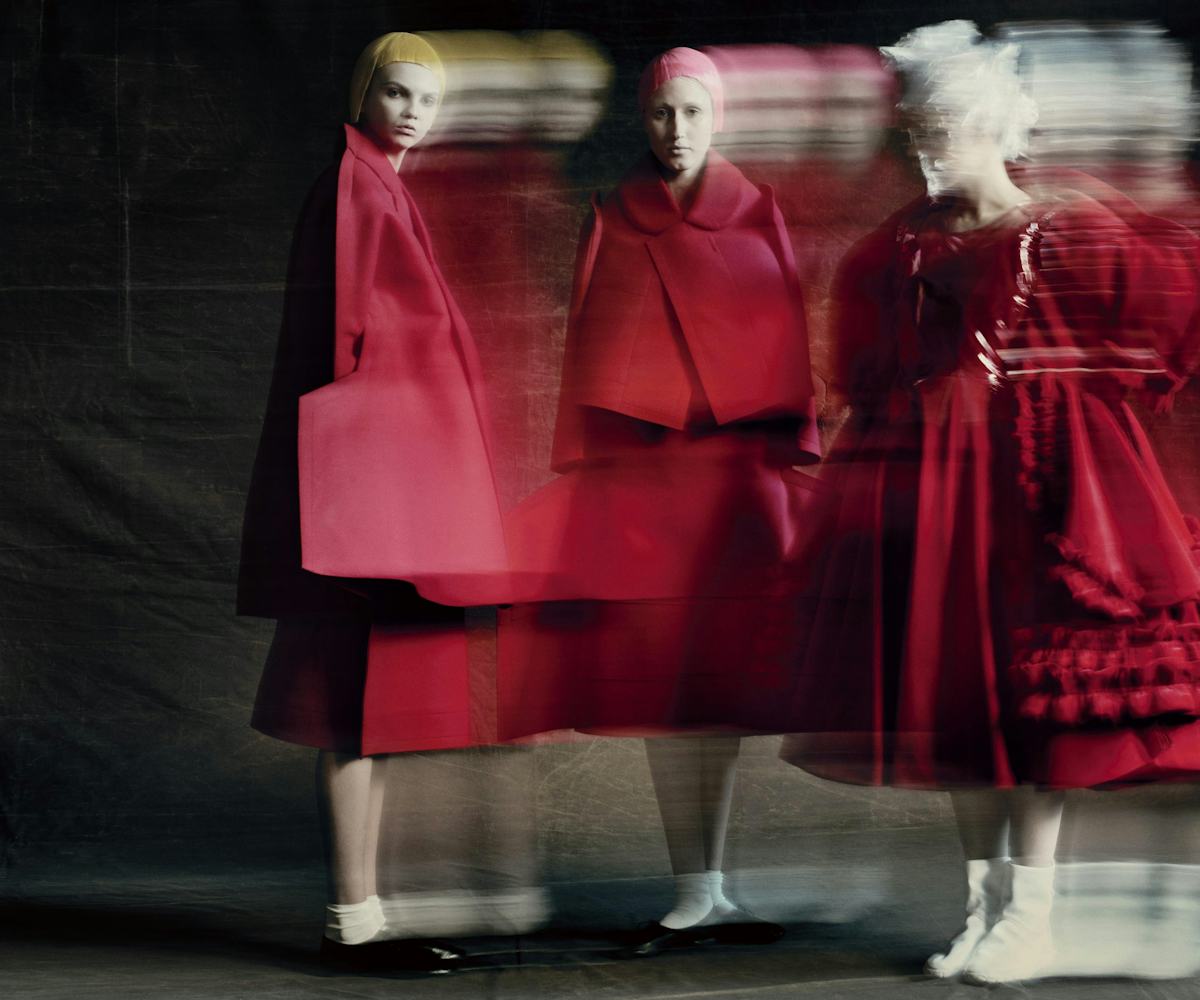 Rei Kawakubo (Japanese, born 1942) for Comme des Garçons (Japanese, founded 1969); Courtesy of Comme des Garçons. Photograph by © Paolo Roversi; Courtesy of The Metropolitan Museum of Art.
13 Art Exhibits You Don't Want To Miss This Summer
Museum-hopping shouldn't be only reserved for rainy days. If you need proof of that, just take a look at the lineup of art exhibits hitting museums across the country this summer.
The season already kicked off in New York City with the Whitney Museum's long-awaited Biennial and the unveiling of this year's Met Gala honoree, Comme des Garçons founder Rei Kawakubo. But you'll find new paintings, sculptures, and installations to wander through at dozens of other galleries, from Pérez Art Museum Miami's new exploration of the Cuban-American identity to the revival of last summer's Museum of Ice Cream, this time on the West Coast. With new collections cropping up in locations ranging from Washington, D.C. to Boston and Los Angeles, it's hard to keep track—so we created a guide to the most anticipated exhibits for you (and yes, they're all highly Instagrammable).
Scroll on for all 13, slotted in by exhibition end date. That's right—all this art is on view for a limited time only, so get on it.
Whitney Biennial 2017 | Whitney Museum of American Art, New York
It's been a long time coming for this summer's Whitney Biennial. The Biennial is the first to be held at the museum's two-year-old downtown location, and the move delayed the exhibition by a year. But after touring 40 cities over the first half of 2016, curators Christopher Y. Lew and Mia Locks pulled together works from 63 American artists, including a virtual reality setup, abstract paintings, outdoor sculptures, and a 3-D film. 
Expect political and social justice undertones—and, with it, inevitable controversy. But you'll also be met with pieces that make you stop and think, before snapping that Instagram photo. The collection features everything from a grid of nearly 3,000 bologna slices (William Pope.L's "Claim [Whitney Version]," 2017) to a collection of frilly banners bearing symbols of prejudice and racism (Cauleen Smith's "In the Wake," 2017). 
Through June 11 at the Whitney Museum of American Art, 99 Gansevoort St., New York. Admission: $25 adults, $18 students.
Leo Villareal | Pace Gallery, New York
If you couldn't brave the lines for Yayoi Kusama's LED-lit installations in Washington, D.C., last season—or even if you could—you might want to try Pace Gallery. The gallery's Chelsea space is hosting the first solo exhibition by Leo Villareal, a Manhattan-based light artist who creates immersive art experiences using LED lights and projections. You might recognize his work from the London light-based project "Current," which was commissioned by the Illuminated River Foundation to enliven the bridges of the River Thames. Villareal notes in a press release that, for him, "art has always served as a portal—something that takes the viewer to another place," and this exhibit does just that.
Through June 17 at Pace Gallery, 537 W. 24th St., New York. Free.
Museum of Ice Cream | Los Angeles
This is not a drill. After a successful run in Manhattan last July, the Museum of Ice Cream is hitting the West Coast this summer, and it's bigger than ever—four times bigger, in fact. The updated pop-up features 10 reimagined installations, from a room of life-size gummy bears to a mint "grow house" dedicated to California and the museum's signature sprinkle pool. (Yep, you can really swim in it.) Tickets include two ice cream treats from cult L.A. creameries like McConnell's and CREAM, so come hungry.
The new pop-up in the trendy Downtown L.A. arts district is sold-out for now, but an extension is TBD. Just be ready to hustle once the next batch of tickets goes live—the New York pop-up famously sold out in just five days, garnering a waitlist of more than 200,000. 
June 2 through July 10, with more dates to come, at 2018 E. Seventh Place, Los Angeles. Admission: $29.
Georgia O'Keeffe: Living Modern | Brooklyn Museum, New York City 
It's fitting for the Brooklyn Museum to host a sweeping exhibition of Georgia O'Keeffe's work this summer—the same museum hosted her first major solo exhibition, back in 1927. This time around, the exhibit focuses on the synergy between O'Keeffe's work and her wardrobe, showcasing the artist's iconic clothing alongside her art. O'Keeffe was known for meticulously curating her image, and she applied that same eye for detail to her garments, from her prized black-and-white suit sets and kimonos to robes and silk dresses she stitched herself. The collection also includes nearly 100 portraits of O'Keeffe, photographed by legends like Ansel Adams, Irving Penn, and Andy Warhol.
And we haven't even mentioned the best part. The collection is part of the Brooklyn Museum's A Year of Yes: Reimagining Feminism at the Brooklyn Museum campaign, which pays homage to female artists.
Through July 23 at the Brooklyn Museum, 200 Eastern Parkway, Brooklyn, New York. Admission: $16 adults, $10 students.
Irving Penn Centennial | The Metropolitan Museum of Art, New York City
Irving Penn may be famed for his fashion photography, but a new Met exhibit proves that his talent spanned many more subjects—from still life prints of cigarette butts to portraits of Salvador Dalí, Pablo Picasso, and Grace Kelly. The retrospective traces Penn's 70-year career with more than 200 photographs, including Penn's work for Vogue, portraits of tribes in Peru and New Guinea, advertisements for Clinique and L'Oréal, and elegant shots of Penn's wife, the Swedish model Lisa Fonssagrives.
Through July 30 at The Metropolitan Museum of Art, 1000 Fifth Ave., New York. Admission: Suggested $25 adults, $12 students.
Louise Lawler: WHY PICTURES NOW | MoMA, New York City
The art world has both fiercely outspoken rebels and quiet revolutionaries. Somewhere in between, you'll find Louise Lawler. The American artist has spent much of her 40-year career using humor and subtlety to critique the art market, whether through a sound piece that turned the names of famed male artists into bird squawks ("Birdcalls," 1972) or a recent screening of an unnamed film without images at New York's MoMA ("A Movie Will Be Shown Without the Picture"). Now, Lawler is getting her long-deserved recognition at the Museum of Modern Art, where you'll be met with more than 150 of her works. We liked the collection so much, we featured it in our May issue. 
Through July 30 at The Museum of Modern Art, 11 W. 53rd St., New York. Admission: $25 adults, $14 students.
fashion after Fashion | Museum of Arts and Design, New York CityNo, that wasn't a typo. A new exhibition at the Museum of Arts and Design seeks to differentiate the traditional (capital-F) Fashion industry from the evolving modern understanding of fashion (in the lowercase). Every artist featured in the exhibition is also a designer with a background in fashion, and their work speaks to industry themes like the demise of gendered clothing and the persistence of idealized body shapes. The idea for the collection stems from fashion trend forecaster Li Edelkoort, who in 2015 declared "the end of Fashion as we know it." But whether you're in agreement with Edelkoort or not, fashion after Fashion is a thoughtful peek into what might be the future of style.Through August 6 at the Museum of Arts and Design, 2 Columbus Circle, New York. Admission: $16 adults, $12 students.
Oracle | The Broad, Los Angeles
Globalization is the theme of The Broad's summer installation "Oracle." Here, each of more than 30 works echoes the anxiety and uncertainty of living in an increasingly small world through paintings, photographs, sculptures, and video. That includes unsettling dystopian landscapes by Sterling Ruby, an enormous depiction of Cairo that ruminates on the Arab Spring by Julie Mehretu, and even a 13-foot amalgamation of photographs by Andreas Gursky that replicate an Amazon warehouse. It's ironic that the exhibition's title points to both an ancient Greek figure through which Gods imparted prophecies and a machine that solves complex problems in a single operation. As the exhibit's description puts it, "Just under the surface of the works in 'Oracle' is an air of anxiety, as if individuals' freedoms within these man-made phenomena are illusory or beyond reach."
Through September 3 at The Broad, 221 S. Grand Ave., Los Angeles. Free.
Rei Kawakubo/Comme des Garcons: Art of the In-Between | The Metropolitan Museum of Art, New York
If you didn't know the name Rei Kawakubo before, you're about to hear it a whole lot. The Japanese designer and Comme des Garçons founder inspired this year's Costume Institute exhibit at the Met and, of course, the accompanying gala. At the exhibit, you'll find roughly 150 looks from the designer's avant-garde collections, which are known for defying conventions with exaggerated proportions and shapes. True to Kawakubo's fascination with the in-between, the collection is arranged in dichotomies like Fashion/Anti-Fashion, Self/Other, and Then/Now. 
This is all especially exciting given that Kawakubo is known for her aura of mystery—few published interviews exist with the designer, and she's kept silent about her creative process. Plus, Art of the In-Between marks only the second time the Met has honored a solo living designer (the first being Yves Saint Laurent's retrospective in 1983).Through September 4 at The Metropolitan Museum of Art, 1000 Fifth Ave., New York. Admission: Suggested $25 adults, $12 students.
Nari Ward: Sun Splashed | Institute of Contemporary Art, Boston
Jamaican artist Nari Ward crafts artwork out of shoelaces, soda bottles, discarded neon signs, mango seeds, strollers, and shopping carts. But each of these seemingly random mediums is carefully chosen to reflect themes that impact Ward deeply—Jamaican culture, immigration, citizenship, and African-American history. He's maybe most famous for his billboard-sized, crowd-sourced "We the People," first created in 2011, which spells out the first line of the preamble using around 1,000 pairs of shoelaces donated by a diverse group of Americans. This work—and many others—are as thought-provoking today as ever, and you'll find them this summer at Boston's Institute of Contemporary Art.
Through September 4 at the Institute of Contemporary Art, 25 Harbor Shore Drive, Boston. Admission: $15 adults, $10 students.
REVIVAL | National Museum of Women in the Arts, Washington, D.C.
The title of this female-focused exhibition has a double meaning. While REVIVAL describes the way the 16 featured women artists generate emotion with their work, it also represents renewed interest in women's long-overlooked contributions to the art world. With work by the likes of Louise Bourgeois, Sonya Clark, and Petah Coyne, the contemporary art collection focuses on themes of the female body, animals, and childhood. Each work is intended to evoke strong feelings of exhilaration, tenderness, dread or anxiety, from Bourgeois' all-too-realistic spider sculptures to Bettina von Zwehl's enormous photographs of toddlers. In other words, expect to feel all the feels.
June 23 through September 10 at the National Museum of Women in the Arts, 1250 New York Ave. NW, Washington, D.C. Admission: $10 adults, $8 students.
We Wanted a Revolution: Black Radical Women, 1965-95 | Brooklyn Museum, New York
We all know by now (or should) that feminism can only lead to true change if it is intersectional—that is, inclusive of people from all backgrounds and experiences. And the mainstream feminist movement has a long history of leaving out black women in particular. But a new exhibit at the Brooklyn Museum aims to change that.
We Wanted a Revolution highlights women of color in the feminist movement with the work of more than 40 black female artists who took part in activism surrounding the Civil Rights movement, Women's Movement, and others. Many of these works have been long overlooked, like Faith Ringgold's "For the Women's House" (1971), an enormous oil painting that depicts women of all races working jobs typically held by men, from doctors to presidents. Like the Brooklyn Museum's summer Georgia O'Keeffe exhibition, We Wanted a Revolution is part of the museum's Year of Yes campaign, which focuses on feminism through women in art.
Through September 17 at the Brooklyn Museum, 200 Eastern Parkway, Brooklyn, New York. Admission: $16 adults, $10 students.
On the Horizon: Contemporary Cuban Art from the Jorge M. Pérez Collection | Pérez Art Museum, Miami
Miami's Art Basel season may be over, but the city's summer art scene is just getting started thanks to the trendy Pérez Art Museum, which opened its doors just three and a half years ago. The museum's latest exhibition hits home with a focus on contemporary Cuban artists, many of whom were born or raised in Miami themselves. It's no mistake that many of the pieces featured here allude to the horizon, like Juan Carlos Alom's "Born to be free," shown above. The different ways we perceive horizons is the main theme of the exhibit—to some, the horizon represents hope and longing; for others, it symbolizes a barrier.
June 9 through April 8, 2018, at Pérez Art Museum Miami, 1103 Biscayne Blvd., Miami. Admission: $16 adults, $12 students.