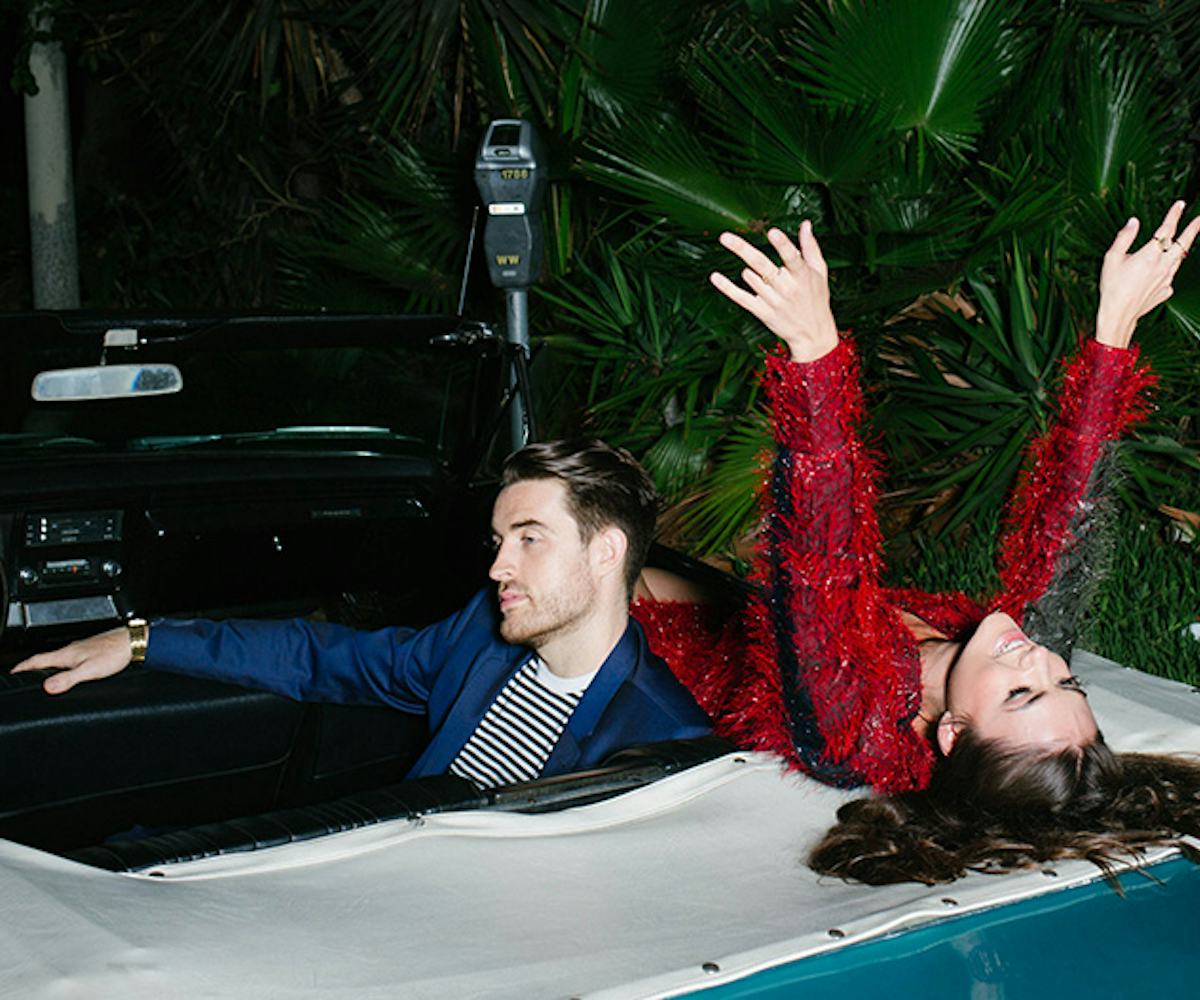 Photo by Hazel & Pine.
Cardiknox Is On Their Way To Something Major
band crushing so hard right now
Every once in a while, a band comes along whose members have such strong synergy, it becomes infectious. From their songs and videos to live sets, the atmosphere they create envelops you and hangs around long after the music stops. Cardiknox is one of those bands.
Lonnie Angle and Thomas Dutton met through a friend. Dutton's band at the time had written "an epic rock opera musical," and with Angle's background in theater and directing, they began to adapt the project for the stage. "[It was] a meeting of two totally different worlds," Angle told us over coffee, one overcast afternoon, in a crowded SoHo cafe. A few years ago, they moved from Seattle to New York. They spent a "year developing for public theater and [putting] on a show at Joe's Pub," but became burnt. So, they decided to put the project on the back burner and dabble in pop music. Cardiknox was born from there.
This March, Angle and Dutton will release their debut album Portrait. The 12-track deep LP flirts with '80s influences to create a sound that's nothing short of glamorous pop. (Think Charli XCX meets Siouxsie And The Banshees meets Bow Wow Wow.) "There are songs like 'Earthquake,' and 'On My Way' that are about not letting whatever the fuck is getting in front of you, stop you," Angle explained. "There are also tracks like 'Supermodel' and 'Bloodlust' that thrive off a certain kind of self-confidence." "Doors," one of Portrait's more minimal songs, explores themes of precedence. It's a slick debut—one that definitely achieves the goal Angle told us they set out to achieve: to make people want to dance. (Which, if you haven't seen their video for "On My Way," isn't hard to do.)
But before March 11, let's catch up with one of 2016's brightest young bands and talk everything from dropping out of college, the state of pop, Bowie, and Carly Rae Jepsen.
Since embarking on the pop music road, how was your sound changed?
Thomas: After we started working with the producer that we did the album with, John Shanks, everything became elevated. That was really the missing piece. It tightened the screws on the sound we had been looking for. We had sort of tapped into the sound here and there, but we hadn't fully realized it—at least in the way we imagined it. 
Lonnie: Electro is constantly changing and evolving—both in how you're recording and writing the songs and how you're playing them live. So, it's like a constant education in keeping up with how you're playing music. 
Thomas: We had a song called "Technicolor Dreaming" that was super '80s-sounding and synth-y. That was the best indicator of the direction we wanted to go in. Then, when we started working with John, we wrote "Earthquake" and that was when everything clicked in place. It made us think, "This is what Cardiknox sounds like and this is what we are." 
Now, aside from "Doors," a majority of the album feels very much aligned with the idea of lust and longing for the moment. Love isn't necessarily a focus. Is that where you guys are right now?
Lonnie: The storytelling that we do in a lot of the songs reflects both of our lives, in many ways. In one song, I'm telling the story through the viewpoint of my parents. They separated after 39 years of being together. That shift catapulted me into a different part of my life and I think that's really why I left what I was doing traditionally—you know, the traditional day job life—and started to pursue my heart. Some of the stories that you're hearing about love or heartbreak—"What Do I Do Now," for example—was in many ways written from my mom's perspective of when he left. I didn't want it to be like, "This is the divorce song," but I think that story of heartbreak, heartache, love, lust, and then redemption or having to survive or recreate the self, is a story anyone could relate to. It's told in a way that's universal. 
Most definitely. That's the marking of a great pop song: the ability to strike personal chords with universal themes. Carly Rae Jepsen, who you recently worked with, does the same.
Lonnie: She's so good. 
Thomas: Her new album is great. It's a good example of not milking whatever worked before and doing something different. Obviously, her previous single was a massive success and she went against the grain a little bit for the new album. It was something that was special to her and she believed in it. That's a really scary and really risky thing to do, but it paid off.
Lonnie: I feel like there's also so much great pop music being made today that doesn't get heard. The indie-pop scene is massive. You hear these songs or albums like, "This is fucking huge! How is this not being heard by everyone?" Then you'll tune into the radio, and at times, things feel redundant or feel like they've just been regurgitated. A lot of the great songwriting is happening more in the indie-pop world.
Thomas: But also, today you can still find success without being in pop radio. I was texting with my friend the other day, and we were talking about the '60s era of pop, like The Beatles, The Beach Boys, and stuff like that. Obviously, there was no Internet then, but imagine how many Beatles, how many Brian Wilsons that maybe existed but never got a shot because there was only this one way to get your music heard. You couldn't just make a song and post it online. Who knows how many others greats there would've been.
Speaking of greats: I feel like we have to talk about David Bowie. How did he influence you?
Thomas: Absolutely. His ability to reinvent himself while still being Bowie was huge. It never really felt like a shtick. He showed artists how to always push forward. I feel like he's one of the first people that was really able to take things so out-of-bounds and out-of-the box, but still have it be very cool and rock 'n' roll. 
Lonnie: He was more than just the music. He was bigger and greater than the music. He kept putting on a show and having this larger-than-life element. Theatrical, even. I'm very attracted to that.
Was there a moment in your past that  solidified your want to pursue music?
Thomas: For me, I think it was attempting to go to college. I went to the University of Washington in Seattle. I tried to do it, but I just couldn't; my head and my heart were just always in music. So, after a year, I told my parents, "Let me leave college for a year and see if I can get signed. If I get signed, I can stay away from college. If I don't get signed, I'll come back and finish." They were like, "Sure, okay." Sure enough, my band at the time got signed and I didn't have to go back. 
How do you motivate yourself to keep going?
Lonnie: It's hard. I think it has to be about the process or else you can't do it. It has to be about the joy of creating and the joy of the grind, so to speak. That has to be very fulfilling, because otherwise, what's the point? That's what 95 percent of it is and I think we love doing what we do. 
What has Portrait taught you?
Lonnie: That I'm capable of working harder than I ever knew I was capable of working. This six-month writing process for the album was probably the most difficult thing I've ever done. It pushed me in terms of comfort: how we were writing, what we were writing, what story I was telling, and how personal I was willing to get. Our producer is a tastemaker. He has high standards and you have got to deliver. I was in tears when we wrapped, because it showed me I was able to do it. We did this thing together.
Thomas: For me, it helped me open up and let other people's ideas flow, so that we could create something together. I was always sort of alpha in my other bands. Once you get all of those cylinders moving and minds working, it becomes more productive. Even with how hands-on we are, we've tried to let everybody contribute and do it together and share.
Lonnie: Releasing control is hard, but we know that as a collective, we are more capable and powerful.
Cardiknox's debut album Portrait drops March 11, on Warner Bros. Records. Catch them on tour when they hit the road with Carly Rae Jepsen, beginning this month.