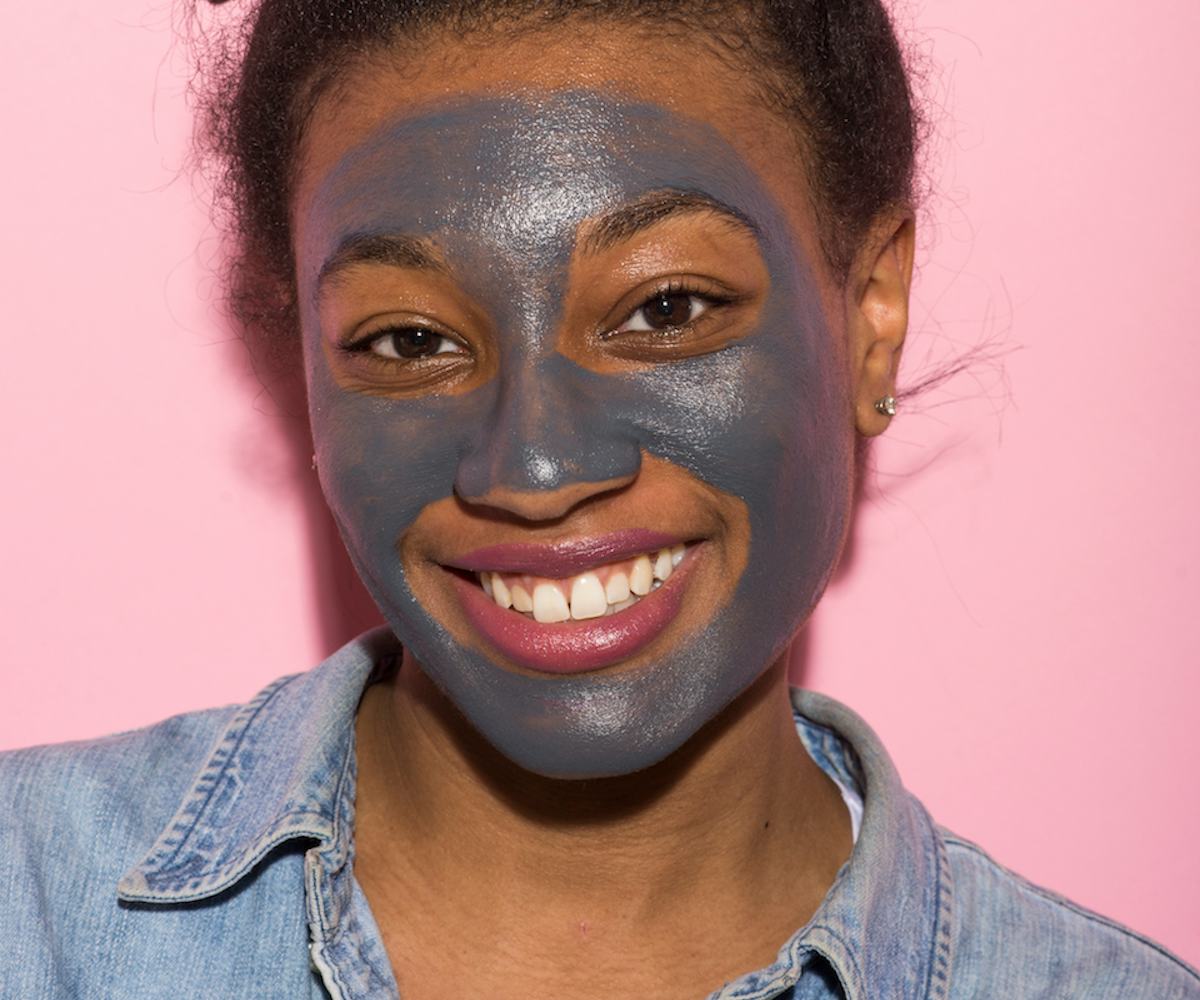 Photographed by Ricky Michiels
This Is What Happens When You Go On A Charcoal Cleanse
and this is what happened
Ever since I switched over to natural deodorants, I have been trying to figure out what other alternative products I can implement into my everyday life. My main intention for the new year is to build myself up, taking self-care to the next level by focusing on my mental, physical, and emotional health. About a month ago, I went to a coffee shop after work. While I was waiting for a friend to arrive, I noticed a bottle of LuliTonix's Black Magic charcoal lemonade. I was intrigued by the idea of the citrus classic infused with "activated charcoal," so I decided to give it a try. To my surprise, it actually tasted good—like really, really, really good.  
As the weeks went by, I couldn't stop thinking about the drink. I wondered if there were any other products on the market made out of charcoal that I wasn't aware of. I decided to investigate. When I typed "charcoal" into the search engine of a site, I didn't expect anything to pop up—to my surprise, there was an entire page worth of charcoal products. I checked a few other stores that I regularly shop at and, sure enough, they too were stocked with items made from activated charcoal. I was stunned that I had never noticed this before. Upon more research, I found a whole hidden market for this substance: toothpaste, toothbrushes, shampoos, conditioners, soaps, cleansers, masks... The list goes on.
According to Dr. Scott Schreiber, a chiropractic physician based in Delaware, activated charcoal has most recently been used for the purpose of "teeth whitening, alleviating gas and bloating, treating alcohol poisoning and preventing hangovers, filtering water, detoxification, and for skin health." It also fights bacteria that causes acne. Inna Topiler Mooney, a clinical nutritionist and the owner of Complete Nutrition and Wellness, said that charcoal also helps to relieve headaches, sinus issues, allergies, and digestive issues caused by elevated levels of ammonia. She further explained that activated charcoal acts as a sponge by absorbing unwanted toxins, chemicals, and other debris such as "overgrowth of bad bacteria, yeast, parasites, and other 'unwanted friends.'" In short, think of activated charcoal as a magnet for all things bad.
One of the biggest misconceptions about activated charcoal is that it can absorb toxins inside the body. Dr. Roshini Raj, a gastroenterologist, celebrity medical expert, and founder of TULA, said that "while charcoal has been shown to have great absorbing properties, there hasn't been enough research on it yet to support this claim." In 2013, the New York Times reported that activated charcoal was being used in beauty products to "naturally draw impurities and excess oil out of the skin." Functioning as a detoxifier, activated charcoal increases the pores "which improve filtration." It made me wonder why these items weren't being marketed as heavily—if activated charcoal is so good for you, why don't we hear more about it?
That's when I had the idea to go on a charcoal cleanse. For seven days straight, I only used activated charcoal products for the essentials in my daily routine. Some of these items are on the pricier side, but I tested all of them out so you don't have to! (Not everyone gets the chance to try before they buy.)
Read about my experience in the gallery, below.
Keep In Mind:
1. Daily bowel movements are necessary
Dr. Mooney said that because charcoal acts as a sponge and absorbs toxins, "if you do not eliminate them, they can get reabsorbed back in." The only way to get things out of your body is... Well, to poop. Oh, and don't be surprised when your bowel movements turn black. Dr. Raj says that side effects include bowel obstruction and black stool, but that's just what happens when you consume charcoal and is completely normal.
2. Drink plenty of water
Dr. Raj says that when ingested, activated charcoal can cause dehydration, vomiting, and constipation. (This won't happen if you're putting on a face mask, obviously.) Stop using the products if such reactions occur.
3. You probably won't overdose
Since I was testing so many different activated charcoal products at once, I was worried that it might negatively affect my health. Dr. Laurie Brodsky, a naturopathic doctor and expert for 
, assured me that I would be fine. "It is certainly possible to overdose on anything you consume too much of, but in high-quality products containing charcoal, the reality is that the dosage should be just enough to provide therapeutic benefit without causing damage." Dr. Elizabeth Tanzi, a dermatologist and founder of Capital Laser & Skin Care Center, recommends starting slow so you can check yourself for any signs of irritation.
4. Don't confuse with BBQ charcoal
That, on the other hand, is loaded with toxins. It is very important to know the difference!
Drink
After trying LuliTonix once, I basically became addicted. I usually try to have their blends every other week, so I was somewhat anxious about drinking this every single day. How will my body react? I thought to myself, moments before I downed the first bottle.
Before I started the cleanse, I consulted a doctor and nutritionist about incorporating activated charcoal into my diet. I have never gone on a juice cleanse or a detox before, so I wanted to be as careful as possible. "While charcoal is a very safe supplement, because it acts as a sponge. In addition to absorbing the bad stuff, it can also absorb the good, such as certain vitamins and minerals which is why we do not recommend taking it on a long-term daily basis unless someone has a specific health issue that requires it for a longer period of time," says Dr. Mooney.
While beauty drinks are all the rage these days, LuliTonix's beverages do more than make you look good—you feel good too. On one of the days that I was cleansing, I had to film a segment while drinking vodka. In-between takes, I would take a sip of Black Magic to wash the taste of alcohol out of my mouth. The next morning, I didn't feel hungover and went to work like nothing had happened.
Dr. Brodsky says that one-time use doesn't necessarily guarantee long-term results, but "when you incorporate consistent or habitual doses of activated charcoal into your routine, you can expect the best health outcomes."
So if you want something sweet, go for LuliTonix. If you want something a little sour, go for Dirty Lemon. Either way, both are refreshing choices.
LuliTonix, Black Magic: Activated Charcoal Cleanser, $9, available at lulitonix.com; Dirty Lemon, 1 Week Detox, $65, available at DirtyLemon.com.
Brush
I'm pretty sure that I've been using the same toothpaste brands since I was a kid—Colgate, Crest and Sensodyne. I'm not a toothpaste snob, but the idea of charcoal toothpaste seemed so foreign to me. However, charcoal supposedly helps with whitening your teeth. In my quest for activated charcoal products, I also found out that there are toothbrushes with activated charcoal fibers.
After using both products for a week, I immediately saw improvement in my teeth. Don't be surprised that Carbon6lab's all-natural activated charcoal toothpaste is black—be surprised that it tastes really, really good. The Binchotan toothbrush was actually better than the one I'd been using prior to this experiment, so no complaints there. 
"Unlike other activated charcoal products that are swallowed, Carbon6Lab toothpaste is not ingested, so it is able to absorb impurities in the mouth without the risk of interfering with pharmaceutical drugs that are absorbed further along in the gastrointestinal tract," explained Dr. Martin Gingier, a dentist and co-founder of Carbon6Lab.
During my trial, I consulted Dr. Theodore Burnett, a Los Angeles-based dentist and former professor at the USC School of Dentistry, about the legitimacy of an activated charcoal toothpaste. He informed me that activated charcoal isn't problematic for external use on skin, but can be dangerous if infused in an unactivated state. Since the Carbon6Lab toothpaste has not been approved by the American Dental Association, Dr. Burnett warned me that consumers should proceed with caution. 
"One of the downsides of unactivated charcoal is offsetting the bacterial balance in your body and leading to infection," Dr. Burnett explained. "Without ADA approval, there's no one to verify that the charcoal is actually activated."
Carbon6Lab uses high quality ingredients to balance with the activated charcoal in its product so your mouth is safe from chemicals and drugs like fluoride. Even though the toothpaste has not been cleared by the ADA, Dr. Gingier reassures that the it is not toxic in any way because it has been tested in multiple trials conducted by Carbon6Lab. In other words, there's little to no risk.
Carbon6Lab, Black Toothpaste, $9.50-$18.99, available at Carbon6Lab.com; Need Supply Co., Binchotan Toothbrush, $7, available at NeedSupply.com.
Mask
Applying face masks is honestly one of the things I look forward to the most every single day. During this trial, I alternated between Origins, Boscia, Binchotan, Vbeauté, Yes To Tomatoes and Dermalogica for this experiment. Normally, I use face masks about 3 to 4 times a week. Dr. Neal Schultz, a dermatologist based in New York, said that charcoal can delay oil breaks and help shrink blemishes faster. I can confirm that this is, in fact, true.
I preferred to use Boscia's Charcoal Pore Pudding to treat breakouts, as it was a super effective detox for my skin. (It works for both a facial and spot treatment.) The Origins mask sunk deep into my pores and stripped away all of the excess oil from my skin, and left it looking clear. Binchotan is great if you're in a rush and don't have the time to do a full-on face washing routine because it's a 3-in-1 makeup remover, cleanser, and mask.
Dr. Tanzi warned me that activated charcoal can irritate sensitive skin and the most telling sign is dryness. The only product that my skin had a negative reaction to was Dermalogica. The mask acted more like an exfoliator and made my skin so dry that it started peeling. (If you have sensitive skin, avoid this at all costs.) As for the sheet masks, both Boscia and Vbeauté left my skin feeling ultra hydrated. 
Binchotan, Charcoal Facial Cleansing Mask, $48, available at UrbanOutfitters.com; Origins, Active Charcoal Mask To Clear Pores, $25, available at Origins.com; Boscia, Charcoal Pore Pudding, $38, available at Boscia.com; Boscia, Charcoal Pore-Minimizing Hydrogel Mask, $8, available at Boscia.com; Dermalogica, Charcoal Rescue Masque, $46, available at Dermalogica.com; Vbeauté, Deep Sheet Purifying Charcoal Mask, $28, available at HSN.com; Yes To Tomatoes, Detoxifying Charcoal Mud Mask, $15.99, available at YestoCarrots.com.
Wash
I was really excited to try Apotheke's products. They have an entire activated charcoal collection, so there are many items to choose from. The shampoo and conditioner smell amazing; the first time I applied them, I had a hair appointment the same day and my hairdresser noticed a difference in the texture of my hair immediately. (She said that it was the softest it's ever been.) I rarely have any preferences when it comes to hand soap, but now that I've been using Apotheke, it's going to be so hard for me to revert back to my old ways. The shaving cream will also make your body feel like a wonderland. 
Origins' body washes are the bomb, and their scrub made me feel so refreshed. Herbivore's activated charcoal bar soap was my favorite, hands down. It cleans you up without a trace. If you're on a tight budget, you can't go wrong with Yes To Tomatoes or Yes To The Natural Man charcoal bar soaps for $4.99 each. Be careful when using any charcoal soap bars, though: They may or may not stain.
I had been wanting to start using sponges instead of washcloths for a while now—Dr. Sponge carries charcoal cleansing konjac ones. The great thing about using sponges is that they don't stain and can easily be rinsed out after. Cleaning up after yourself has never been easier. I had a much better washing experience, both in the tub and in the sink.
Apotheke, Charcoal Bar Soap, $8, available at Apothekeco.com; Apotheke, Charcoal Liquid Soap, $24, available at Apothekeco.com; Apotheke, Charcoal Conditioner, $24, available at Apothekeco.com; Apotheke, Charcoal Shave Cream, $24, available at Apothekeco.com; Origins, Purifying Charcoal Body Wash, $24, available at Origins.com; Origins, Detoxifying Charcoal Body Scrub, $31, available at Origins.com; Origins, Purifying Charcoal Body Soap, $15, available at Origins.com; Herbivore, Bamboo Charcoal Cleansing Bar Soap, $12, available at HerbivoreBotanicals.com; Dr. Sponge, Charcoal Body Cleansing Konjac Sponge, $11.50, available at DrSponge.com; Dr. Sponge, Charcoal Facial Cleansing Konjac Sponge, $8.50, available at DrSponge.com; Boscia, Konjac Cleansing Sponge with Bamboo Charcoal, $15, available at Boscia.com.
Cleanse
Normally, I use a cleanser on my face twice a day. After trying a few different cleansers, I preferred switching between Shamanuti in the morning—it's supposed to reduce acne, rosacea, and eczema—and Boscia at night. The activated charcoal in Milk's cleanser comes from ubame oak trees, and is supposed to absorb excess oil and toxins. After using these cleansers regularly, I noticed that my skin was softer, smoother, and healthier all-around. (As Amanda Bynes once said in She's the Man, "It absorbs right up.")
After washing your face, I recommend applying a hydration gel, like Boscia's—even though you're fresh from wiping all of those masks and cleansers off, your skin can still be a little dry so this helps to lock in moisture. Boscia's cleansing stick comes in a perfectly transportable size if you're ever in a jam and need to pack light.
Milk Makeup, Milk Makeup X UO Charcoal Cleanser, $28, available at UrbanOutfitters.com; Shamanuti, Activated Charcoal Cleanser, $36, available at Shamanuti.com; Yes To Tomatoes, Detoxifying Charcoal Cleanser, $9.99, available at YestoCarrots.com; Boscia, Detoxifying Black Cleanser, $28, available at Boscia.com; Boscia, Revitalizing Black Hydration Gel, $38, available at Boscia.com; Boscia, Charcoal Deep-Pore Cleansing Stick Treatment, $28, available at Boscia.com.
Remove
Believe it or not, paraben-free, vegan, and eco-conscious products are not that hard to find. The fact that you could pick up charcoal swabs from Urban Outfitters now is pretty surreal. I mainly used this for removing dirt, oil, and makeup. At first, I hesitated to replace Q-tips with these because it's all I've ever known, but my ears felt no difference.
I have oily skin so blotting papers are a must-have. The cool thing about Boscia's charcoal blotting linens is that you don't see the blot stains unless you put the paper in the light. I always feel semi-self-conscious when I use blotting papers in public and everyone can see how oily I am, but that's not a problem here.
The cleansing cloths are black too, so you don't actually see the things that you're removing from your face, but trust me, it works. Prior to all of this, I never saw the point of using face sprays either, but that all changed once I started using this white charcoal powder spray. Again, it's another great way to keep your skin hydrated.
Milk Makeup, Charcoal Swab Pack, $7, available at UrbanOutfitters.com; Boscia, Black Charcoal Blotting Linens, $10, available at Boscia.com; Boscia, Black Charcoal Cleansing Cloths, $15, available at Boscia.com; Boscia, White Charcoal Mattifying Make Up Setting Spray, $38, available at Boscia.com.
Conclusion
Some of these products were amazing. After a few days of consistent use, I noticed that my skin had cleared up in spots where I am prone to acne.
I will definitely continue to use all of the Apotheke, Herbivore, Origins, Shamanuti, and Boscia products. I use cleansers twice a day, so it's nice that I have a variety to choose from now. While I do not plan on using all of the masks every single day, I plan on working them into my weekly wash routine as well.
As for those drinks, I'll be having them every once in a while as needed. (They taste so good, but I do not have money to blow on beverages.)