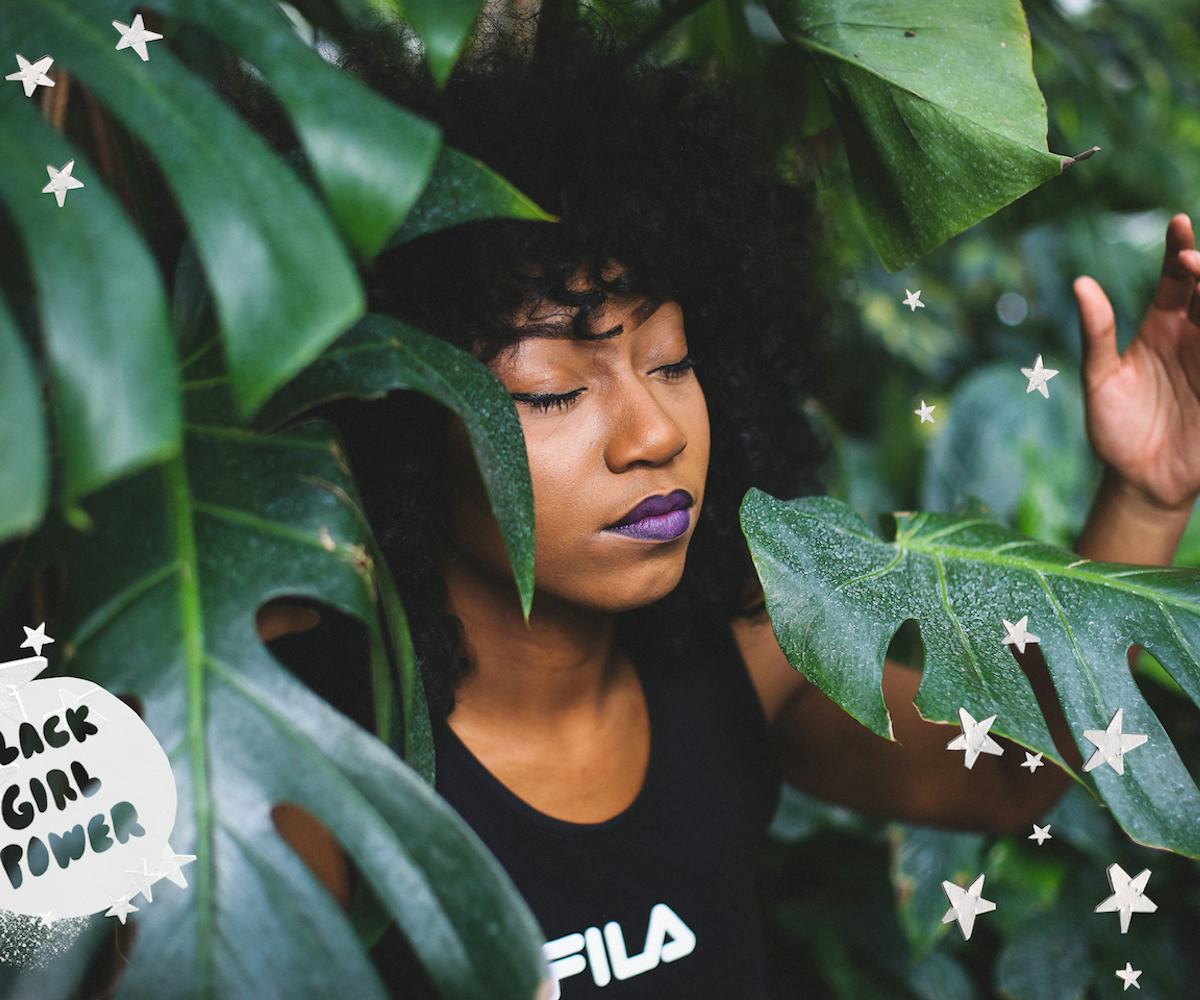 Photographed by Joshua Allen.
Clarissa Henry Is The Coolest Fashionista In Class
make room for vintage doll risa
In celebration of Black History Month, NYLON is running a spotlight series called Black Girl Power... The Future Is Bright. Every day, phenomenal black women from different industries will be featured to tell their stories—revealing how they became who they are, showing what they have accomplished, and pinpointing how they navigated their careers. Black women deserve to be celebrated 365 days of the year, and we hope that this series will inspire everyone to believe in the power of #blackgirlmagic. 
Clarissa Henry—better known as Vintage Doll Risa—is a fashion student, style blogger, content creator, and stylist. Oh, and did I forget to mention that she's only 20 years old? Based in London, the young creative started blogging somewhere between the ages of 15 and 16 years old as a way to document how her style developed as she matured. "At such a young age I enjoy what I do so much and because I am the foundation of everything I do," Henry said in an email. "I know that my skills are forever growing because I'm fully dependent on myself."
Henry's blog has evolved into a full-on brand, and she works with some of the most reputable designers on the market targeted at millennials. So what sets her apart? Her approach. "I wanted a creative outlet, somewhere I could share my style, thoughts and inspiration," she added. "I saw others doing it and felt I could bring something different." Channeling a more minimalistic vibe, Henry has an effortlessly cool style that is clean to the cut. (Seriously, her wardrobe gives us some major closet envy.) But what we love most is that no matter what Henry wears, she is almost always walking out in a pair of sneakers. 
Learn more about how Vintage Doll Risa came to be in the interview, below!
How did you conceptualize your blog and brand? What is your creative process?
I was always quite good with the computer, so I taught myself all the basics like HTML, coding, and photography, and then social media/marketing pretty much just came naturally. Because my blog was a personal thing it was easy for me to self-evaluate and reflect back on myself and figure out how I could make myself into an appealing brand. From the reception I got, I understood people generally just liked who I was as a person and how I took so I took a laid back, tomboy approach to blogging. With my blog's growth, I was introduced to different fields and opportunities. Studying fashion was a bonus also. I wanted to create looks for others, not just myself. So I started assisting stylists and working on editorials for magazines, etc.
Fast forward three years and I class myself as a freelancer, creating concepts and projects for myself, styling and working with different independent and emerging brands and also creating content for online platforms. My creative process comes quite naturally. I always have Pinterest and Tumblr open when I'm having a work-from-home day, but I love to go out and explore with friends, read magazines, and I'm always on the hunt for the new. When it comes to my style and my blog, I always like to bring a fun twist, whether it's GIFs or expressive poses. 
Growing up, where did you look for inspiration? Who or what inspires you now?
My mother is my number one inspiration, now and forever. Creatively however, I remember watching old '90s R&B/hip-hop music videos growing up: experiencing the essence, the fashion, and the vibes, and artists like Aaliyah, Missy Elliott, and Lil Kim. There was so much confidence with women of colour and in everything I do; I try to embody that.
How did you grow into your black identity? (Or, if you're multiracial, how did you grow into your identity as such?)
I'm still growing. Because of my strong relationship with my mother and family and how I've been raised, I am proud of who I am and where I'm from. I am originally from St. Lucia and spending a great amount of time there has allowed me to get to know my culture over the years. However being second generation I'm also able to build my own identity on top of that. Every day I'm learning and developing myself as a young woman.