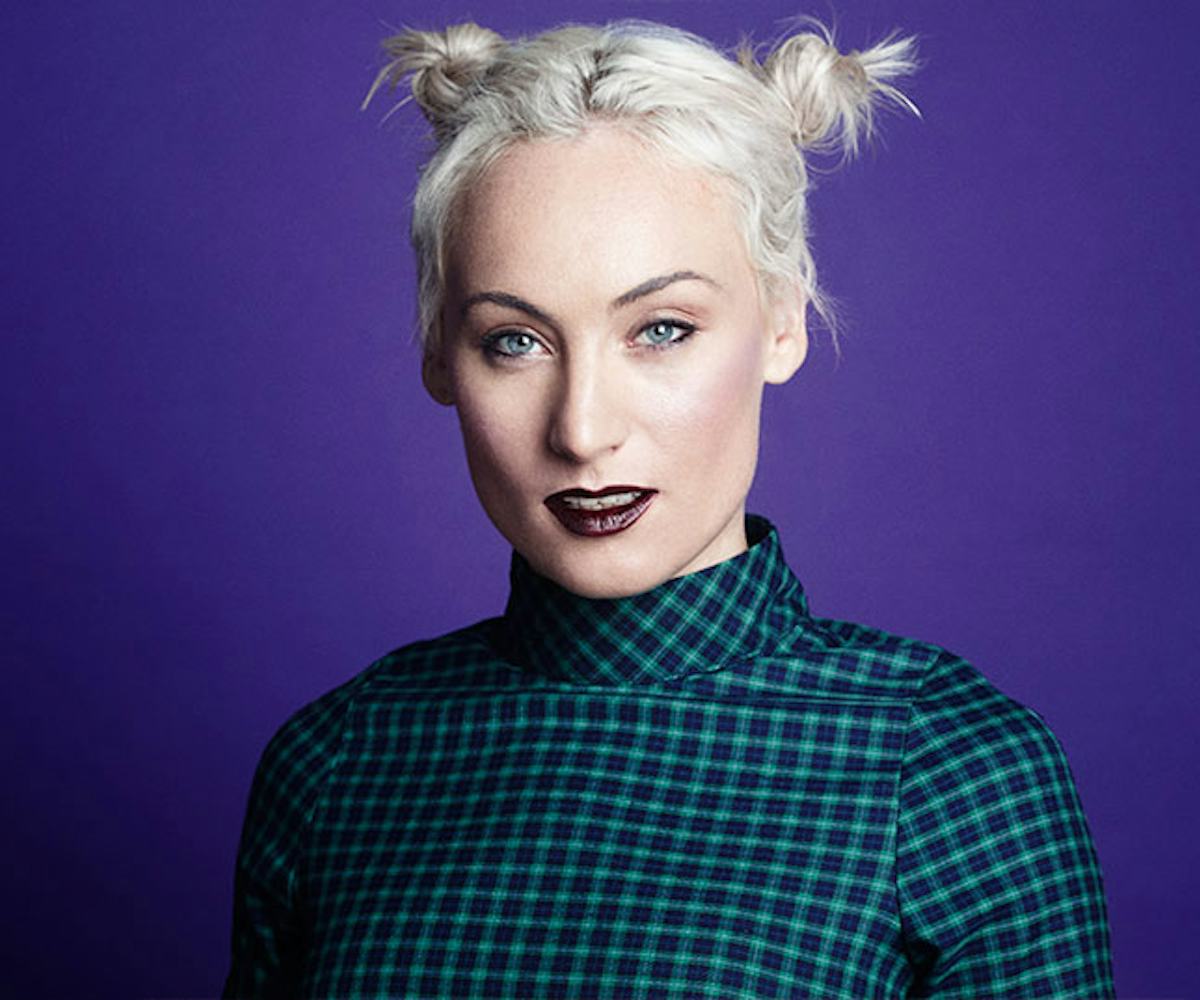 Photographed by Alana Tyler Slutsky
4 wearable looks with dollar-store makeup
Don't be scared off by the garish color selections, the funky smells, or the questionable import regulations: I buy makeup from the dollar store all the time. To prove that you can wear this stuff and look like a million bucks, we road tested it. Ahead, four wearable looks created from bottom-dollar products. The trick? You just have to choose the products wisely and keep in mind some secrets of the trade.
(Note: For those of you looking for organic and sustainable products, the dollar store beauty aisle may not be the best bet. Instead, try our ultimate vegan round-up, or some eco-friendly fashion finds.)
Makeup by Faye Lauren.
Lets be honest: One of the the problems with dollar-store makeup is (not only) the pigment quality, but also the pigment selection. Want a blue, purple, or pink eyeshadow? Got ya covered! But if you don't want to look like a toddler gleefully exploring mom's makeup stash, a natural look is a little harder to nail down. However, you can use an eye shadow with gold or orange tones to create a more subdued effect, then skip the eyeliner to pare the whole look back. I purchased three mascara selections and of those, one was so thick I couldn't apply it and the other was completely dried out. Remember that dollar-store bronzers skew to the orange, so be sure to use a large, loose brush to avoid looking garish. Apply lipstick lightly and blot to get a stained-lip look.
When considering dollar-store makeup, one's mind immediately goes to the rows upon rows of lipsticks in every shade imaginable. And it's true—there's an incredible selection of colors available. The problem with these lipsticks, though, is that they practically walk all over your face. This is an important factor if you plan on talking, eating, kissing, or basically doing anything with your mouth.
For this look, I used NK eye shadow in #3024, applied with a loose blush brush to height of my cheek bones. This color has a nice shimmer for highlighting. Keep a clean eye with slightly blended eyeliner, and don't be scared of a dark lip.
#3 Smokey Eyes
NK, eyeshadow palette by g, available in dollar stores.
NK, mascara in black, $2.99, available at Nicka K.
Nicka K, HD eye shadow #3028, available in dollar stores.
NK, lip gloss in Glory, $1.99, available at Nicka K.
NK, lipstick in Orange Tint, $1.49, available Nicka K.
W.I.N. Cosmetics, eyeliner & liner 2 in 1 in silver, available in dollar stores.
When applying dollar-store eye shadow, it's important to remember that the product won't stay on as long or as well as a more expensive brand. As a result, it's more difficult to create a gradient style or a blended look with highlights. The trick is to build the product; layer shadows on top of each other, pressing the pigment on your lids instead of brushing. Finish the look off with an orange lip color, lots of mascara, and black liner rimmed around the top and bottom lash lines. 
#4 Vamp
W.I.N. Cosmetics, mascara in black, available in dollar stores.
Absolute!, liquid eyeliner in black, $2.49, available at Nicka K.
L.A. Colors, eyeshadow in golden, $1.49, available at Discount Cosmetic Outlet.
Absolute!, lip gloss in Precious, $1.99, available at Nicka K.
We went a little Kim K here, with a soft shadow in the crease, lots of mascara, and precision-winged liner. The tinted lip gloss holds better than the lipsticks, however applying a matte lipstick first helps to hold the gloss longer. FYI, this gloss tastes weird, kind of like petroleum, and feels like honey. But I don't care, I feel pretty glamorous.