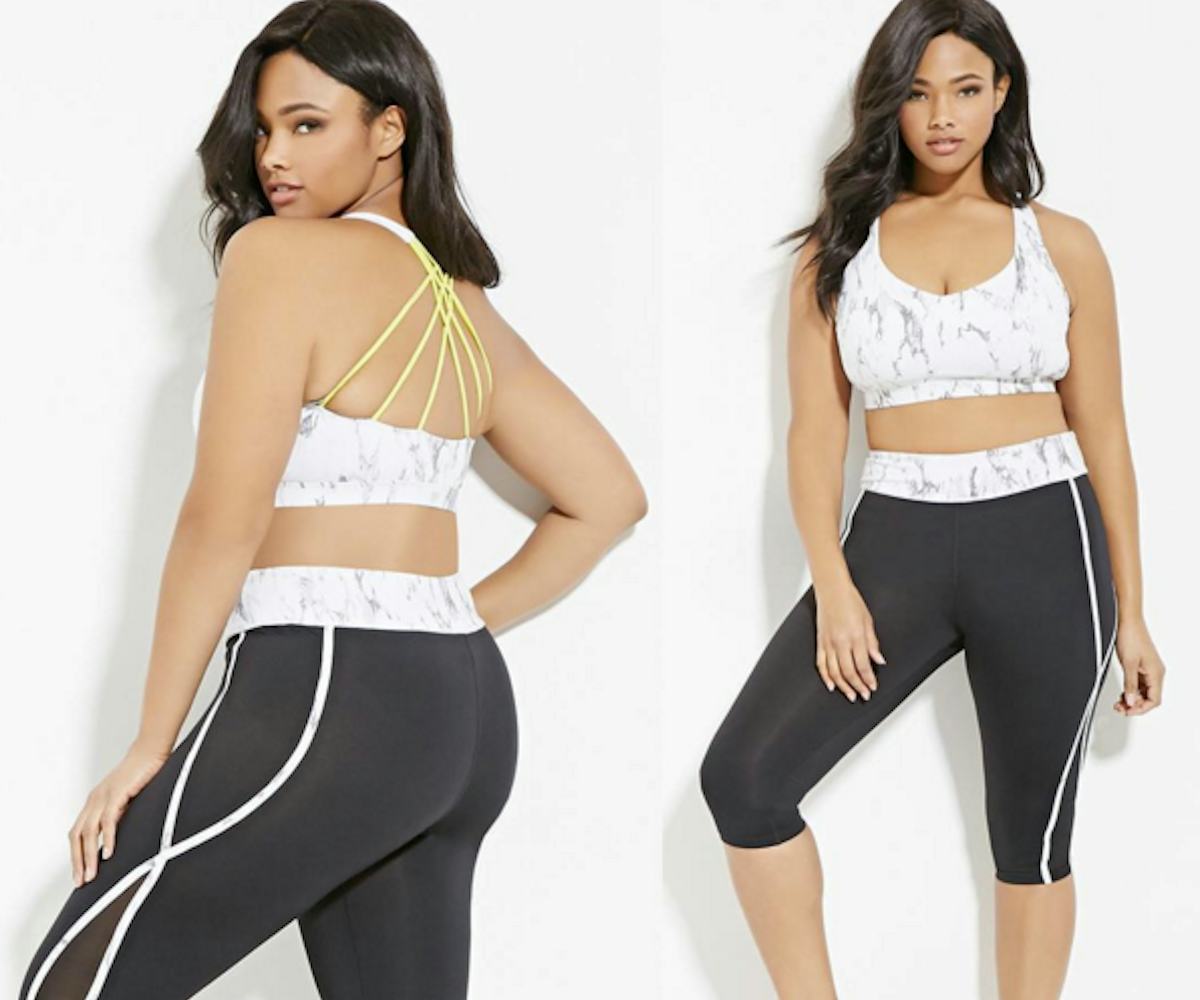 Forever 21's Plus-Size Instagram Account Is Getting Criticized For A Surprising Reason
When a clothing brand expands to offer a greater number of clothing sizes and expresses a message of body positivity, it is usually met with excitement, praise, and booming sales (just look at Aerie for proof). But sometimes, an attempt to embrace larger sizes can result in a well-intentioned, yet wholly misguided marketing ploy—which is why Forever 21's creation of a plus-size Instagram has some customers angry. 
From an advertising perspective, the Instagram account is a smart way to let plus-size customers know about cute new arrivals. However, it's the models that are giving customers grief, as many commenters argue that the women shown simply aren't representative of the average plus-size woman. One of the most upsetting images was an ad for the store's workout gear (above). One commenter expressed outrage saying, "how is this considered plus that girl is normally skinny" while another noted the politics surrounding the term plus-size and their affect on self-esteem: "I was her size in grade school and I thought I was fat because of advertising like this."
The term plus-size is about pure numbers and measurements, but for many customers, seeing women who just so happen to fit into a certain size but don't fit into a preconceived image of what plus-size is turns out to be disappointing. So, when plus-size models are called "not plus enough," it has more to do with a cultural perception rather than sheer measurements. Forever 21's models, then, seem to showcase a more idealized image of what a plus-size woman looks like, when in reality, plus size women can have all different measurements and proportions that do not necessarily result in a voluptuous, hourglass figure. And not seeing the diversity of plus-size women on the Instagram account means that many customers are still at a loss for representation.
However, not all images were met with criticism. In particular, a non-airbrushed image of a woman on a beach received many positive comments ("I love this because it's real. Her thighs look real af. Keep showing REAL pictures!") and a photo of model Tess Holiday was a crowd pleaser.
If anything, Forever 21 is at least attempting to increase its availability of larger clothing sizes, and slowly but surely, it can hopefully reach a point where it makes all women feel well-represented.
(via Refinery29)