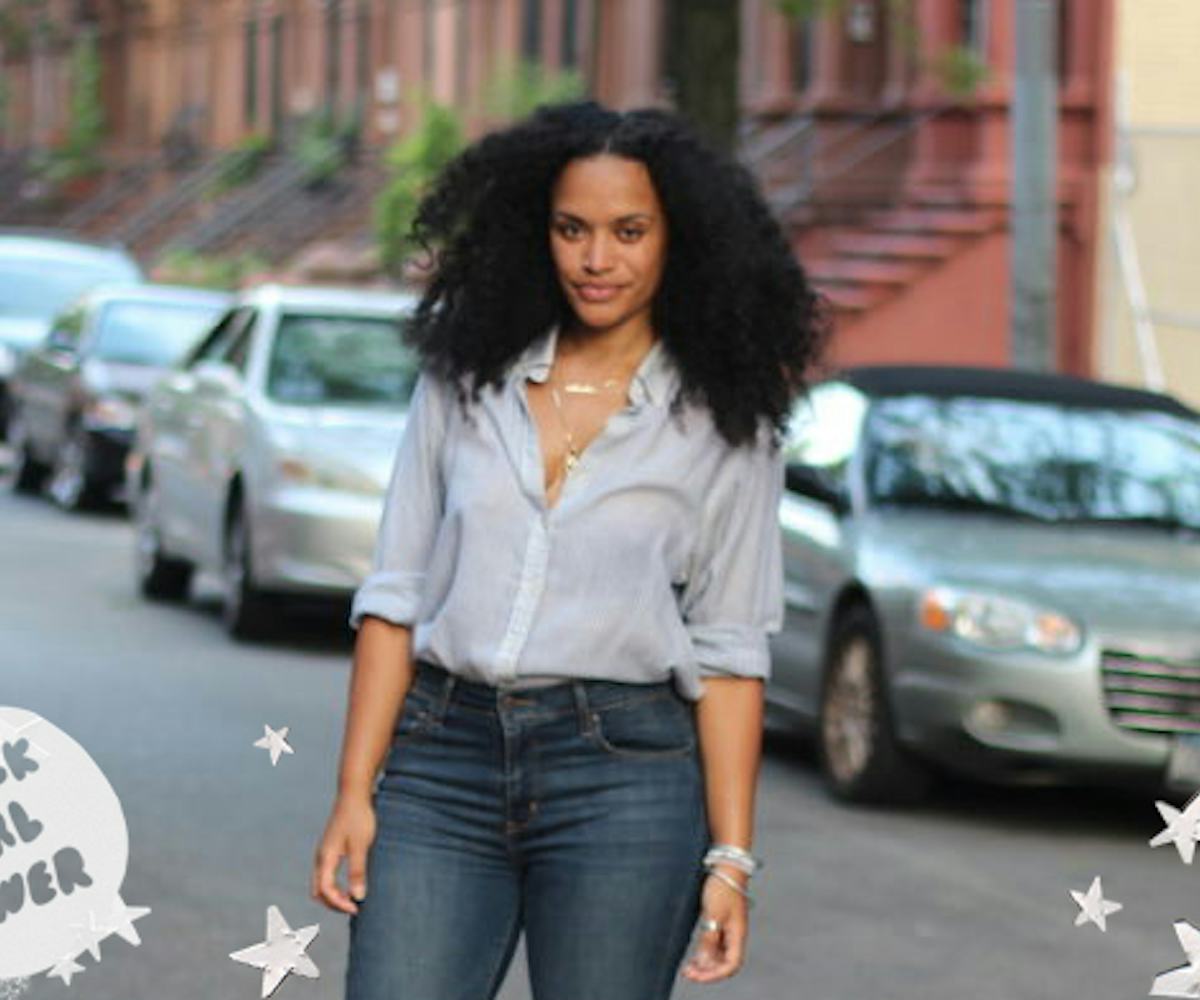 Francheska Medina Is Teaching You How To Get Healthy
say hey to "hey fran hey"
In celebration of Black History Month, NYLON is running a spotlight series called Black Girl Power... The Future Is Bright. Every day, phenomenal black women from different industries will be featured to tell their stories—revealing how they became who they are, showing what they have accomplished, and pinpointing how they navigated their careers. Black women deserve to be celebrated 365 days of the year, and we hope that this series will inspire everyone to believe in the power of #blackgirlmagic. 
Even just a few scrolls through Francheska Medina's various social media accounts will make you want to rid yourself of basically every unhealthy aspect of your life. That's because for nearly six years, the 33-year-old Harlem native has established herself as a go-to for all things all-natural for the mind, body, and soul (and hair—do you see those curls?!) under the name "Hey Fran Hey."
"I never planned on being a social media personality," Medina says via email. "Back in 2010, when I popped up on the scene, that wasn't really a 'thing' like it is now." It's beyond impressive, then, that she's amassed over 300,000 followers between her YouTube, Twitter, and Instagram, not to mention the droves who flock to her blog for her personal takes on health and wellness. Medina's also one-third of The Friend Zone, a weekly podcast in which she and her co-hosts Dustin Ross and Assanté discuss mental hygiene with the realness and familiarity of people you've known your whole life.
When you consider that her brand was born of her response to her own health issues, it makes her journey not just inspiring, but completely relatable, as she's remained authentic and, well, natural, the whole way. Read all about it below.
How did you conceptualize your brand?
I was actually a singer-songwriter working under the amazingness that is pop songwriter Claude Kelly, and randomly began to suffer from kidney complications one summer. I was in and out of the hospital and on every medication imaginable. I was in a highly medicated slumber every day and under incredible financial stress, being a creative and not having health insurance! Unsure of what to do to help me after months and months of zero progress, my doctor suggested a catheter and I panicked. I decided to take matters into my own hands that day. I had watched documentaries and heard stories of people turning their life around by juicing, so I invested in [a juicer], bought tons of books full of recipes, learned as much as possible about the human body, and tried my best to figure out how to heal myself through natural remedies and nutrition. Three months later, I was perfectly fine. My doctor was shocked at how drastically my health had improved, and seeing his amazement was all of the fuel I needed to keep going. I started tracking my progress on tumblr. The posts started circulating. I started receiving tons of questions from folks with various health problems. And decided it would be amazing to moderate a community where we could be resources and support systems for each other. That's exactly how "Hey Fran Hey" came to life. And my creative process is simple: I research, test, and share every bit of information I can find that I feel will help us all reach a higher quality of life.
How do you maneuver your respective industry as a black woman?
There are a lot of incredible black women in the field of wellness—everyone from chefs to nutritionists and fitness gurus. The hard part is that the internet is a numbers game for social influencers, so it gets tricky standing out for major opportunities as a black woman, first and foremost, and even trickier when wellness isn't as popular a topic as pop culture or fashion and beauty. But things have been shifting the past year or so. More and more folks are gravitating towards information that will help them feel better on a deeper level, so the innovations and opportunities to present wellness information to the masses has definitely been growing, which is beyond exciting. The key for me has been sticking to my guns and maintaining my integrity, despite the challenges. Because I trust why I'm doing what I'm doing and my intentions, I know that everything will always work out.
How did you grow into your black identity?
I'm Dominican, Haitian, and Puerto Rican. As you can imagine, growing into my black identity was a bit of a challenge, socially. I was usually the darkest one with "bad hair," so my family created a lot of confusion in me as far as beauty and self-worth. My neighborhood in Harlem was highly affected by poverty and drugs, so the magic of our people had been tampered with. And media always made sure to highlight that reality. In other words, I lacked the proper guidance and representation. But I was blessed to always have that one black teacher to push me beyond my own understanding. And through excelling in education, I was blessed to be able to go to the top schools in New York. That granted me access to the rest of the globe, and through traveling, I was able to see black identity beyond what I could imagine existed.
Growing up, where did you look for inspiration? Who or what inspires you now?
Creatives were always my favorite escape: I always turned to Michael Jackson, Mariah Carey, and Whitney Houston. La Lupe and Hector Lavoe. Every film Spike Lee ever made. Rosie Perez and Rosario Dawson. Obsessed over Lisa Turtle. Cut out every Beverly Peele and Naomi ad I could find. Now, my creative peers are my biggest inspirations. Watching Shameless Maya infiltrate the tech world with her magnetic energy. Chescaleigh being brave enough to partner up with MTV and use the massive platform to dissect race relations. Kid Fury and Crissle [of The Read podcast] using their bold humor to keep the world in high spirits as a balance to all the heavy news we're faced with on a daily basis. My podcast co-hosts, Dustin Ross and Assanté, being down to create a show based on mental hygiene as opposed to celebrity gossip, so we could all actually live better lives instead of just talking about those living their lives. Everyone is doing their part and contributing. That's as inspiring as it gets.