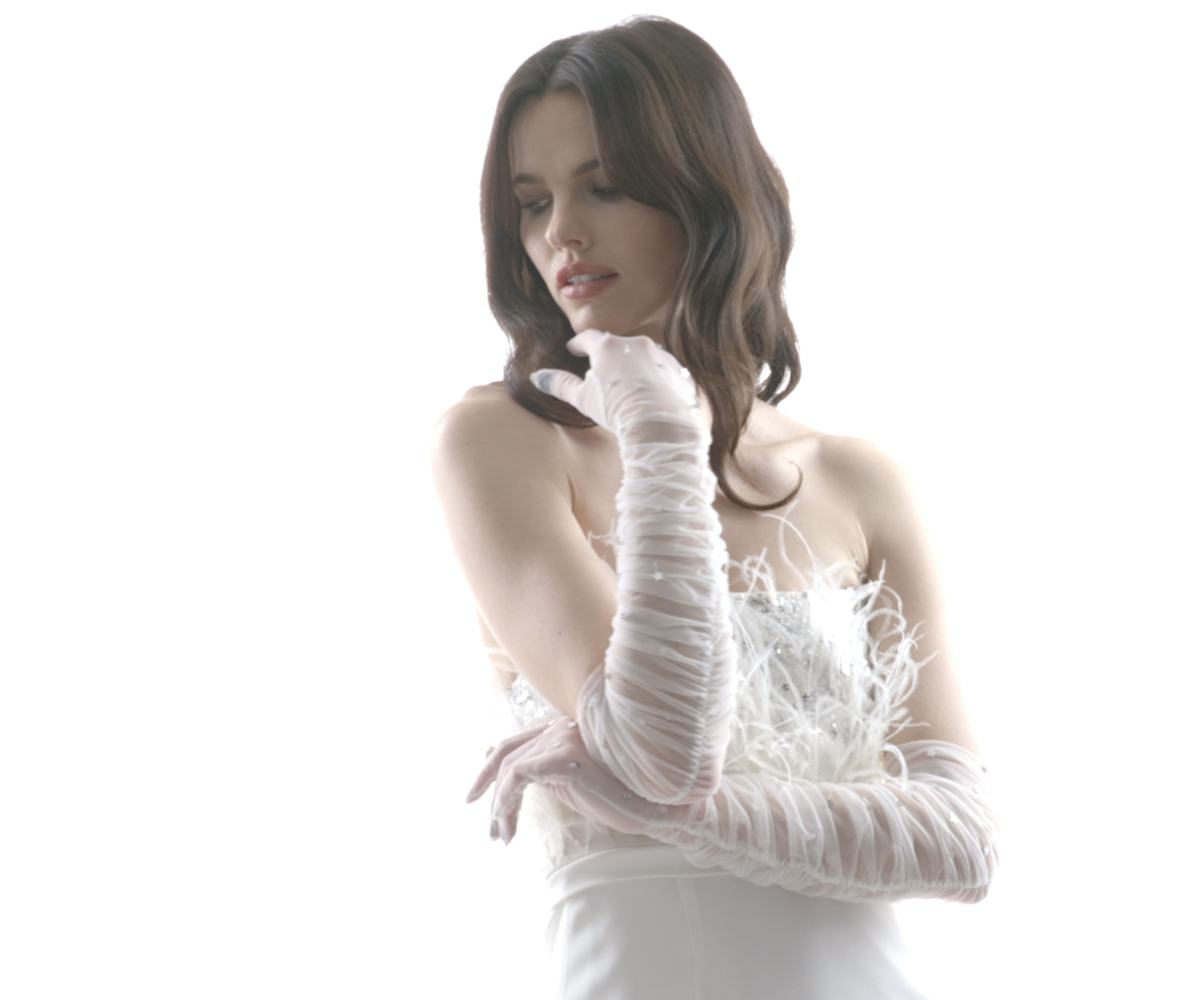 Image courtesy of Houghton
See How The Coolest Bridal Collection Gets Made
Houghton's Katharine Polk takes us behind the scenes
If you are a bride-to-be looking for just any wedding dress, you go to one of your local bridal salons and indulge in the myriad of beautiful dresses dominating the racks. If you are a fashion-forward bride-to-be who could care less about traditions and wants to be the center of attention in one-of-a-kind design, you go to only one place: Houghton.
Since 2011, Houghton has established itself as the most avant-garde and standout bridal brand out there. From the brand's elegantly southwestern-bohemian Spring/Summer 2016 collection, that featured floral designs and lace overalls, to its '90s-inspired, Victorian goth Spring/Summer 2017 line, which boasted black lace and sexy cutouts paired with fishnets, and its latest Fall/Winter 2017 collection, that was accompanied by an incredibly powerful statement, sick baseball jackets, and bridal merch, its clear its incredibly cool designer, Katharine Polk, has redefined the definition of "bridal wear."
For the brand's Spring/Summer 2018 collection, Polk enlisted the help of models, muses, and ultimate Houghton girls, Holly Graves and Lauren Buys, to model the looks and bring the stunningly beautiful creations to life. Inspired by their "sexuality, personality, and curves, each look in the collection accentuates a different part of a woman's body," according to Polk. "This collection is particularly sexy, embracing every angle of the female body." In addition to picking Graves and Buys for their unabashedly sexy attitudes (both have been featured in Playboy in the past), Polk chose the two as a follow-up to the film she created for the collection shown in October, which featured inspiring women opening up about their personal struggles.
As for the collection, it's as edgy and fashion-leaning as ever with feather details, high slits, geometric cutouts, plunging necklines, and one major pantsuit that any Stevie Nicks-loving bride will undoubtedly want to snatch up. But don't let us tell you all about it. Go behind the scenes of the new collection yourself, above, and see all the looks in the gallery, below.
Houghton, Susan gown
Houghton, Becca gown
Houghton, Lauren gown
Houghton, Iris gown
Houghton, Laura gown
Houghton, Lex gown
Houghton, Judy jacket, Tina corset, and Ines pants
Houghton, Holly gown
Houghton, Jan gown
Houghton, Sandy gown
Houghton, Barbara gown
Houghton, Rose gown
Houghton, Birdybell gown