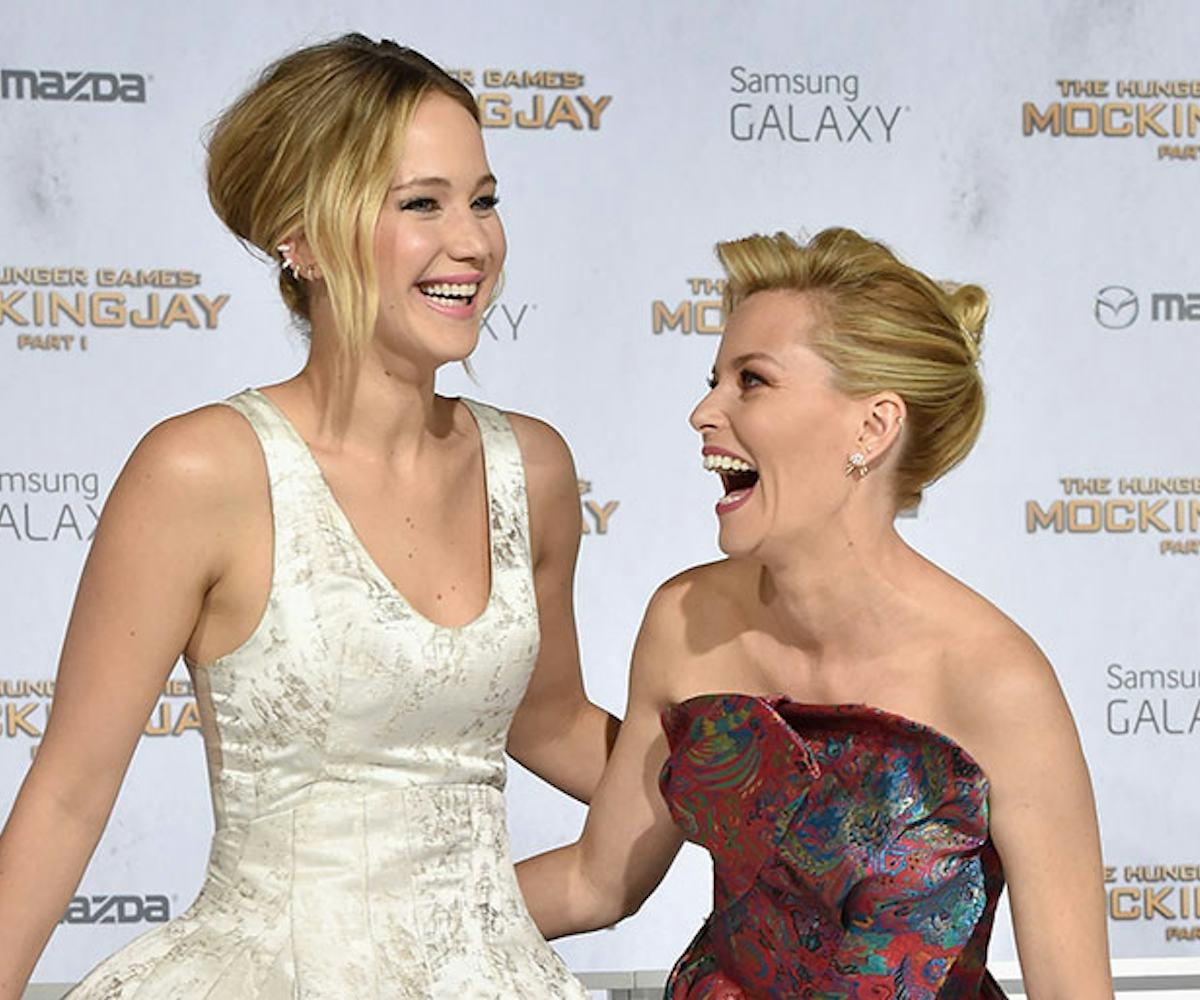 all photos via getty images
an official ranking of the best hunger games red carpet looks
only one can be victorious.
by yasmeen gharnit & gabrielle korn
With a killer soundtrack, a devoted fanbase, and a pretty monumental marketing campaign to back it all, The Hunger Games: Mockingjay Part 1 is easily the most anticipated film of 2014. We're officially T-minus 11 days until the film hits theaters, but the premiere tour has finally started. So brace yourselves for some killer outfits, fangirl hysteria, and a ton of "May the odds be ever in your favor" puns. 
In honor of the film's subject matter, we've decided to make the red carpet into a style competition between the film's female stars. Since the press blitz is officially in full force, we'll be giving five points to the top look and one point for our least favorite look, adding up the number at the end of the red carpet tour. Only one can be victorious...but we absolutely adore them all
LA Premiere
#5: Elizabeth Banks in Lenard  (1 point)
This asymmetrical dress looks a little bit like it's made out of a curtain, but the quirky print and structural shape make it work. Also, we can't help but notice that her updo is reminiscent of a certain recent pompadour.
#4: Jennifer Lawrence in Christian Dior Couture (2 points)
Sure, this bell-shaped, pale silver jacquard Dior Haute Couture dress leans a little bit bridal/prom/fairy princess, but it's extremely flattering. It's a more understated look than we're used to seeing on J. Lawr: With her hair pulled loosely back and her makeup fresh and simple, the moonbeam-like fabric of her couture is the real star here.
#3: Natalie Dormer in Rochas (3 points)
Who knew a triangle of visible ribcage could be so elegant? In fact, the negative space of this dress is our favorite part of it. Without the keyhole, this sweeping yellow gown would still be stunning, but our feelings for it would end there. That detail makes it super cool — even though Dormer's undercut is concealed beneath her pristinely styled waves. 
#2: Jena Malone in Emanuel Ungaro (4 points)
Jena Malone's red-on-red-on-red look takes the whole matchy-matchy thing to a whole new level. The monochromatic color scheme is the perfect contemporary backdrop for those Veronica Lake waves. Her gold clutch-and-shoes combo make this feel a little more appropriate for Christmas than a premiere, but hey: We'll take holiday inspo wherever we can get it.
#1: Julianne Moore in Tom Ford (5 points)
Slow clap for this sparkly black number and its fringed lower-half. Paired with deep, vampy red nail polish, black and silver eye makeup, and a whole ton of attitude, Moore looks like a goddess who just materialized from the night sky.
London Premiere
#5: Natalie Dormer in Nicholas Oakwell Couture (1 point)
Let's get right to the point: This dress is not flattering at all and has way too much going on. The sheer underlayer feels a bit "mother-of-the-bride," which is such a shame because NatDor kills it on the red carpet, generally. Whatever, Natalie, we'll still take you over Joffrey, any day.
#4: Jennifer Lawrence in Christian Dior (2 points)
We want to like this. We really do. If Jennifer Lawrence's dress reflected how much we liked Jennifer Lawrence, she would be wrapped in silken unicorn wings and wear shoes made out of pure energy, light, and goodness. (And is it just us, or does this quilted Dior look like a Dior quilt?) 
#3: Julianne Moore in Balenciaga (3 points)
We could have done with a bit more color (something we never thought we'd say), but other than that, this detailed dress is pretty killer—and super sexy. We love that the veteran of the bunch is bringing in the most sex appeal. #MoreMoorePls
#2: Elizabeth Banks in Elie Saab Couture (4 points)
Props to Banks for finding a gown that is both gorgeous, comfortable, and has that Banks-ian playfulness.
#1: Jena Malone in Emilia Wickstead (5 points)
The slicked-back pony, the slouched sleeves, and the high origami slit—just like her character Johanna Mason, no one stands a chance against Jena Malone. At every angle, this one is both unique and striking.
Bonus!!: Lorde
There goes Lorde, just Lordeing around in her Lorde billowed pants and her Lorde bow. (Read: She looks amazing.)
Current Scores:
1st Place: Jena Malone — 9 points
2nd Place: Julianne Moore— 8 points
3rd Place: Elizabeth Banks — 5 points
4th & 5th Place (tie!): Jennifer Lawrence & Natalie Dormer — 4 points
Keep checking back to see all the red carpet action.