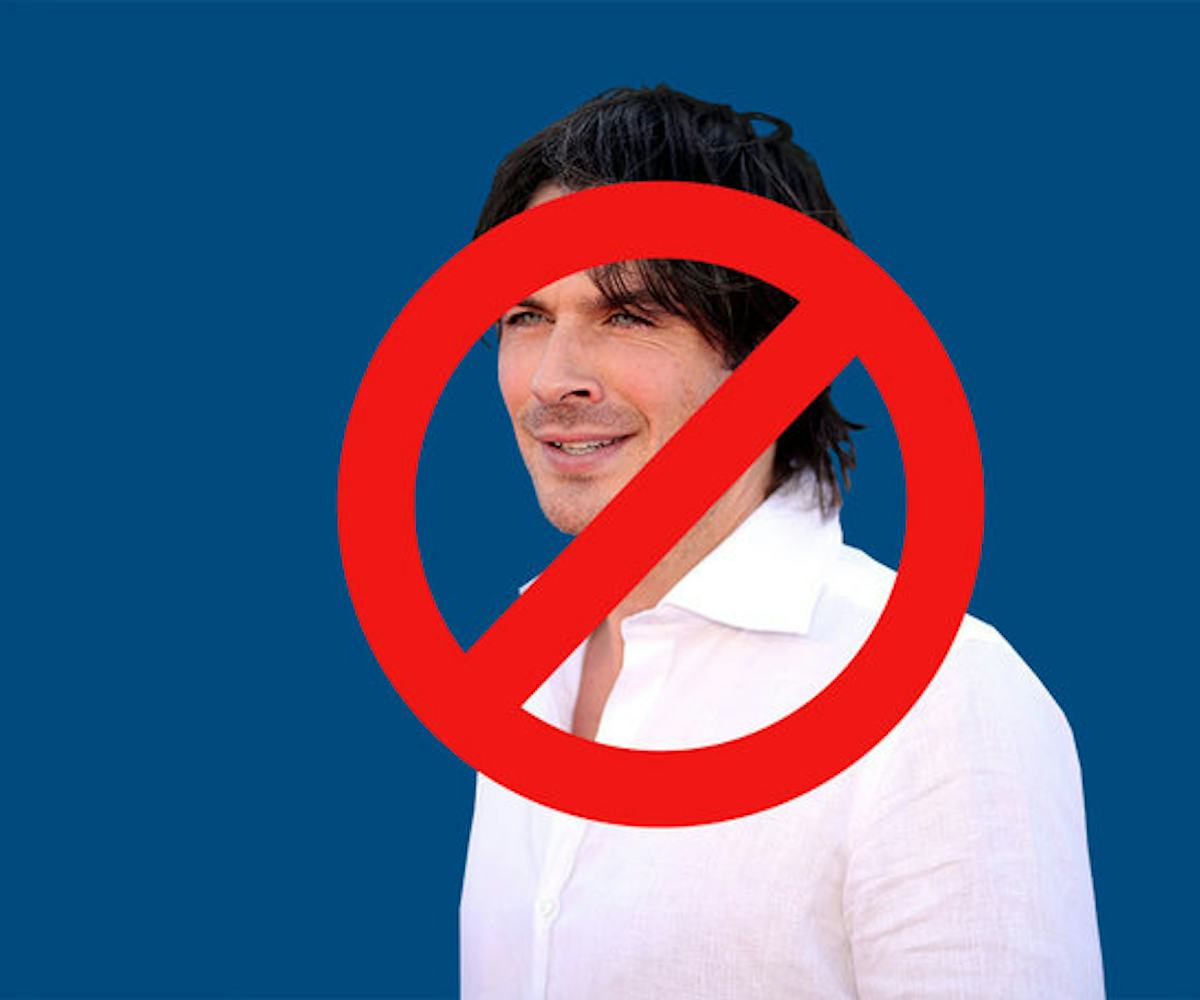 Illustration by Liz Riccardi/ Photo by Christopher Polk for Getty
Ian Somerhalder "Threw Out" Nikki Reed's Birth Control, And It's Gross
Women's health care is a pretty big topic in the news today, with the fight to maintain and increase our access to affordable medical care taking on greater and greater importance. And so any news pertaining to women's health care is of particular interest right now, which is at least part of the reason I clicked on this Jezebel story about actor Ian Somerhalder, who "threw out" his wife Nikki Reed's birth control pills so she would get pregnant. What?!
Look, I'll be clear, I didn't know exactly who Somerhalder was either before reading this story, but now that I do know, I... still don't really know who he is, other than, well, a huge dick. No, really, he is. Here's why: He messed with his wife's birth control because he decided it was time for them to have a baby. This is bad. It's not funny. It's not cute. It's gross and disturbing.
As Somerhalder explained recently while appearing with Reed on something called "Dr. Berlin's Informed Pregnancy Podcast," he determined that it was time for the two of them to get busy having a baby, even though Reed—in her own words—"didn't know if [she] wanted kids," and so, as he explained, "unbeknownst to poor Nikki," he went into her purse and took out all her birth control, an act Reed describes as "presumptuous," and I describe as controlling and terrible.
When one of the hosts of the podcast asks Reed how she felt about Somerhalder's actions, she said, "There's a photo of me, and I look like—"
"There's a six-minute video where she's freaking out," interrupts Somerhalder. (Because, of course, he interrupts. Of course.) 
So, yeah, we don't get to hear in Reed's own words how she felt, although even Somerhalder admits she was freaking out. But we do get to hear that apparently, this is not the first time Somerhalder has just taken a surprise video of Reed, because she says, "There's a video? Why are you always taking videos of me and I don't know it?"
Somerhalder's response to this question is to call his wife "a nerd." He then goes on to explain that it was actually their friend who took the video, and filmed Somerhalder holding a "handful of these little pills" which then go "slowly into the toilet."
Reed responds: "I've never seen this. Was I drunk? Was I coherent?"
Hmmm.
Now, okay, both Somerhalder and Reed seem to think this is an adorable anecdote, one they will probably one day relate to their daughter, Bodhi, who will likely cringe in horror at the tale because it's very cringe-worthy. And, yeah, if Somerhalder and Reed are happy together, that's just great. Great!
But also? Maybe it's the fact that any threat to a woman's autonomy over her own body should be taken seriously, not because jokes aren't funny, but because there are enough constant attacks on women's health care as to render this particular issue just not that humorous right now. Since Republicans can apparently only get turned on by the idea of stripping women of their right to choose what's best for themselves, we now live under the constant assault on organizations like Planned Parenthood, which serve as lifelines for most women who need contraception. So while it's okay, I guess, that Somerhalder and Reed think this is a cute story, it's also one that makes me queasy, because it's easy enough to see how other men might think stealing birth control pills, or "forgetting" to put on a condom, or whatever, is charming behavior. Guess what? It's not. It's the behavior of a misogynist control freak, something that's all too familiar in this world of ours.