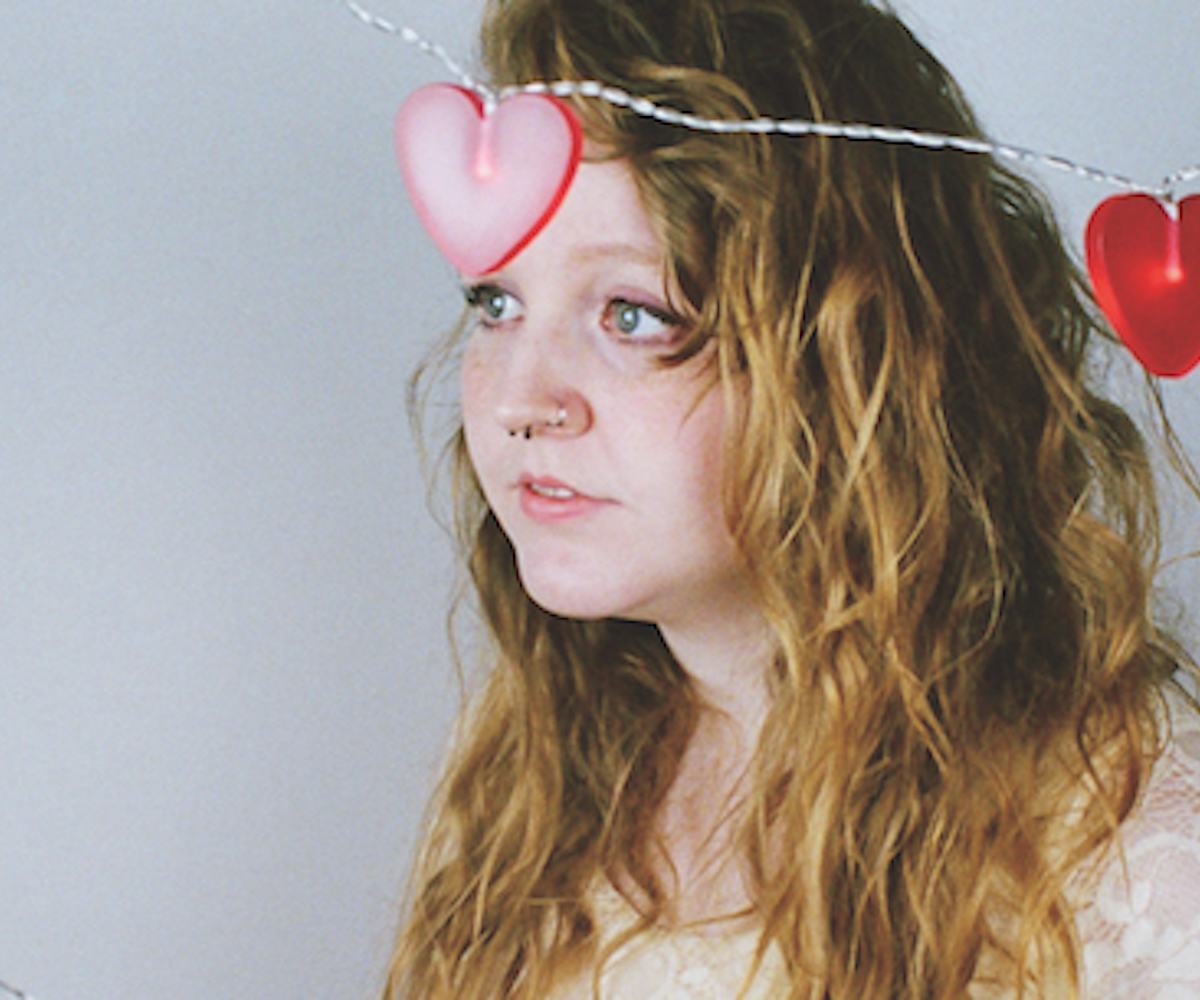 Image by Pat Hickey
Infinity Crush Is Your New Soft Pop Darling
Fall deep into loss and love with her new album, 'Warmth Equation'
Caroline White, who just released her first album Warmth Equation under the moniker Infinity Crush, was lucky enough to have her life shaped by the Maryland music scene starting at a young age. "I was just around a lot of people that were writing songs all the time when I was around 19, so I started doing it too. Everyone around me was making music, and every weekend we were playing shows—it just felt natural to be constantly writing songs," she says.
White's accomplished a lot in the past few months: On top of finishing her first LP, she's had a spot on an Orchid Tapes compilation, and recently opened for bands Teen Suicide and Elvis Depressedly on the final date of their joint tour. The experience of opening for both bands was emotional for her, she says, because of her pride in her peers, a sentiment you can hear in her voice. "So many kids were there, and really, really cared, and felt really deep strong connections towards them and towards their music," she says. "It was great to see them thriving and people really connecting with their music." Her integration in the scene she grew up in and love for her friends is clear in the way she speaks; about her friends' bands, about labels Joy Void and Orchid Tapes and the people who run them, and about her coming-of-age as a whole. 
Music is often an outlet for extreme emotion, and this is certainly the case for White. The sudden death of her father a few years ago was the impetus for White to produce a slew of songs that have since been pared down into a single, exceptional album, Warmth Equation, which features songs like "Wipe Down," in which the artist reminisces about what life was like with her father, and paints a portrait of deep, inescapable loss.
Of course, not all of the songs are about death. Mourning isn't experienced in a vacuum, and White made sure to make reference to this. "The album wants to capture the full encompassing experience of grief and grieving, which is not always just sitting around crying. There are standard pop songs in there that are like, 'Yes, you can be grieving and also feel okay at the same time.' It's part of the process." 
Even if all the songs aren't about grieving, they still grapple with painful topics revolving around struggle and more typical growing pains, though they still exist within the framework of having experienced great loss. White explains:
I guess we think of loss as just this one all-encompassing period where it's like two months, and you're super sad, and you kind of live your life after that, and move on. But it's a lot more complex than that. And that's what I was trying to capture. Even when we're overwhelmingly upset about something, other things can still bother you, you know? People are very complex beings. And you can feel so many things at once.
White is currently in the process of earning her master's in poetry, but she views music and writing as separate entities, and feels like she has the ability to "get away with" more in songwriting than in poetry, even saying she would drive herself insane if she approached her songwriting like she approaches her poetic studies. But still, she cites a benefit to the lack of strict rules that songwriting provides:
I think that the way that I write lyrics, there's more immediacy. I'll just sit down and I'll write the whole song. And I think that there's kind of an emotional truth to that—not saying that poems aren't as truthful, but they're a lot more edited and picked out and censored, filtered. Whereas writing a song is just like vomit. It's the truth. Whether or not it's the factual truth, it does display the exact thing that you're feeling in that moment.
The artist's songwriting process has a lot to do with that truth. Where poems take revision after revision and can be dropped and picked back up, that's not how White approaches music writing. She does it all at once, even if it takes hours, because otherwise, she won't finish. This is understandable—it's hard to force yourself into an emotional space you were in before. Perhaps this is why Warmth Equation feels so honest. It's not a revised version of the truth, but the truth as it's being experienced.
Warmth Equation is out now on Joy Void Recordings.