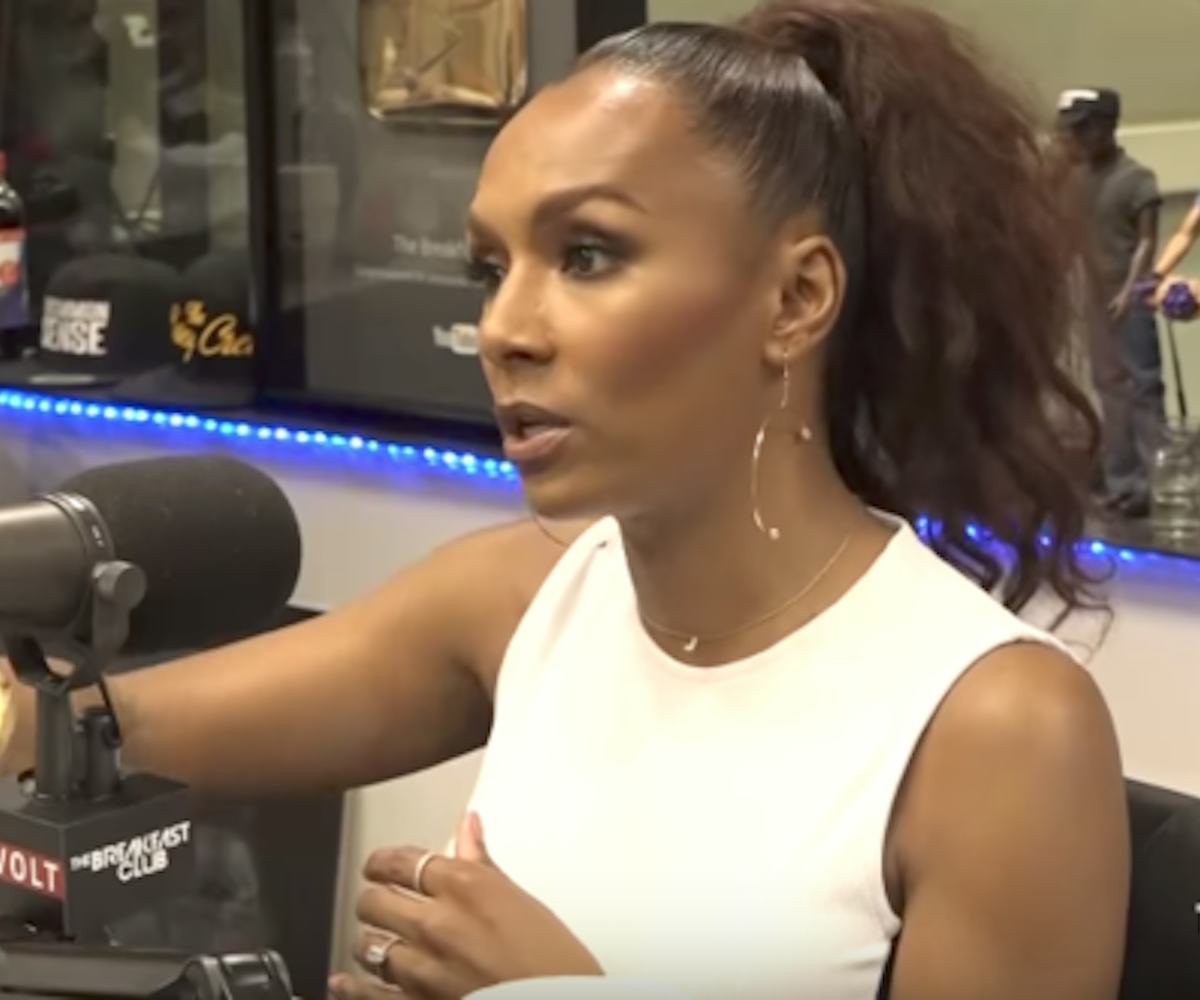 screenshot via youtube
Janet Mock Speaks Out Following Breakfast Club's Transphobic Interview
"There are deeper consequences to this casual ignorance"
Janet Mock penned a powerful essay this morning addressing the men of 105.1's The Breakfast Club show, after a transphobic interview with comedian Lil Duval went viral. While on the show, Duval was asked how he felt about Trump's military ban against transgender people, which later led into a conversation about what he would do if a sexual partner revealed to him that they were transgender. Duval then stated, "This might sound messed up, and I don't care, she dying. I don't care. I can't live with that."
The conversation got worse as The Breakfast Club male hosts, Charlamagne tha God and DJ Envy, proceeded to go deeper into the question, bringing up a comment from Mock's interview with the morning show hosts the week before, telling Duval that the activist "tells all her partners," as DJ Envy held a copy of her book Surpassing Certainty to show the comedian what Mock looks like. "Tell me she ain't pretty," Charlamagne urged Duval. In response, Duval told Charlamagne, "That n---- doing his thang... ain't finna get me."
Mock's piece, "Dear Men of The Breakfast Club: Trans Women Aren't a Prop, Ploy, or Sexual Predators," addressed those problematic comments and recounted her own experience visiting the radio show. 
"The hosts laugh after using my image as a literal prop—just days after I was a guest on the same show—for laughs, vitriol, and a deeper call and justification for violence," she wrote. "Just so we are all clear: On a black program that often advocates for the safety and lives of black people, its hosts laughed as their guest advocated for the murder of black trans women who are black people, too!"
She then added that Duval's attitude perpetuates "this deplorable rhetoric that leads many cis men, desperately clutching their heterosexuality, to yell at, kick, spit on, shoot, burn, stone, and kill trans women of color. The 'I'd kill a woman if I found out' rhetoric is precisely why so many women hold themselves so tight—the stigma and shame attached to our desires need to be abolished." According to GLAAD, there have been 15 reported deaths of trans women of color this year alone.
"Duval purposefully misgendered me (as the hosts laugh, thereby cosigning) in an attempt to put me in my place and erase my womanhood," she penned. "Their fragile masculinity would not allow them to recognize a simple truth: I am an accomplished, beautiful black trans woman. Your willful ignorance will not stop me from being exactly who I am. My sisters and I are here and we exist, and you will not diminish our light and our brilliance." Amen.
Read Mock's essay in full here.