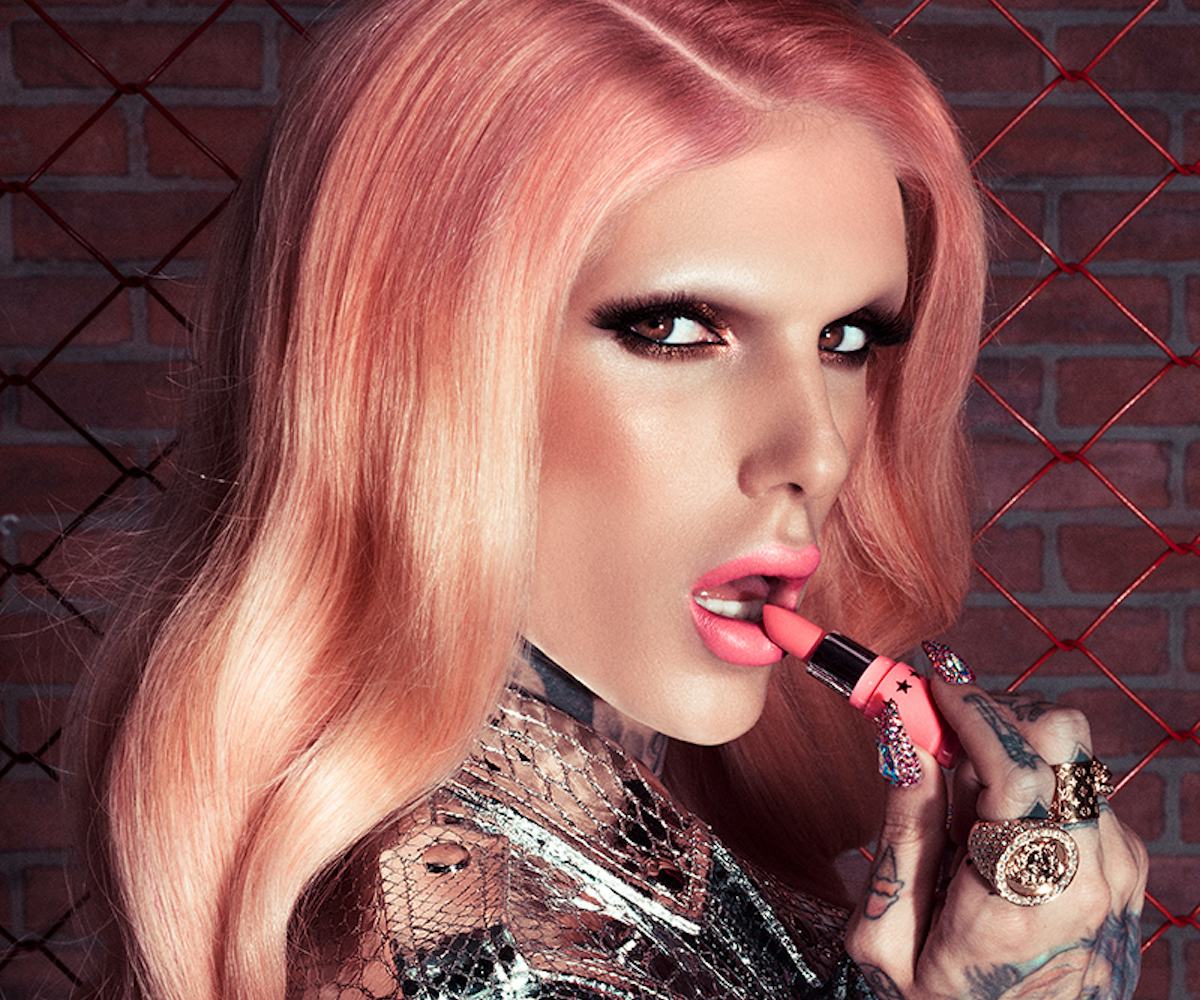 Photo courtesy of Jeffree Star
Jeffree Star Just Released An Incredibly Loud New Lipstick Line
Jeffree Star has had what could be considered a bit of an odd career trajectory; from MySpace queen and Warped Tour musician to beauty vlogger and owner of one of the biggest indie cosmetics brands in the country, it seems that he's done it all. And with the newest product launch from Jeffree Star Cosmetics, a stick lipstick called Lip Ammunition that has been in the works since the conception of the cosmetics line, it looks like he's adding another line to his very long resume.
Lip Ammunition comes in 10 different shades; nine have a satin finish, one glitter, and six are some version of pink. If you think you can't find a pink lipstick shade for you (I know I tend to lean toward reds for that reason), trust me when I say that with the variety here, there is at least one that will suit you. But if pink still isn't your thing, you can pick up one of two purples—a pastel purple, Popsicle Dream, and an indigo, Grandaddy Purp—or one of the two shades he rereleased from his liquid lipstick line, a blood-red, Unicorn Blood, and a neutral-toned, Celebrity Skin. 
However, like the hot pink bullet-shaped tubes imply, this lipstick is not for the faint of heart. It's packed with pigment, so unless you're going for something incredibly bold, one swipe will do just fine. That means you have to be extra careful while applying since the brand hasn't yet released a lip liner. After wearing it for hours, I experienced little to no smearing or feathering, though it certainly doesn't hurt to freshen up with a reapplication or two here and there. The formula is insanely creamy, so don't expect it to have the long-lasting power the brand's matte liquid lipsticks are famed for (it's definitely not the best choice if you intend on making out with someone that night).
With that said, I don't mind touching up for a formula like this. It's moisturizing, pigmented, and, as all of the brand's products are, completely cruelty-free. Jeffree and his team have spent years working on this lipstick, and it's easy to see how and why that's the case. After wearing it for a full night and even reapplying a couple times, waking up the next day, it still doesn't feel like I wore that intense of a lipstick the night before. It's the kind of product that, as long as it's used correctly, will make a welcome and exciting addition to any makeup bag or kit. This is not your standard lipstick, although, at this point, the world should know not to expect anything standard from Jeffree Star. 
Jeffree Star Cosmetics is absolutely notorious for its products selling out within hours of launch, so it's amazing that these products were released on Friday to an incredible amount of hype and are still in stock. Get them while you still can here (they'll set you back $18), and check out the lookbook for the new collection below.