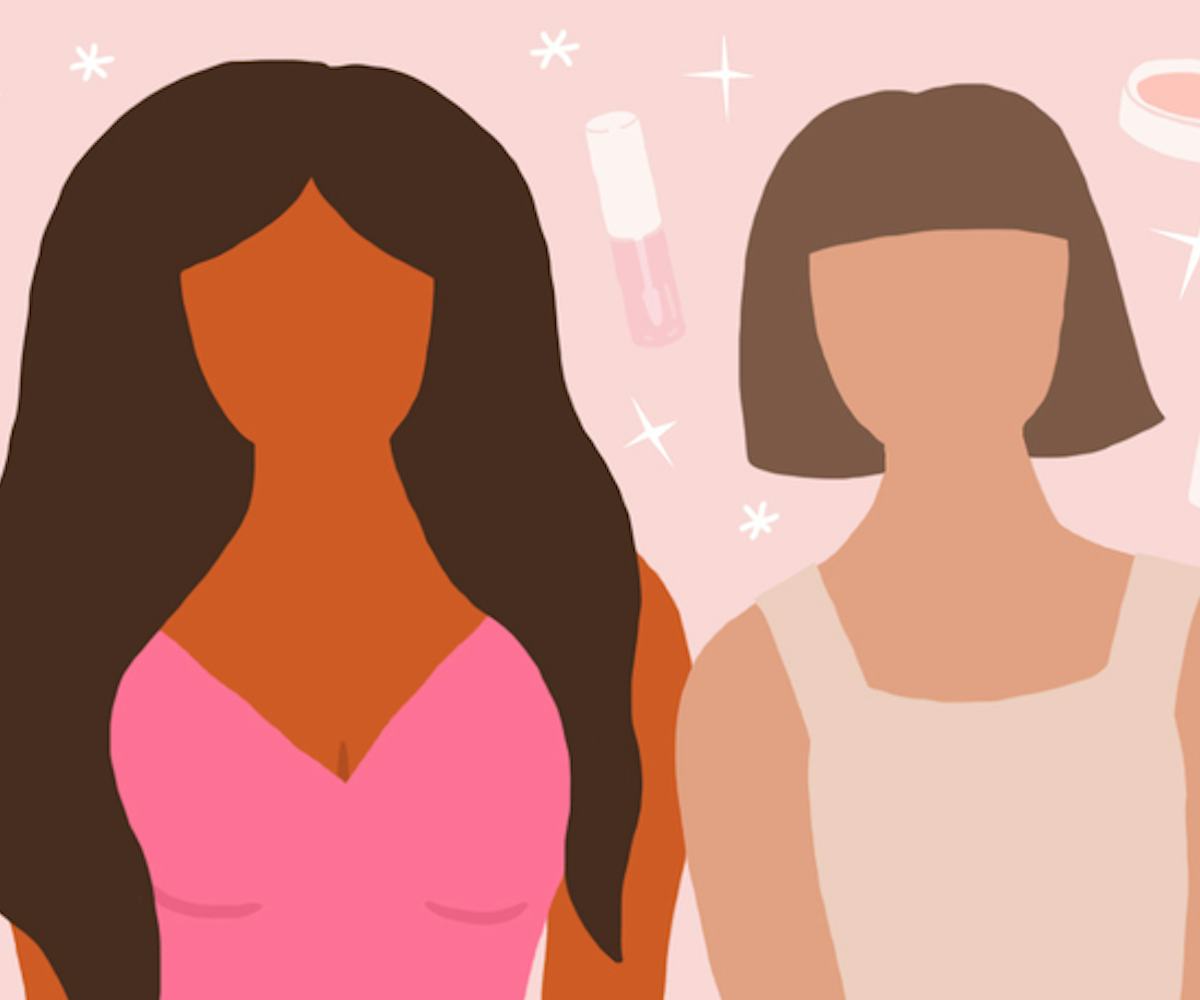 Illustration by Jihyang Lim
How My Past Life As A Jersey Shore Guidette Made Me A Beauty Minimalist
Oh, what being orange will teach you
Once upon a time, a 15-year-old me grew a very strong sense of New Jersey pride. Growing up by the shore as a (mostly) Italian-American girl, it was basically in my blood that I would begin listening to DJ Tiesto and Cascada, scrunching my hair until it was crispy with gel, and wearing T-shirts that let everyone know that I was, in fact, Italian.
It was 2005. I was a sophomore in high school and had never really fit in with the popular girls, and this would be just another one of my brief yet awkward phases where I was simply trying to find myself without yet knowing who that self was. (Sadly, my silver lipstick-loving, witchcraft and ghost storybook-reading fourth-grade self had already moved on for the time being. She'd be back though.)
Let me paint you a picture of what this looked like: I went regularly to tanning salons, following each session with bronzing creams that left me (what I thought was) a flattering shade of orange. I wore 10 pounds of eye shadow that I usually never removed properly (which only contributed to my teenage breakouts). I was a M.A.C aficionado, mixing and matching every eye shadow shade possible, pairing shimmery pinks and vibrant blues, and highlighting the end result with iridescent pearls. My favorite lipstick shade was called "Fleshpot," a light nude that popped against my orange skin in the tackiest way. (Coincidence or not, the shade has since been discontinued.)
Essentially, I looked like a cross between Snooki and JWoww in their Jersey Shore prime, only it was a few years before Jersey Shore even aired on MTV. My favorite song was "Every Time We Touch" by Cascada, and I would drink vodka in the cars of older boys outside of Club Abyss' teen night. I wasn't Jenna, I was JeNnAaA BeLLaAa from MySpace—and, at the time, I grew to become the local MySpace version of being Instagram famous (okay, at least micro-famous).
I could keep going, and dig myself deeper into a time warp hole, and embarrass myself further, but I'll stop here. I swear, there's a point to this tale.
While I wouldn't say I look back on this brief dabble in MySpace celebrity, excessive makeup, and overindulgent tanning with fondness, I must say that this rather unflattering phase of my teenage years left me, years later, with a strong appreciation for beauty—one that's much more toned-down and healthy.
For starters, I eventually learned that orange is never a flattering body shade—especially when 50 percent of it came from tanning beds—and being mistaken for 22 at age 16 is also not a sign that you're doing something right. You see, as I phased out of being JeNnAaA BeLLaAa to becoming the Jenna I am today (okay, there was also a brief, less awkward but still tasteless, Hollister and Abercrombie & Fitch stage in between), I learned to take care of my skin, and embrace its natural beauty.
Something my mother swore by was to start your anti-aging regimen in your late teens, so I started to focus more on moisturizer and eye cream and less on foundation and hair gel. I never set foot in another tanning salon again, though the number of burns I racked up have left me on the constant lookout for strange moles. I began to embrace my pale each winter, and let my olive complexion glow naturally after a day in the sun. I ditched my clown-like eye shadow for more bare-faced looks, enhancing my natural attributes with a bit of mascara, some brow gel, and highlighter or lipstick when I'm feeling really festive.
Now, with brands like Glossier preaching the importance of skin care and that beauty starts with natural, healthy glow, I feel as if I've already been long ahead of the game. But I'm certainly glad that everyone's beginning to follow suit. Now, we just need to talk some sense into those Instagram-famous contour queens.