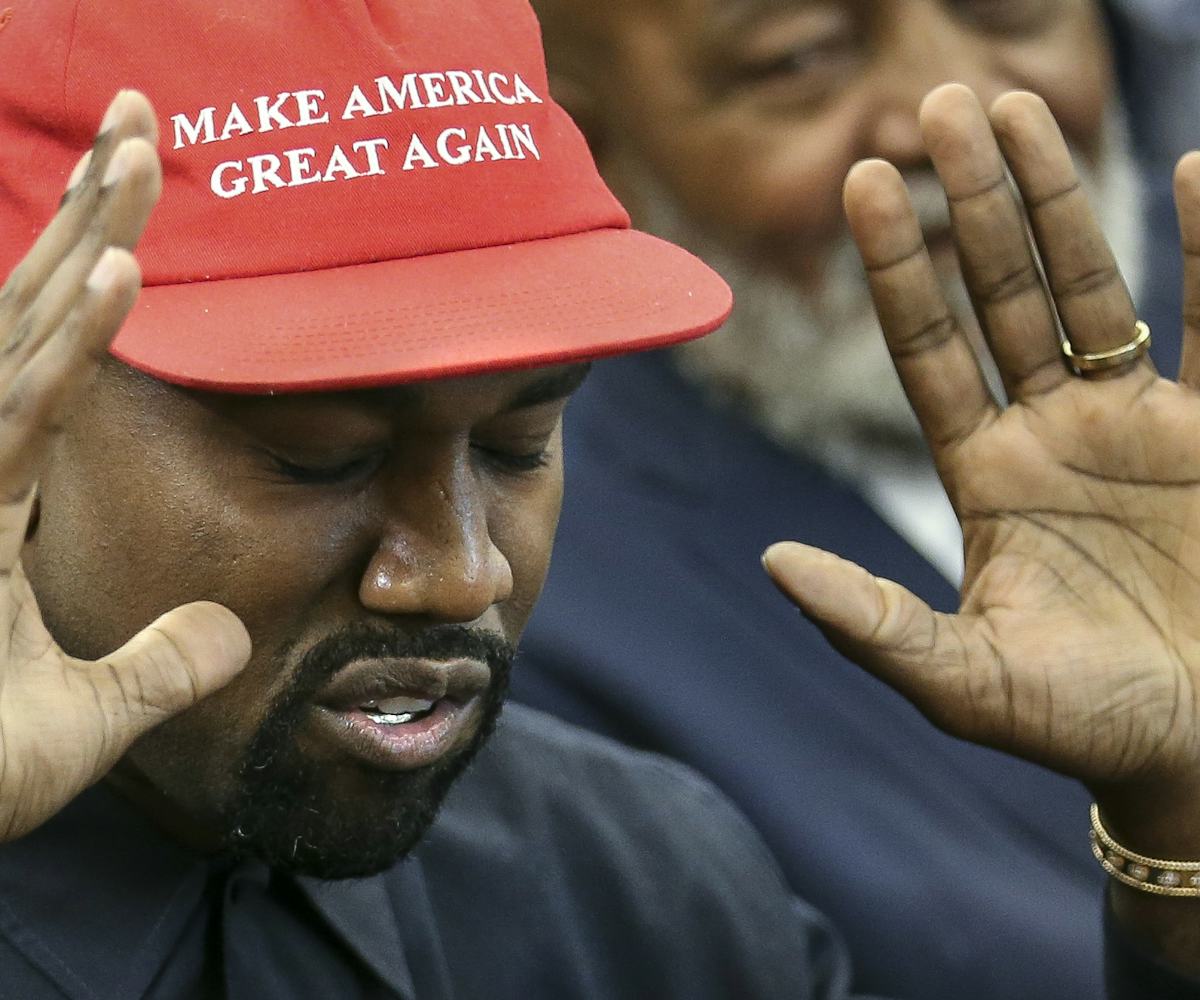 Photo by Oliver Contreras - Pool/Getty Images
Kanye West Just Made The Strangest Appearance At The White House
Kanye West met with Donald Trump today in the Oval Office which resulted in what might be their strangest exchange yet. The Hill reported the details of the discussion, which took place in front of a large group of press members. Trump confirmed as he sat across from West that the two have been friends for "a long time." Then, the two began praising each other for what seemed like the entirety of the meeting.
West delivered a 10-minute monologue, during which he discussed his own mental health, the issues with the prison system, and more, interspersed with lavish compliments for the president. "This is our president. He has to be the freshest. The flyest," West stated, also commending Trump's "bravery." According to those in the room where the wild exchange took place, West spoke in the third person, saying, "[Trump] might not have expected a crazy motherf---er like Kanye running up to support." 
Trump, in turn, shared his admiration of West, saying the rapper "can speak for me any time he wants. He's a smart cookie. He gets it." At this point, it wouldn't at all be surprising if West ended up taking a seat in the cabinet. Someone asked Trump if West could run for president, and Trump replied, "Could very well be," but West reinforced his support of the POTUS by adding, "Only after 2024." 
The White House said the meeting was originally planned for the pair to discuss "manufacturing, urban revitalization, tamping down violent crime in Chicago, and criminal justice reform," but from what has been made public, it seems like it was called only for the two to praise each other with journalists present. 
To make matters weirder, Jeff Mason, White House correspondent for Reuters, tweeted a photo of Kid Rock also at the White House, so there may be even more bizarre details from today to come. 
This isn't the first time members of the West family have visited the White House to talk politics. Earlier this year, West's wife, Kim Kardashian, met with the POTUS to discuss prison reform and the pardoning of Alice Johnson.