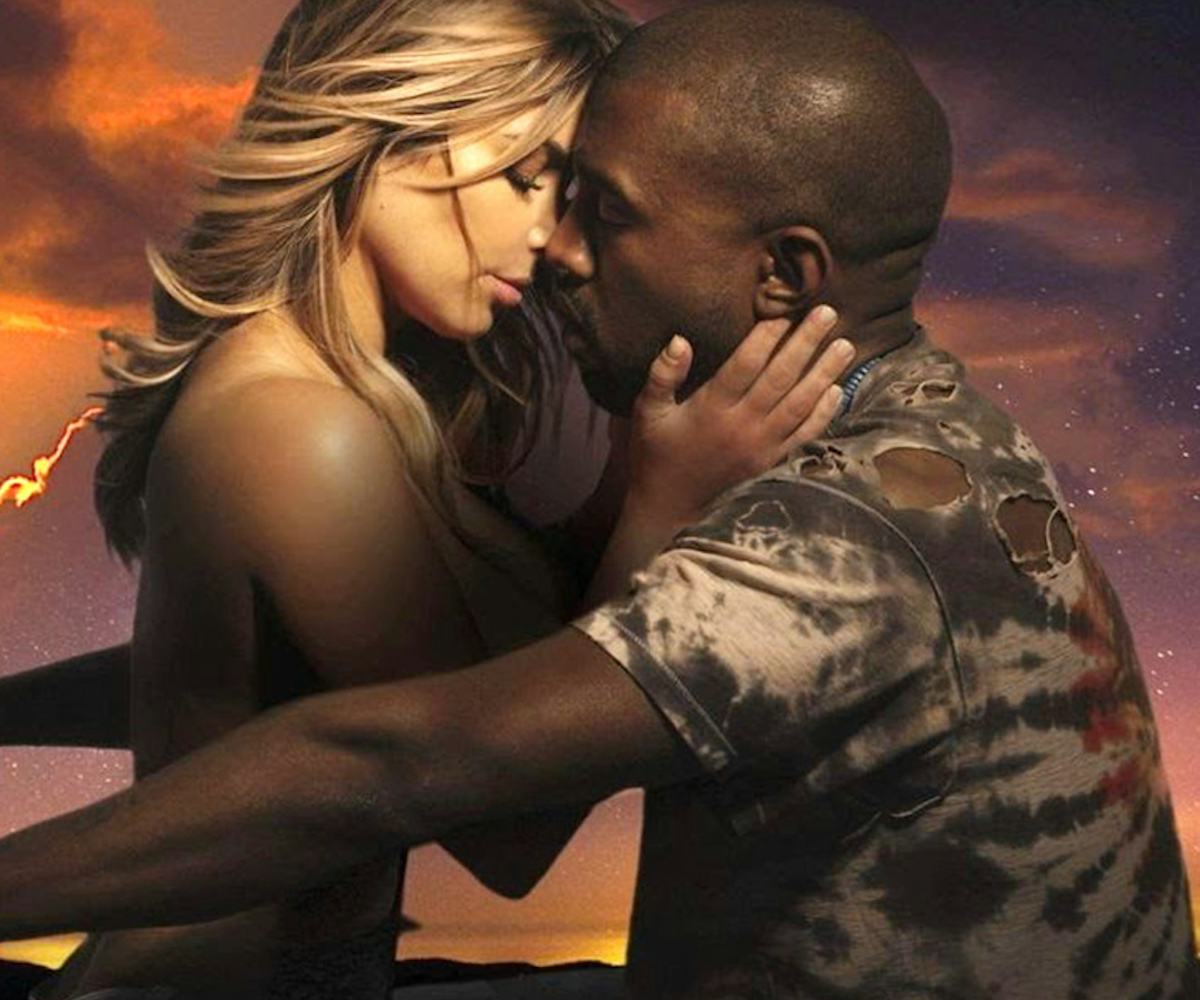 Photo via Def Jam Recordings.
Kanye West Sex Tips For Kim Kardashian's Valentine's Day Gift Guide
Regardless of how you feel about Kim Kardashian West, millions of people follow her. They pay attention to what she wears, how she gets glam, what she eats, and they'll wait hours to see her endorse products they didn't know they ever needed. Thankfully, living that Kim K life has never been easier. Her pseudo-lifestyle app features a ton of tutorials on how to dress like her, contour like her, and now, in honor of Valentine's Day, have sex like her! Kool.
Kardashian West just released her Valentine's Day gift guide. It's luxe. It's kinky. It's expensive. A true Kim K devotee will drop over 10K if they purchase it all. That's a lot of cash to shell out for one Hallmark holiday, but hey, the limit does not exist when it comes to love.
But what does one with after with these purchases? We turned to Kanye West lyrics for tricks and pleasure tips. You're "Bound 2" find some bedroom inspiration ahead. And if you get asked where you learned to "do things like that," look into your lover's eyes and confidently say, "Yeezy taught me."
In "Bound 2," Kanye raps about wanting to "fuck hard on the sink"; these would be perfect for making sure everyone is safe and secure!
Désir Métallique, Black Metallic Mesh Handcuffs, $10.40, available at bijouxindiscrets.com.
Immediately after that lyric, Kanye suggests "giving [his girl] something to drink." How about this?Armand de Brignac, Brut Rose Champagne NV 6L Rated 91W&S, $9,999.98, available at finewinehouse.com.
These tips from "I'm In It" seem like perfect things to try with this candle lit: "Careless whispers, eye fuckin', bitin' ass / Neck, ears, hands, legs, eatin' ass."
LELO, Flickering Touch Massage Candle, $34.90, available at lelo.com.
This toy will show you what it means when someone "[Does] it better then anybody you ever seen do it."
OhMiBod, Lovelife Share Couples Ring Vibrator, $37.95, available at amazon.com.
Like Rose in Titanic who wanted to be drawn in nothing but her necklace, why not have sex in nothing but this blindfold? As Kanye said in "On Sight": "No sports bra / Let's keep it bouncin'"!
LELO, Intima Silk Blindfold, $69, available at lelo.com.
In "Monster," Kanye says his "presence is a present, kiss my ass." Substitute in "smack" for "kiss" and you've found the perfect use for this toy!
The Pleasure Chest, Fifty Shades of Grey Sweet Sting Riding Crop, $34.95, available at thepleasurechest.com.
Though Kanye suggests "fucking all over the house" in his "Drunk In Love" remix, you probably shouldn't use this on the couch or you'd live the lyric that follows: "We just messed up a brand new couch, girl." No, thank you!
Booty Parlor, Melt Chocolate Body Fondue, $18, available at dermstore.com.
For an extra kick, make like Kanye in "I'm In It" when he's performing cunnilingus and add "sweet & sour sauce."IT'SUGAR, Candy Edible G-String, $9.99, available at itsugar.com.
Kanye has a nice sex playlist in "Slow Jamz." Follow his lead and you, too, can "get it right." Here's the full lyric: "I'm a play this Vandross / You're gonna take your pants off / I'm gonna play this Gladys Knight / Me and you're gonna get right." Good luck!
The LA Shop, Spinning Static Dancing Stripper Pole, $128.99, available at thelashop.com.
If your lover asks you what you want, ask them what Kanye asked us in "Bound 2": Have you ever asked your bitch for other bitches?
Let's F*ck - The XXX Sex Board Game, $9.99, available at shopgadgetsandgizmos.com.