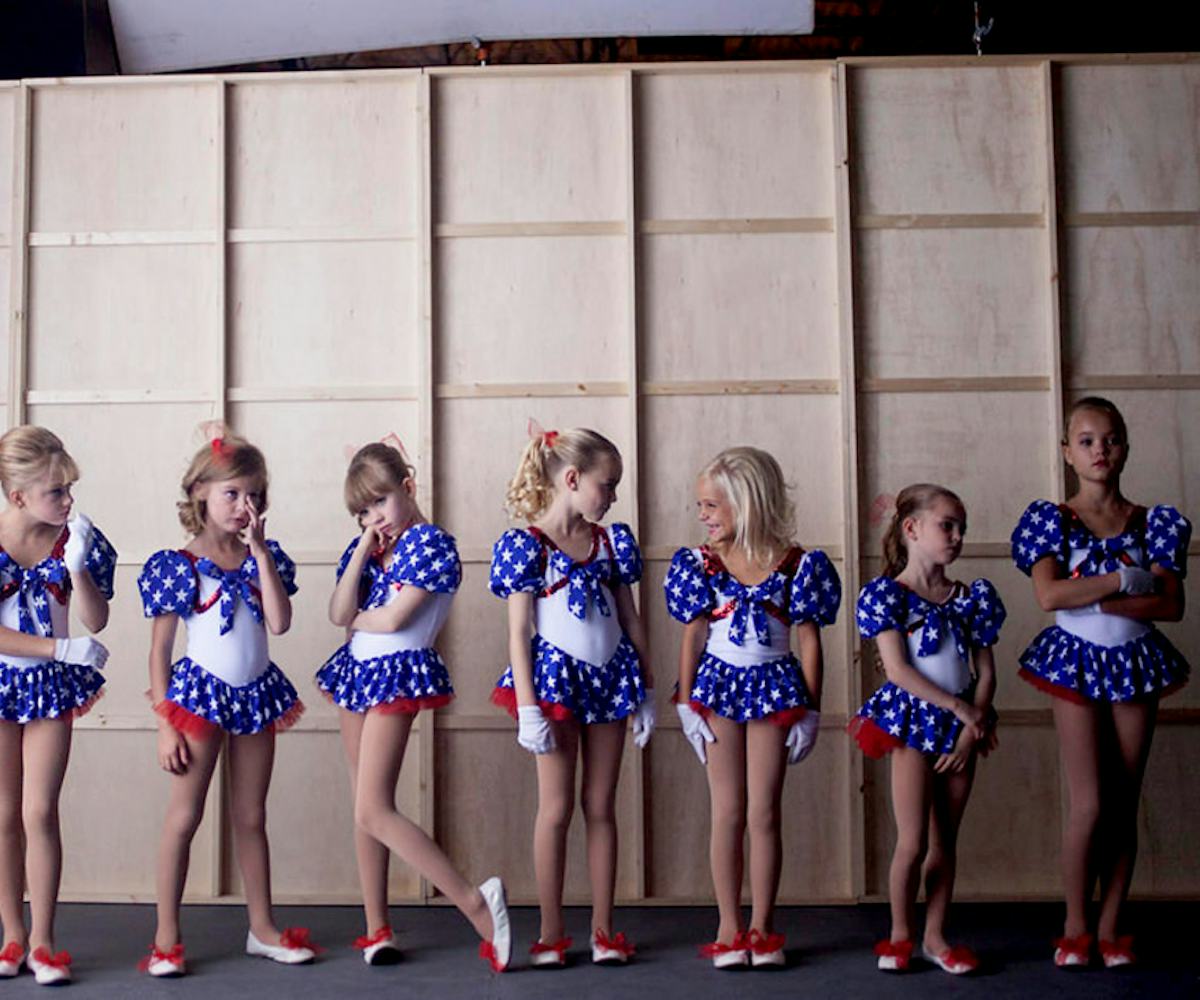 Is 'Casting JonBenet' The Final Word On the Infamous Case?
Director Kitty Green tries to close the book on the the mystery surrounding JonBenét Ramsey.
True crime has long been a morbid fixture in the American imagination, ranging from the pages of In Cold Blood to the contemporary auditory fascinations of podcasts like Crimetown. But few cases have lingered more heavily in the cultural consciousness than that of JonBenét Ramsey, the six-year-old girl found murdered in her Boulder, Colorado home on Christmas night 1996. Two decades later, conspiracy theories still loom large as to what happened, and the unsolved case has been immortalized in books, documentaries, and television specials, with the same burning question at its nucleus every time: Who killed JonBenét Ramsey? 
But nothing has examined the case from the lens of the community who lived through it, until now, thanks to director Kitty Green's new experimental nonfiction flick, Casting JonBenet. The film, which recently premiered at the 2017 Sundance Film Festival and is now streaming on Netflix, has no precedent, true crime or otherwise. It's hard to call it a documentary, given that it's not exactly observational. Nor is it culled through archival footage or interviews with the last people to see Ramsey before her death. 
Casting JonBenet is instead comprised of both casting tapes and reenactments of locals who came in and read for roles revolving around the late Ramsey's life, including her immediate family members and the case's police chief. The catch is, there is no film in question. Not exactly. The process itself, and the surprising revelations that arise along the way is what make up the film. "It is 20 years later and I still see her on the cover of magazines at the supermarket, which is insane," Green says. "So to me, it was like, 'Why is everyone so addicted to this case, so obsessed? That became kind of the focus of the film, more so than a whodunit."
It's a structural conceit that Green previously used with her 2015 short film, The Face of Ukraine: Casting Oksana Baiul. "I did a casting call for the figure skater Oksana Baiul [and] I was looking for a way to explore suffering in Ukraine without making propaganda for either side during the conflict," she says. "So I wanted to explore suffering, and kind of the experiences of the young children, and it seemed like a way I could interview a lot of young children without having to kind of form a definite opinion on anything, really. But also explore their own reaction to everything going around them." In 2015, Green's short film nabbed the Short Film Jury Prize at Sundance, and she then started to ruminate on approaching a longer film about Ramsey with the same process. 
In her work, Green often explores the exploitative, fraught representations of women in the media, notably in her documentary Ukraine Is Not a Brothel, about the topless Ukrainian feminist group FEMEN, (a film that not only got her arrested eight times, but also led to her abduction in Belarus). Green, who is Australian, was not yet a teenager when Ramsey's death became front-page news, but she remembers being immediately captivated by the case. "I had this very idealized view of what the American family was like," she says. "I watched The Brady Bunch and Full House, and this case kind of punctured the picture-perfect image of the American family that I'd had. So I guess I was a little shocked by it and curious." 
Oddly enough, Green says that it was once she started interviewing potential local Santa Clauses (a real-life Santa, a neighbor of the Ramseys, was once a key suspect in the case), the film started coming together. "I thought, 'Why would a mall Santa from Colorado have a theory as to who killed JonBenét Ramsey?'" she remembers. "He had this detailed theory about the mother snapping. If even the mall Santas have an opinion, we have a film." 
One of the more unusual and compelling parts of the film, too, is that it's not at all what its title may imply. The JonBenét casting sessions are used sparingly, and instead of plastering her pageant shot image everywhere, she becomes more of an omniscient figure throughout Casting JonBenet. "The idea is that it's this emotional punch to the chest, cause it's like, 'Wow, okay, at the center of this is a six-year-old girl,'" Green says. "And we forget that when we get caught up in all the hype and the mystery and the whodunit aspects of the case."
While Green says that the vast array of possible theories people brought to the casting interviews—ranging wildly from child pedophilia rings run out of ice cream trucks to drug rings—were intriguing, it was the least revealing part of Casting JonBenet. The deluge of over 200 casting tapes from locals reading for these roles not only uncovered surprising memories, experiences, and biases that led these hopefuls to have their respective theories about the case, but also still think about it so many years later. One woman auditioning for the role of Patsy Ramsey, for instance, says point-blank that she felt fit to play JonBenét's mother because her own brother was murdered in Colorado Springs, and her parents had met with the Ramseys several times. And one man auditioning for the role of John spoke on camera about waking up one morning next to a loved one who had died over the course of the night, and thus understanding the idea of feeling isolated in grief and mourning, and wanting to find someone to blame to cope with the loss. 
"I'd ask them, 'Who do you think killed JonBenét Ramsey?' or, 'What's your theory on the case?' and immediately they'd go into, 'Well, my mother has bipolar disorder, so I think it must have been the mother,'" Green says. "I didn't need to push them. They were happy to go there, which was surprising for me, that they would make the link to their own personal lives and experiences themselves. I didn't really need to point them in that direction. It broke our hearts when we heard these stories." The candid interviews coupled with the dramatic re-enactments—depicting the likes of JonBenét's father, John, finding her body, and her mother calling in the murder to the police—help viewers piece together not only the story of the case, but also of the wider community that's still dealing with the unsolved murder.
In a way, the Casting JonBenét approach, which Green likens to an "ensemble piece," also uncovers something singular about how members of a community cope with tragedy, and by association, themselves. 
"I've read every book and watched every film and am no closer to knowing who killed that child, "Green says. "I think hearing from the community and hearing their reactions, their personal stories? There's a sense of closure in that. They're living a narrative that has no closure and they're trying to find a way through it, trying to find a way to deal with it and come to terms with it. And that is the message of the film: How we move forward as a group." 
Green concludes, "That, to me, was more important than finding the killer. Closing the book on it and saying, 'Well, that's enough now. We're never going to know.'"