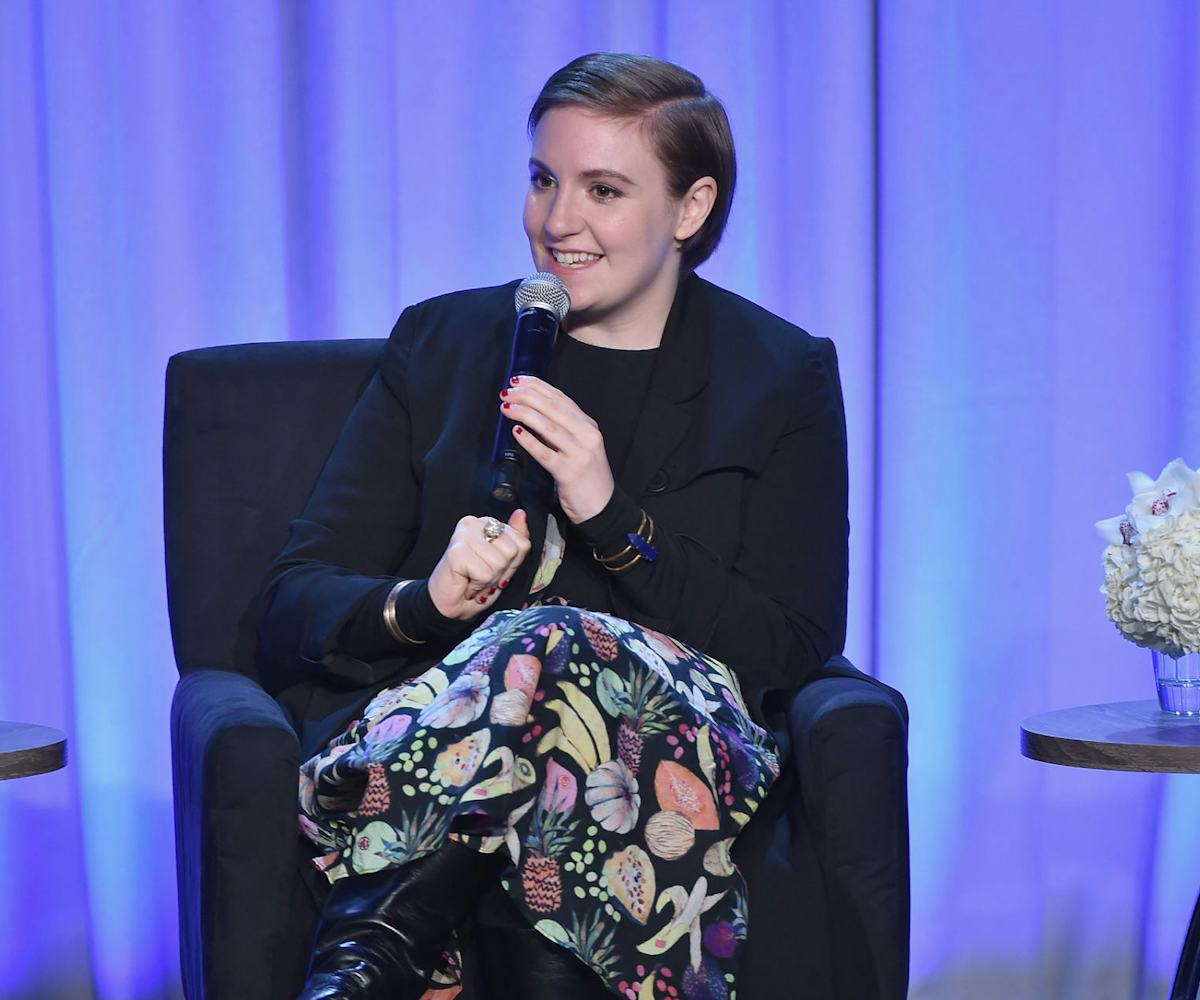 Photo by Larry Busacca / Getty Images
Lena Dunham Supports Kesha By Writing A Powerful Essay
"When I saw the outcome of Kesha's court case last Friday, I felt sick"
Lena Dunham has added her voice to the chorus of support swirling around Kesha in the wake of the New York Supreme Court's surprising ruling that prevents the singer from exiting her contract with Sony and recording music without Dr. Luke, whom she has accused of rape. In a powerful essay called "Why Kesha's Case Is About More Than Kesha," Dunham begins by detailing her visceral reaction to the judge's ruling: "When I saw the outcome of Kesha's court case last Friday, I felt sick. Actually sick — I wanted to ask my Uber to pull over so I could throw up in a New York City trash can."
Dunham then works through the details of the case, acknowledging that although the accusations against Dr. Luke can't be "proven definitively," that "Kesha's words speak for themselves." She then offers an analogy to Sony to simplify a situation that seems to be clear for everyone except the tone-deaf, greedy corporation:
Imagine someone really hurt you, physically and emotionally. Scared you and abused you, threatened your family. The judge says that you don't have to see them again, BUT they still own your house. So they can decide when to turn the heat on and off, whether they'll pay the telephone bill or fix the roof when it leaks. After everything you've been through, do you feel safe living in that house? Do you trust them to protect you?
And then Dunham arrives at the crux of her essay:
To be clear, Kesha's case is about more than a pop star fighting for her freedom, or a $60 million investment in a shiny commercial career. It's about more than whether Kesha can strap on her cool leotards and make another album, free from a man who she says terrifies her. It's even about more than the systemic misogyny of the entertainment industry, or the way that women in music and film have long been controlled and coerced by abusive Svengalis and entities larger than themselves. (Think: the studio system of the '40s and '50s, when starlets were essentially chattel. Think: Ike and Tina Turner.) What's happening to Kesha highlights the way that the American legal system continues to hurt women by failing to protect them from the men they identify as their abusers.
Dunham's essay comes after her boyfriend Jack Antonoff took to his Twitter to offer Kesha the chance to record music together and "then leak it for everyone." To read the rest of Dunham's essential essay, go here.