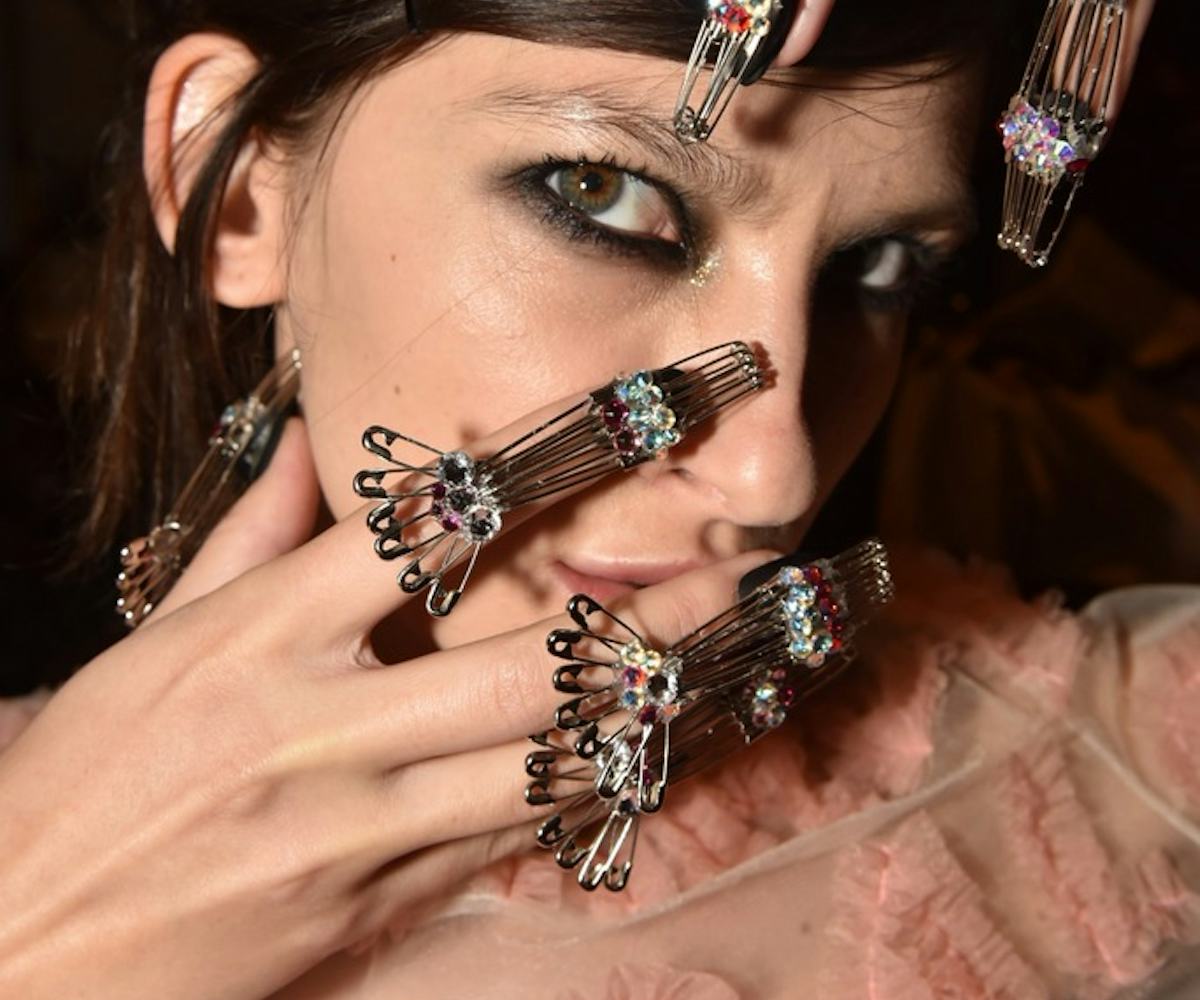 Photo by Andrew Blumenthal
The Beauty Look At Libertine Is For The Rebel In All Of Us
Those nails are not for the faint of heart
Tonight's Libertine show was a sight to see—colorful, wild, and unabashedly punk—and an appreciated break from all of the florals and pastels we've seen flooding the runways last week. It was the nails, though, that stole the show. Considering that we're talking about the same brand responsible for that viral fur nail trend, we can't say that we're surprised.
Photo by Andrew Blumenthal
Nail artist Heather Reynosa for CND drew inspiration from all things punk, rebellion, and hedonistic behavior (Uma Thurman in Pulp Fiction made it to the vision board). Attached to the nails were details ranging from safety pins and handmade bird skulls (created from nail products) to tassels and thousands of Swarovski crystals. What's more, a Billy Bob Thornton-inspired blood vile nail made an appearance. Don't take out your manicure set just yet, though, the nails have had about 1,000 hours of work put into them and been in development since July. Not your average manicure, that's for sure.
Photo by Andrew Blumenthal
While the nails were certainly standout, the makeup also added to the punk vibes. Models rocked a smoldering, glittery smoky eye, courtesy of Too Cool For School makeup artist Katie Jane Hughes. Using the brand's Glam Rock Urban Shadow in #10 Metal Chic, she created a halo effect, something she describes as looking like "when the moonlight hits the ocean at nighttime," by dabbing the product straight down the middle of the lid before applying a bit of orange glitter on the inner corners.
For hair, hair stylist Kenna used Evo products to create a tough, tousled look. While many of the models had their locks tucked into the collection's many incredible jackets, a few were given a punk rock braid—messy, dissected, and, what Kenna describes as, "not pretty."
We can't disagree more. We are obsessed.