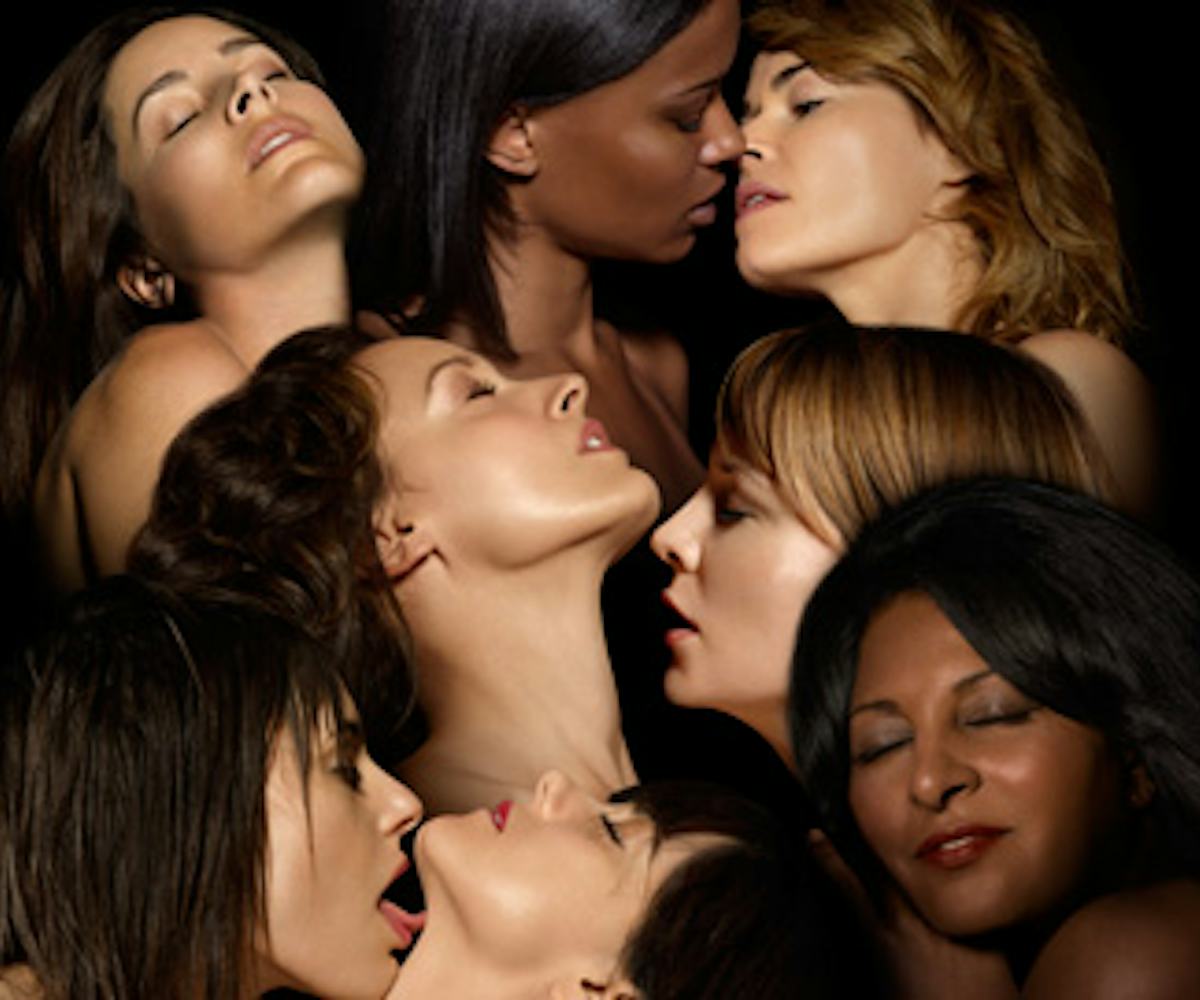 Photo via Showtime
How To Live 'The L Word' Life In L.A.
Just in time for the show's return
Showtime's The L Word took the early '90s trending of lesbian chic and made it into a full-fledged television series from 2004 to 2009. The soapy show was (and still is) the only one of its kind, completely focused on lesbian and bisexual women. Although largely shot in Vancouver, the setting of Los Angeles played a significant role, as Bette, Shane, Alice, and Co. weren't the kind of queer women homebodies you hear about, sitting around with their partners, knitting their cat sweaters. They were constantly getting together and going out, whether it was to their favorite hang, The Planet, or a strip club for a night out. 
While some of The L Word locales were fictional, many were not, and some of them are even around now. There are also plenty of options for women who might want similar aesthetics to the onscreen settings they've come to see as the L.A. lesbian lifestyle. 
Here's a guide to living your best L Word life in Los Angeles. There's no better time to do it than now, as the show prepares for a reboot on Showtime. I hope you fare better than Jenny Schecter.
Coffee and food
On the show: The Planet was the go-to coffee and nosh spot that turned into an event space at night. First owned by Marina, Kit later took over and created a women-centric place for karaoke, live music, drag performances, community fundraisers—and illicit bathroom make out, of course.
IRL: Silver Lake's LaMill is a fixture for locals glued to their laptops and latest screenplays, and Hannah Hart, Taylor Schilling, and Orange is the New Black scribe Lo Morelli have all been seen there. The queer-owned and focused Hi Cuties! coffee bar is poised to become the next Planet, however, once it opens in August. Their pop-up events have proven successful in community building and highlighting both the want and need for LGBTQ-specific spaces.
On the show: When not at The Planet, the women of The L Word loved eating out elsewhere. Some of the locales featured include Mandarette Chinese Cafe and Yamashiro, which prompted one of Jenny's best lines: "She inspired you to fuck my girlfriend on the balustrade of Yamashiro?"
IRL: Add to that list a few places Dana's lesbian chef love Lara might now be working at, including Gracias Madre (a Kristen Stewart and Stella Maxwell fave), n/naka (from out chef Niki Nakayama), and the new Hot Hot Food, offering hipster-friendly Mexican-Chinese fusion from former The Must owner Coly Den Haan.
Drinks and dancing
On the show: Dawn Denbo and her lover, Cindy, were the creators of SheBar, a bougie nightclub spot for Sapphically-inclined women to drink, dance, and have awkward run-ins with exes.
IRL: Dawn and Cindy were allegedly inspired by promoters Sandy Sachs and Robin Gans who run Girl Bar, a production company that hosts the free women's party AltarGirl at the Chapel every Wednesday night. There's always a solid crowd, DJs, go-go dancers, and generally a cast member of The Real L Word, or someone who would love to tell you what episode they can be seen on in the background. 
On the show: Jenny and Dana shared one awkward night after seeing one another at West Hollywood's last remaining lesbian dive, The Palms, which is, sadly, no longer around, leaving Los Angeles without any kind of bar specifically for women (in WeHo or otherwise).
IRL: Although there's no regular place to drop in on the daily, you'll be able to find that dive-y vibe at select parties, like the monthly '90s-themed Sports Bra, held at Mexican restaurant El Condor in Silver Lake, or Homoccult at the nearby all-gay Akbar (which is also home to a queer craft night every Wednesday). 
Art, culture, and activities
On the show: Bette first works as the HBIC of the California Arts Center, where she attempts to bring in provocative pieces of work but is continually thwarted by the patriarchy.
IRL: The Broad (sadly pronounced like "road," not like the "City") is DTLA's contemporary art museum offering work by Cindy Sherman, Kara Walker, Jenny Holzer, Susan Rothenberg, and Julie Mehretu, among other modern luminaries, and it's completely free. Just make sure to reserve your tickets well ahead of time, and sign up for the Instagrammable infinity room as soon as you get inside—there'll be a wait. 
On the show: Bette Porter was said to have been inspired in part by Ann Philbin, the out director of The Hammer Museum, where Jodi stages her infamous revenge exhibit against Bette's cheating heart.  
IRL: The Hammer is still one of the go-to progressive art spaces in the city, also offering regular feminist and queer-focused events under their Bureau of Feminism banner. In the past year, they've hosted conversations between Jill Soloway and Eileen Myles, Q&As with Maggie Nelson, and screenings of Cheryl Dunye's The Watermelon Woman.
On the show: Helena visits a tarot reader who gives her a hint of what's to come in the future—which she starts to read into big time. 
IRL: The lesbian-owned House of Intuition has been so successful, it's expanded into several parts of the city, with locations in Silver Lake, West Hollywood, and Highland Park. Rachel True of The Craft fame is among their readers, and scheduling some time with her would surely give you a true L.A. experience. Their candles, crystals, and pure resins make for perfect souvenirs, as you won't find them anywhere else. 
On the show: Shane (who was said to be inspired by famed hairstylist Sally Hershberger) owns her own salon-skate shop, WAX, which becomes a short-lived hangout spot until one of Shane's disgruntled exes burns the place to the ground.
IRL: Get yourself a cool cut and your fill of community gossip from Pony, Sparrow, Madin, and Joyce at Folklore Salon in Echo Park. The intimate space boasts local queer art on the walls, and the stylists themselves are not only talented with scissors and dye but throw the annual Dyke Day party during Pride. Madin is also behind Project Q, a nonprofit that provides free cuts to homeless LGBTQ youth. For the celesbian-minded: Cameron Esposito and Rhea Butcher get their coifs cut here.
Sports and fitness
On the show: Papi and her East L.A. crew challenge the West Hollywood gang to a friendly game of basketball.
IRL: You'll find queer women aplenty as part of L.A. City Women's Basketball League, and some of them you might even recognize from the big and small screens. Out comics and actors like Aubrey Plaza, Angela Trimbur, and Stephanie Allynne play for The Pistol Shrimps, taking on teams like the Shecago Bulls and the Kimmy Dribblers. Bonus: Trimbur also leads the halftime performance group The L.A. City Municipal Dance Squad, of which bisexual Brooklyn 99 star Stephanie Beatriz is also a member. 
On the show: Shane attempts to (unsuccessfully) forget about sex while sweating it out at the gym with her friends. 
IRL: The LGBT-owned EVERYBODY gym in Eagle Rock welcomes "all bodies, genders, races, nationalities, faiths, classes, sexualities, sizes, ages and abilities," and offers community classes for only $5 so that literally everyone can participate. They have dance aerobics, yoga, strength training, and a running club, as well as a free workshop on how to "demystify the machine," aka teaching newcomers how to properly use equipmen.
Sex
On the show: During Pride, Dana and Alice wander into an S&M seminar called The Seven Stations of the Cross, which promises to be "gentle with novices." They immediately make an exit, but Jenny (a true masochist) ends up spending the rest of her night there.
IRL: Explore your interest in kinky PDAs and leather at BDSFEMME, a regular event held at Dungeon East. Hosted by out dominatrix Mistress Justine Cross, this play party offers stations for spanking, bootblacking, and bondage. If you want to start in a less dungeon-y setting, Ms. Cross is also a fixture at the monthly more queer-inclusive (read: not just gay men) CRUISE parties held at The Eagle.
On the show: Well-meaning friends take broken-hearted Tina out on the town to a strip club in hopes she'll take solace in the nuzzle of a dancer's bosom.
IRL: Queer women (and women of all kinds) frequent Jumbo's Clown Room, where the performers show off their individual personalities to songs they choose from the jukebox and love flirting with the girls in the crowd. Courtney Love famously danced here before fronting Hole, and when you walk inside, you'll definitely see it's got that pre-Oscars Courtney Love vibe. 
On the show: Dana and Alice go dildo shopping at the same-sex shop they visited to buy supplies for Dana and Tanya's bachelorette soiree. Dana is uncomfortable AF both times.
IRL: You should feel at ease at The Pleasure Chest, located down the street from West Hollywood's rainbow-paved crosswalk, as the sex shop is so queer-friendly, it might as well be just for us—luckily, we know how to share. Sexperts are on hand to provide details on harnesses and lube, as well as offering free buttons reading "I LIKE DYKES." What's not to like? 
And should you want to continue your best L Word life, there's always the Dinah or an Olivia Cruise.