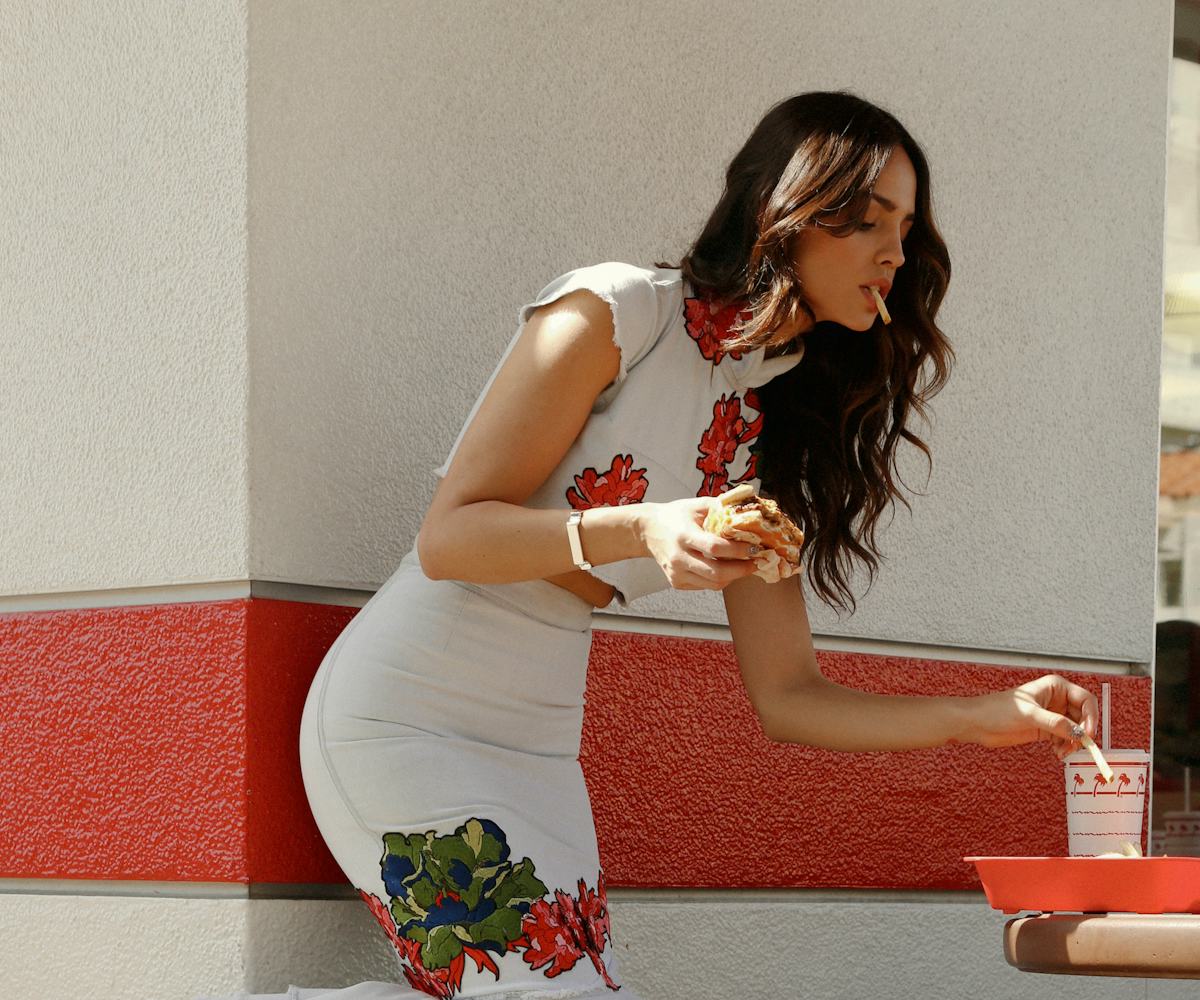 Photographed by Ellie McLean. Styled by Laura Mazza. Top and skirt by Polite, boots by Le Silla, earrings by Adornmonde, bracelet by Monica Vinader.
Eiza González Has A Badass Role In This Summer's 'Baby Driver'
The 27-year-old actress is heating up
The following feature appears in the May 2017 issue of NYLON. Every year, we round up the brightest rising stars in film for our Young Hollywood Issue. Get to know the actors and actresses who are set to take over the industry. To read more, click here. 
Most actors will work their whole lives and never become famous. Eiza González is about to do it twice. Already a household name in her native Mexico thanks to some hit telenovelas and a side gig as a pop star, the 27-year-old is on the cusp of being a really big deal here, too. 
After Robert Rodriguez handpicked her to star in his From Dusk Till Dawn TV reboot, Edgar Wright cast González as a gun-toting badass in this summer's hugely anticipated heist-musical mash-up Baby Driver. And though she didn't get the female lead in the upcoming Han Solo movie—despite auditioning for six months straight—she'll get to test her sci-fi chops when she reteams with Rodriguez in next year's dystopian saga Alita: Battle Angel.
A Star Wars Story: "I auditioned around 12 times for the Han Solo film, but at the end of the day it wasn't for me. I enjoyed the experience because I got to work with the casting director, I got to meet amazing people, and I learned so much. But at that point I was stressed out, and I was overwhelmed, and I was sad and then I was happy and then I was nervous—it was a roller coaster of emotions."
The Fame Game: Before she came to the States, González was a household name back home by the age of 12. "I remember the first time I went to Six Flags after I got my first show and it was crazy! It's one of the most traumatizing experiences of my life—I had to go into this little house to hide because people went crazy. And I was not prepared. I had never experienced that, so from then on, it just really became this weird thing for me. When I moved here and no one cared about me, it was amazing."  
Haters Gonna Hate: "My friends, my family, the people that I call friends, are happy for me. But there's people that text me every day asking, 'Why don't you write in Spanish, or why do you speak English in your interviews?' I love Mexico and I'm forever going to be grateful for what it gave me. I'm always going to walk around being very, very proud of being a Latina, and I'm not going to hide it, but I also don't feel that we have an obligation to be walking around like, 'Hey, I'm Mexican!' I'm an actress. I impersonate and I become all these characters, and that's how I want us to be seen."